MANUEL ANTONIO, Puntarenas — Reviewing hotels and restaurants in this place, we felt like mosquitoes at a nudist colony: We were very happy to be here, but we hardly knew where to begin.
Quepos and Manuel Antonio are a mecca of great hotels and restaurants, most of them carved into stunning locations on a seaside mountain, some of them located within a gorgeous marina. For those who can pay top dollar in Costa Rica, Manuel Antonio is perhaps rivaled only by Papagayo for the quality of its lodging.

________________
Costa Rica's Greatest Places
In this series, The Tico Times Travel section takes an in-depth look at some of Costa Rica's greatest destinations, with multiple articles exploring the attractions of each. This article concludes our package on one of Costa Rica's finest gems, the hillside enclave of Manuel Antonio and its seaside neighbor, Quepos.
PART I: Valle del Sol
PART II: Quepos/Manuel Antonio
• Oct. 3: Overview
• Oct. 6: Hiking
• Oct. 10: Marina
• Oct. 13: Adventure
• Oct. 17: History
• Oct. 20: Hospitality
________________
Yet amid the swank ecolodges and airplane-themed attractions and $22 entrees, there are backpacker hostels, in the hills of Manuel Antonio and down the road in Quepos, where you could sleep in a dorm room for $12 a night. So don't be too quick to dismiss this place as too expensive.

Manuel Antonio is also known as one of the most gay-friendly resort destinations in the world. Nothing against heteros, of course — the point is that Manuel Antonio is open to all. And most people agree it should stay that way.
We don't claim these are "the best," because we didn't try them all. But here are five good hotels and five good restaurants, in a range of prices, that we would recommend in this area.
Hotels

Costa Verde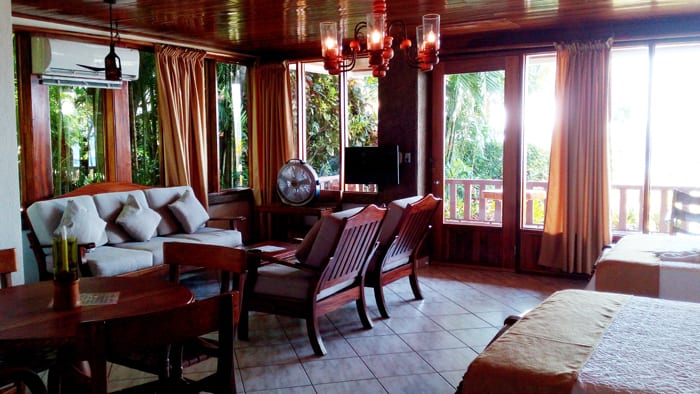 Costa Verde is a 4-star hotel with a 5-star concept: Turn airplanes into hotel rooms. And restaurants. Also, use trains.
It's a bit shocking, walking around the Costa Verde, to see a 1965 Boeing 727 jutting out of the jungle. You might think it crashed here, but it was bought in San José and laboriously transported here, and today it's a sumptuous, unique hotel room that costs between $260 and $500 a night, dubbed "the 727 Fuselage Home."
There's also a "Cockpit Cottage" currently under construction (no tail), and the idea is to build more, perhaps some with only tails, and call the whole area "Jungle Landing." (There are also very nice rooms not made out of airplanes that start at $97 plus tax.)
Costa Verde director Allan Templeton is from Connecticut, where he apparently skipped every class on "How To Do Things Small."
Allan also has the El Avión Restaurant, built around the carcass of a 1955 Fairchild C-123 cargo plane that was used by the Reagan-era CIA/NSC to deliver arms to the Contras in Nicaragua. Today this Iran-contra relic is a bar, so it went from running guns to serving shots.
Downhill from that is El Wagon, where there's a beautiful, wooden, air-conditioned railroad dining car built on the base of what used to be a banana train. It's a great place to have a Hebrew National hot dog and a cold Imperial.
There's also the Zip Coaster, where for $12 you can try either the course built like a roller-coaster, holding onto a handlebar overhead, or the one built like a jungle velodrome, where you fly through the canopy as if sitting on a bicycle.
Costa Verde has also become a go-to wedding destination, and it's easy to see why if you watch this video. There are weddings on the beach, in the wedding pavilion, on the wedding veranda on top of El Avión, and on the poolside "wedding helipad." Everything in this place seems to be just a bit over the top. And you wouldn't want it any other way.
La Mansion Inn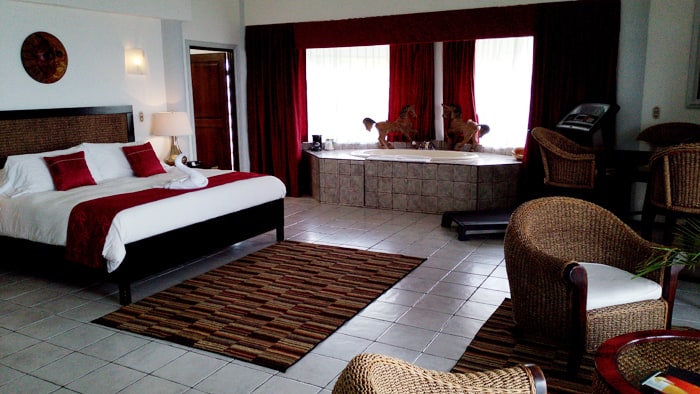 There's probably only one hotel in the world where Mikhail Gorbachev, Chuck Norris and Oscar Arias have all stayed, and that would be La Mansion Inn. This 5-star, 25-room hotel is perched on the hilly, hotel-rich road to Punta Quepos, surrounded by jungle, monkeys, sloths and great beaches.
Owner Harry Bodaan, who is president of the Quepos Chamber of Commerce, opened here in 2000 after a career as director of the national press clubs in Washington and Moscow.

"When I started this I made everything very Tico-like, then over the years I started getting a little feedback and it changed," he said. "Now people want modern stuff." As you walk around you can still see the three styles that influenced the imaginative design: rustic Costa Rican, European and modern.
Elegantly appointed rooms run from $175 to $1,500 for the presidential suite, which includes three meals a day, an open bar until 7 p.m. and a private car and driver. There are two restaurants, four bars, two swimming pools, a spa, free transportation to the beach and a Bat Cave, with bedrock walls and live bats. And there's a rule against children under 12.
Inviting us into his own apartment, with a pool where three-man bands can perform for private parties on a platform over the water, Bodaan gestured to pictures of Costa Rican heads of state and said, "All the presidents have been here."
That's something you don't hear every day.
Gaia Hotel and Reserve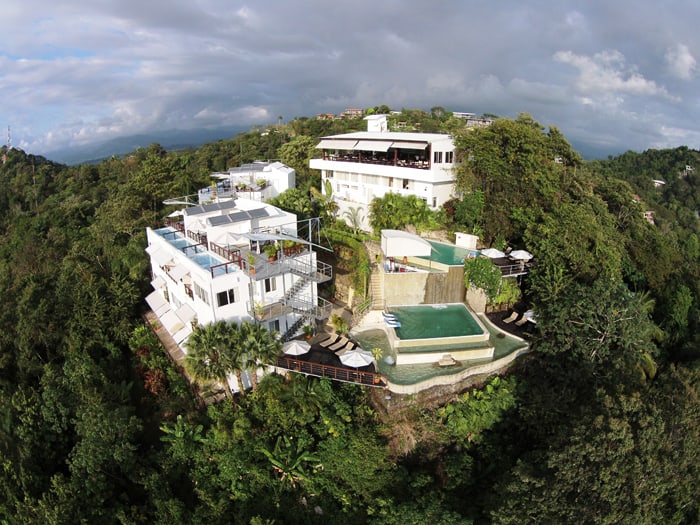 If you needed driving directions from Quepos, Gaia could be described as the first 5-star hotel on your left. Far from the cluster of luxe hotels at Punta Quepos and beyond, Gaia rises from the rain forest unexpectedly, on a hill so steep you welcome the guard shack, because the guard can call for golf carts.
Take a ride up to the lobby and the restaurant, take in the statuary inspired by the indigenous population, and hold your breath for the view at the top. Don't be expecting a wide-angle photo of a gorgeous hotel exterior, because this place is so steep and surrounded by jungle that all its best views are looking out, not in — unless you're shooting pictures from the air.

The rooms here (for adults and teens 13 and up) offer everything you'd expect at a 5-star hotel in Costa Rica: sumptuous interiors, 500-thread-count sheets, awesome views. Normal packages include spa treatments, nature reserve tours and transportation to the park and beaches. Depending on the season, prices range from $165 for two to $1,200 for four, tax and breakfast included.
Boris Marchegiani, who is a mix of nationalities including Italian and Venezuelan, opened Gaia in 2006 along with a couple of partners. This year it was recognized by Best in Travel Magazine as Mexico and Central America's leading boutique hotel.
You can thank Marchegiani, who heads the local Chamber of Tourism, when you see scarlet macaws flying around Manuel Antonio. This was once a natural corridor for these gorgeous birds, but their population collapsed amid all the development.
Two and a half years ago, Gaia established a unique project on its property that brings in macaws bred in captivity from confiscated adults, trains them to survive on their own, and releases them. So far it has released 34 macaws. It's currently establishing its own breeding program on the premises, and it hopes to release hundreds more.
Hotel Mono Azul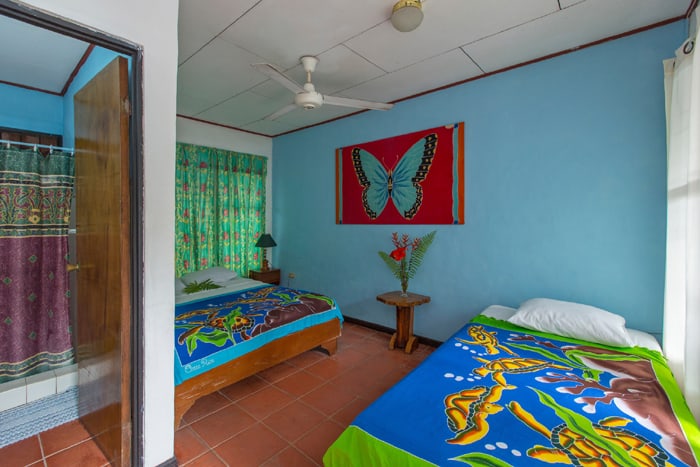 Dialing down on the dollars you'll need to spend on this fabulous vacation, you come to the Mono Azul, a really likable 22-room hotel with prices between $45 and $95.
Under the management of the gregarious Minnesota couple Paige Cain and John Westgard for almost two years now, the Blue Monkey is a go-to option for medium-price travelers who don't want to spend all of their money on hotels. The little restaurant and bar is often lively at night, a good place to meet friendly people.

The property has two inviting swimming pools, not to mention a pool table. And on its northern (downhill) side there's a steep, undeveloped rain forest ravine that is teeming with wildlife — sloths, monkeys, macaws and more.
The eclectic design means rooms can vary widely, but most have air conditioning and television, with views that vary from poolside to roadside. Shop around for a room you like, and you won't be disappointed here.
Prana Rainforest Reserve
For well-heeled honeymooners or any couple seeking romantic seclusion in a stunning setting, it doesn't get much better than this.
Prana Rainforest Retreat has only one villa, but it's the cat's meow. Modeled in the style of Bali, India and Thailand, this 1,500-square-foot house is a shrine to Eastern design, with archways, artwork, statues and furniture imported from the Far East.

Sumptuously designed by a couple who live next door, Mark Goldstein and Jonathan Harper, Prana offers a private swimming pool and a spa pavilion where massages are offered within view of a beautiful waterfall. The property borders the national park and is surrounded by jungle thick with wildlife, yet it's a five-minute drive from the main road in Manuel Antonio.
Depending on the season, prices range from $275 to $350 a night, including tax and breakfast, with a 3-night minimum stay. No small children except infants, but perfect for couples seeking privacy.
Restaurants
Z Gastro Bar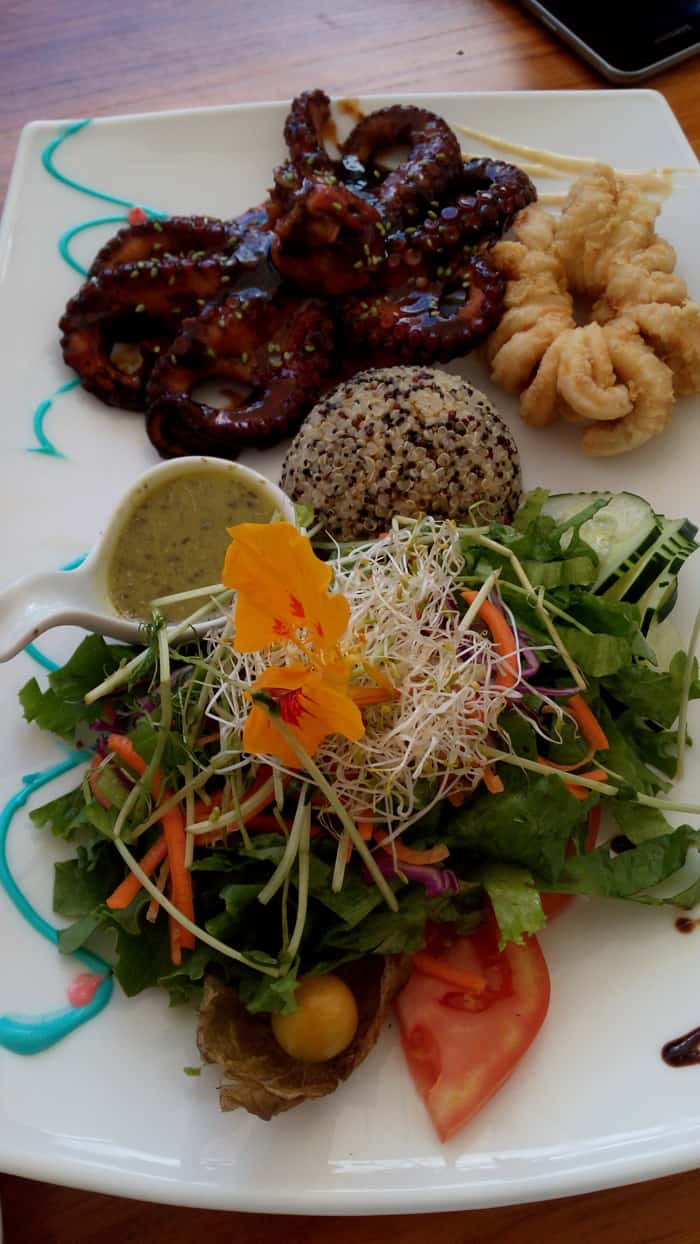 Z Gastro Bar, in the center of Marina Pez Vela, may be the most impressive restaurant I've ever eaten at in Costa Rica. Canadian owner Dean Paquette, who prepared for this vocation by studying nuclear engineering, is a stone-cold perfectionist who believes in doing everything "at the next level," and it shows in the quality of his food and its presentation.
We had dishes I didn't know existed, like octopus carpacchio, followed by shrimp cocktail, octopus and shrimp ceviche, caprese salad, exquisite cuts of beef and caramelized octopus with deep-fried calamari. Yes, lots of octopus were harmed in the making of this lunch for four, but it was basically perfect.

Dean showed us an $800 cookbook that details, for example, that octopus should be cooked to 147° F (not 148°!) so that it's neither too mushy nor too tough. "Then we pull it out and put it on ice, to get the exact same consistency every time," Dean said. (Who knew?)
"We do everything at the next level," Dean said. "If you think it's good, just do it another level."
Sunrice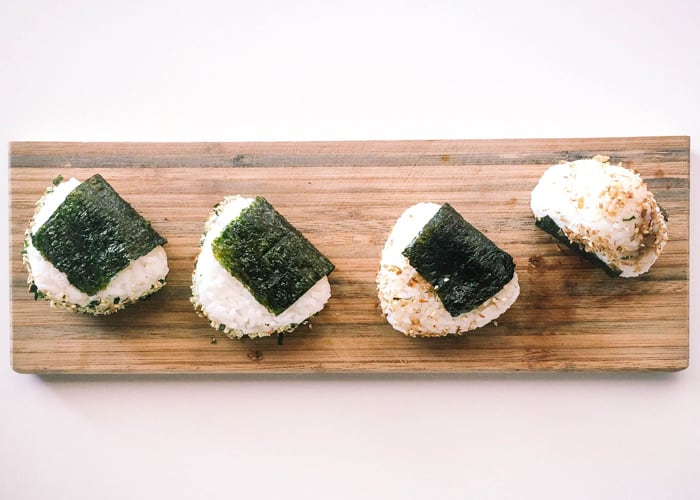 If you love all things Japanese (and we don't mean chasing Pokemon), look no further than the new Sunrice Restaurant at Marina Pez Vela. Opened last spring by New York/Hollywood transplant Michael Wex, Sunrice specializes in Japanese, Asian and Hawaiian fusion fare, with a tropical flair.
There's a reason Sunrice was recently rated #1 on Trip Advisor out of 62 restaurants in Quepos. You could start with the omusubi, which features a beef, chicken or fish filling inside a triangular-shaped mound of rice in a seaweed wrapper. In Japan, omusubi is a common fast food found in convenience stores, made the night before and gobbled by commuters on the subway. But Japanese visitors to Sunrice have told Michael that his version is among the best they've ever had.

Other popular items include spicy tuna over crispy rice, a baked crab roll in soy paper and even homemade coconut mango vegan ice cream.
It's hard to top the ocean-view location, the attentive service or the wallet-friendly prices here. You can also order to go — sushi, poke bowls, udon noodles, mango salad and more, accompanied by Japanese beer or sake. Sunrice also sells Japanese-influenced merchandise, including insulated bags and children's chopsticks with characters like Angry Birds and Ninja Turtles, plus artwork by Costa Rican artist Enrique Campos.
"With this location, you can enjoy all that coastal Costa Rica has to offer and unique, healthy and delicious Asian-inspired cuisine," says Michael.
Falafel Bar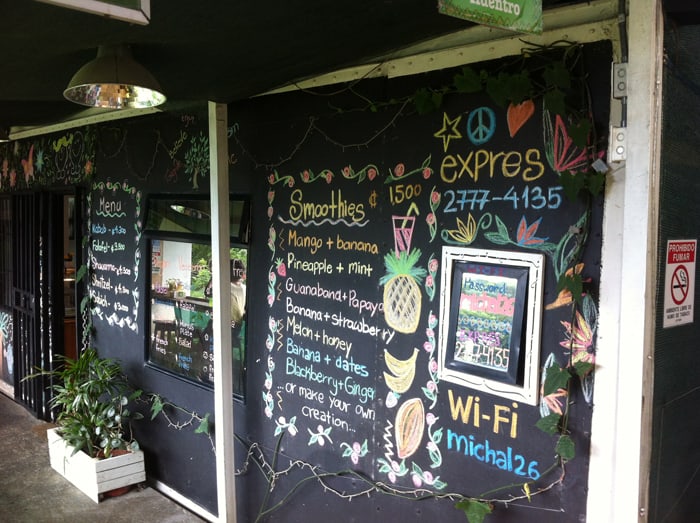 With its quirky feng shui and gorgeous view, Falafel Bar makes for a perfectly relaxing lunch with friends. The best part of it all is that it's healthy, too. Israeli flags hanging across the ceiling hint at the owners' roots and the Mediterranean menu.
Recommendations include the classic shawarma, a dish similar to a gyro where grilled meet is rolled up with veggies inside a wrap, or the heavier but equally delicious schnitzel plate. All main dishes are served with sides of fresh vegetables and an amazing homemade hummus.
Falafel Bar also specializes in mixing up special smoothie combos like guanabana and papaya or blackberry and ginger. No matter what you order, these two things are sure: It will most likely be healthy and it will most definitely be delicious. If you don't trust us, check Trip Advisor, where it was recently rated No. 1 of 72 restaurants in Manuel Antonio.
Café Agua Azul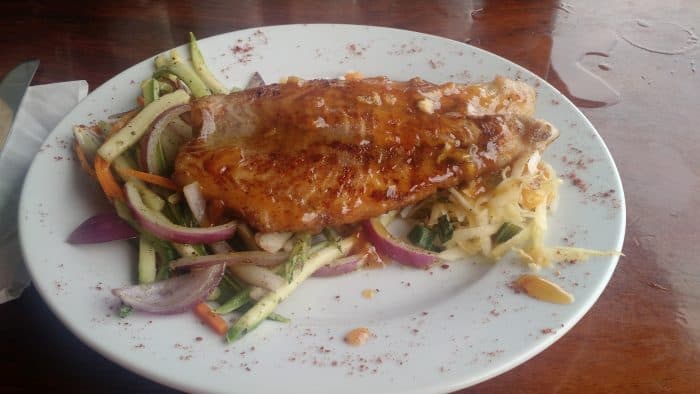 If you're on the Costa Rican coast, it's a good bet you'll be craving seafood. Maybe no restaurant in Manuel Antonio does fish better than Café Agua Azul.
Like most places on the main road cutting through Manuel Antonio's hillside, Agua Azul has an incredible view overlooking the Pacific Ocean. But what separates the restaurant is the perfectly cooked fish plates, like the popular red snapper that comes over a salad of shredded green papaya and plantains, all bathed in a sweet tamarindo sauce and dusted in paprika.
The panko-crusted tuna is another must-have dish for fish lovers. The tuna steak, which should always be ordered red, is served over a bed of rice and vegetables with wasabi on the side to kick up the heat.
And for non-seafood eaters, the more U.S.-style fare is every bit as good. One such comfort food is the plate of fries smothered under melted cheese and bacon bits that's filling enough to be a whole meal or shared among a table for an appetizer.
Sancho's Taquería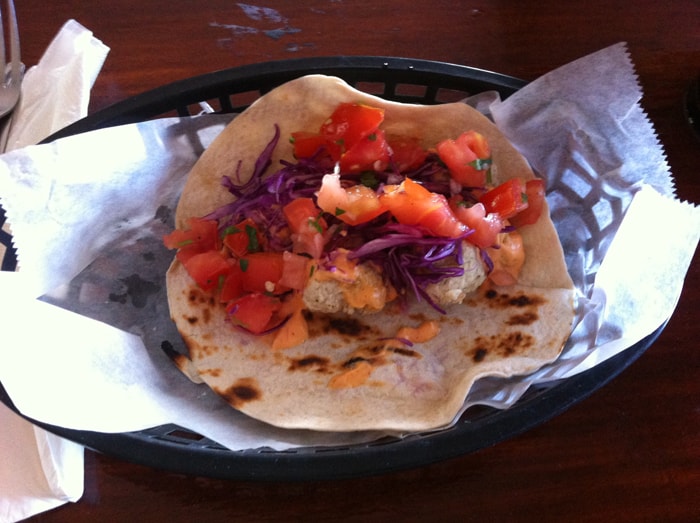 For low-priced, tasty Mexican food, stop by Sancho's Taquería, on the main road in Manuel Antonio. Brian Galloway of the Philadelphia area bought the place and reopened it in December 2015.

Probably the most popular item on the menu are the very tasty fish tacos, which are made with conger eel, seabass or mahi-mahi, enlivened by a spicy Sriracha lime mayo. Enchiladas in green sauce are also a hit, as well as the authentically Mexican tacos, and nachos with your choice of meat are a filling meal for two.
Brian says he doesn't like to eat out and leave hungry, so he emphasizes large portions. "We want to be fresh, we want to be fast, we want to be cheap, and we want to be big," he says.
"Consistency is the key. The thing I find in Manuel Antonio is that there's not a lot of consistency, especially in restaurants," he says. "We try to be open seven days a week … really focused on the food."
Contact Karl Kahler at kkahler@ticotimes.net and Michael Krumholtz at mkrumholtz@ticotimes.net