QUEPOS, Puntarenas — When the Marina Pez Vela first opened here, the people of Quepos were pretty suspicious.
The Los Sueños Marina north of Jacó paved the way for big marinas in Costa Rica, but it was gated off inside an exclusive Marriott super-resort, as if foreign developers had paved over paradise and put in a parking lot, with a guardhouse to keep Costa Ricans out.
"There was this stereotype — boy, you know, Los Sueños started, and marinas are private, and Costa Ricans aren't allowed in them, and they're only for Americans," said Jeff Duchesneau, the 43-year-old general director of Pez Vela, who through no fault of his own is from Boston.

________________
Costa Rica's Greatest Places
In this series, The Tico Times Travel section takes an in-depth look at some of Costa Rica's greatest destinations, with multiple articles exploring the attractions of each. For the first three weeks of October, we'll visit one of Costa Rica's finest gems, the hillside enclave of Manuel Antonio and its seaside neighbor, Quepos.
PART I: Valle del Sol
PART II: Quepos/Manuel Antonio
• Oct. 3: Overview
• Oct. 6: Hiking
• Oct. 10: Marina
• Oct. 13: Adventure
• Oct. 17: History
• Oct. 20: Hospitality
________________
"And when I joined this project, I have to tell you, that was the reputation we had in Quepos," Jeff said. "Like nobody in Quepos liked this marina, it was hands-off, and we took the best beach in Quepos, and we don't give real jobs, and it was a really strange relationship."
Today the marina is a major anchor of the Quepos economy, bursting with yachts, bustling with activity, and offering all kinds of maritime adventure, including deep-sea fishing, parasailing, jet-skiing, scuba diving, snorkeling and booze cruises on fabulous catamarans.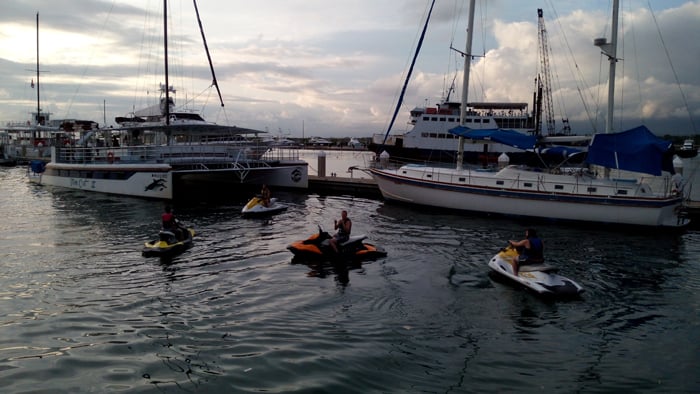 People in town now understand that this marina is public and open to all, said Jeff, even those without a single coin to spend. On Friday nights the marina offers free movies on an inflatable screen in a public amphitheater.
"We put chairs here, or we put bean bags where kids sit down, or just run around, and everybody sits on the stairs," Jeff said, standing on the plaza facing the sea. "We can seat 300 people on those seats on the stairs."
He says for Friday movie night, every other weekend, he tries to find whatever he can that's new and rated PG or G, one cartoon and one regular movie.
"It's all free to the public," he said. "And these are some of the things that Quepos loves. You can get popcorn, and these guys makes slushies, you can buy them for a buck or two, or go to the ice cream shop."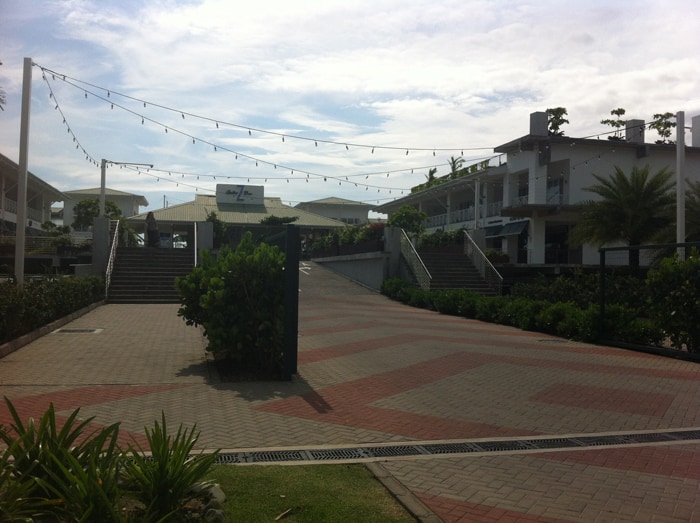 The background
As with many big developments in Costa Rica, the marina hit a major roadblock with the global financial crisis of 2008.
When a new marina law in Costa Rica passed in 1999, Harold Lovelady of Texas obtained a concession in Quepos (as Los Sueños did in Herradura) and started building. For years he was backed by Banco Promerica, which wanted to sell real estate associated with the marina.
When the financial crisis hit, Lovelady was stuck. The marina was half built but he hadn't sold enough slips.
"The Promerica investment group and Harold reached a mutual agreement for the group to continue the project that Mr. Lovelady had begun," Jeff said. The bank put the project on hold through 2008 and 2009, and today's marina was all dirt, with 12 or 13 boats in the slips. "It was kind of a weird project for a long time," he said.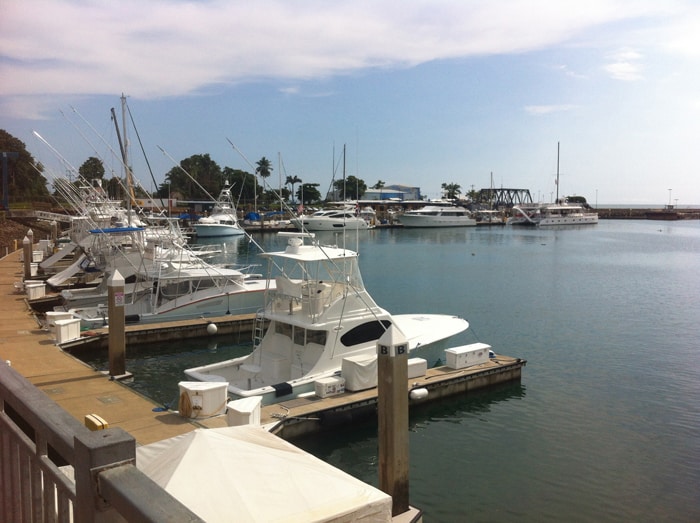 But the economy improved.
"And then the crisis kind of ends, 2012," Jeff said. "They built the first building, which is this one here. They moved the Runaway Grill, which was a landmark restaurant."
Jeff said when he came aboard in 2014, the buildings were done but didn't have a lot of tenants yet. Today the marina has at least 27, including restaurants, shops, tour companies, a marine supply company, rent-a-car agencies and an airline office.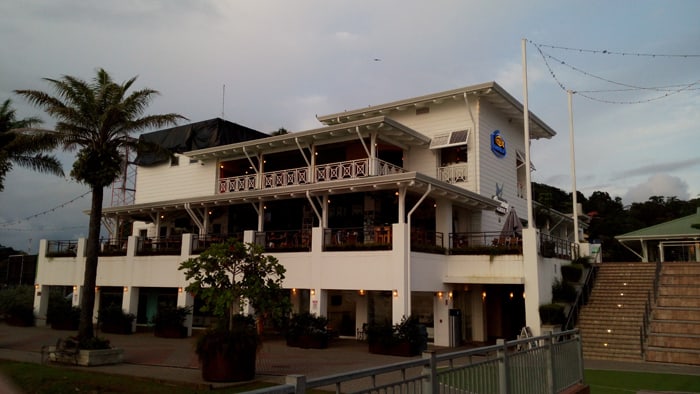 The yacht yard
Perhaps the marina's greatest creation was its yacht yard, unique in Costa Rica, where giant yachts can be lifted out of the water and put in dry dock for maintenance and storage.
There's a marine travel lift nicknamed "Beauty" that can haul 200-ton yachts out of the water vertically, using straps attached to the bottom by divers. And then there's "Beast," a gigantic forklift that can lift boats onto a multi-level dry rack, which has space for 40 boats.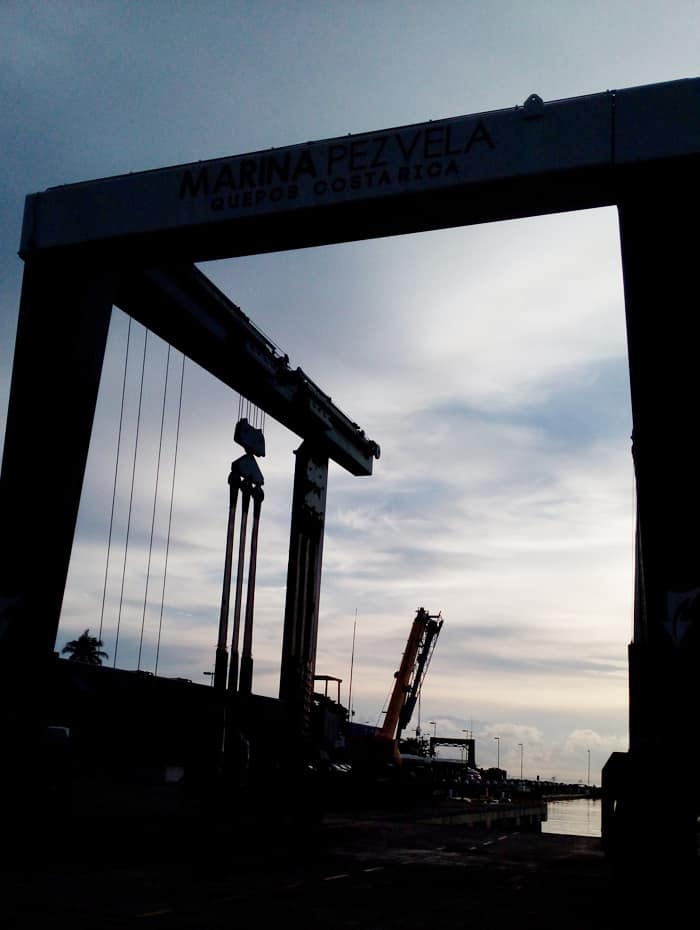 "What all these boats had to do before was go up to Puntarenas, wait for low tide, and then there's this set of mud flats where these boats would basically just sit on some rails," Jeff said. "The tide would go out and these boats would be sitting on these rails in the mud. These guys would do all this work lying down on their backs in the mud."
He said all the boats here have to be taken out of the water once a year to service the hull and apply anti-fouling paint.
"When we opened this place, it was like a natural magnet," he said.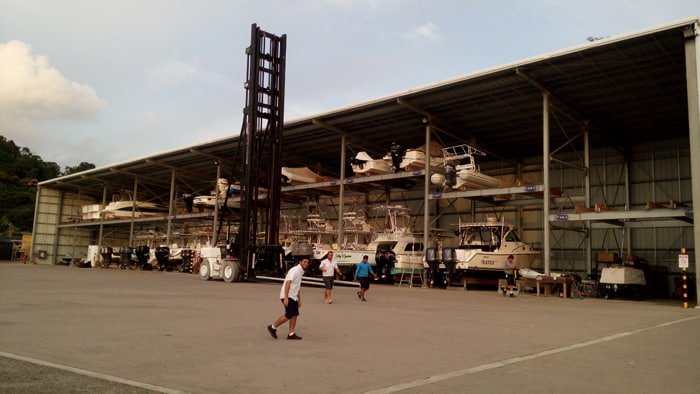 The marina now has 103 slips, and even in the low season it's nearly full, so it's building 91 more.
"For the high season we were over 100 [percent occupancy], which is why we're still expanding," Jeff said. "We were full — I couldn't take boats, I couldn't handle big fishing tournaments, we just didn't have the space."
He said the cost of the expansion is probably around $10 million.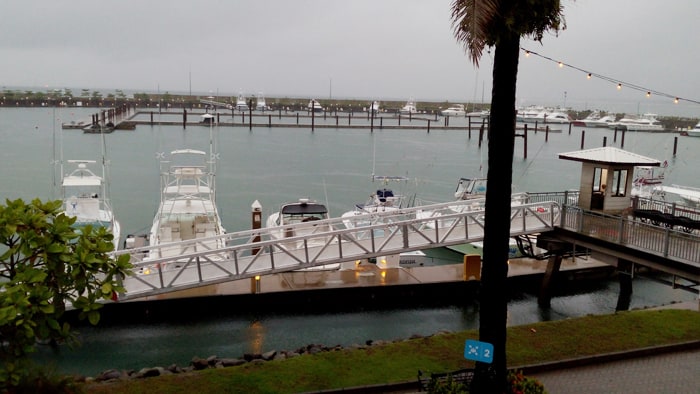 And the plans don't stop there. Though the marina has 10 deluxe condos that rent for around $350 a night, it plans to build a 50- to 80-room luxury hotel overlooking the marina and downtown Quepos. No design has been approved for how big it will be, despite reports that it will be 10 stories tall.
"We don't want to build cheesy," Jeff said. "It's got to look and fit with the limited space we're on. Even if we could, I don't think we'd build 10 or 12 stories."
The marina and its expansion plans have not been immune to controversy, with questions raised about waterfront overdevelopment, increased traffic, noise and other issues. But opposition has not been nearly as vocal as with some other marina projects, notably the expansion plans of Crocodile Bay in Puerto Jiménez.
Jeff said a lot of perceptions have changed over the past couple of years. "Today you can walk around Quepos and ask 10 people what their thoughts are on the marina, and nine will say this is great for Quepos. … And the other one will say it's the worst thing possible."
The malecón
Jeff walked with me out the front of the marina and to the left, toward town, where there was a wide, attractive brick walkway that connected the marina to the seaside malecón (boardwalk) called the "Paseo de Los Quepeños."
"Welcome to public-private partnership at its best," he said. "This was a disaster. It was dirty, it was dark. And the old mayor, she and I put this deal together where the city bought all the materials, and we put in all the labor and all the design and the civil infrastructure and the lights and all the building, and we built this for the city."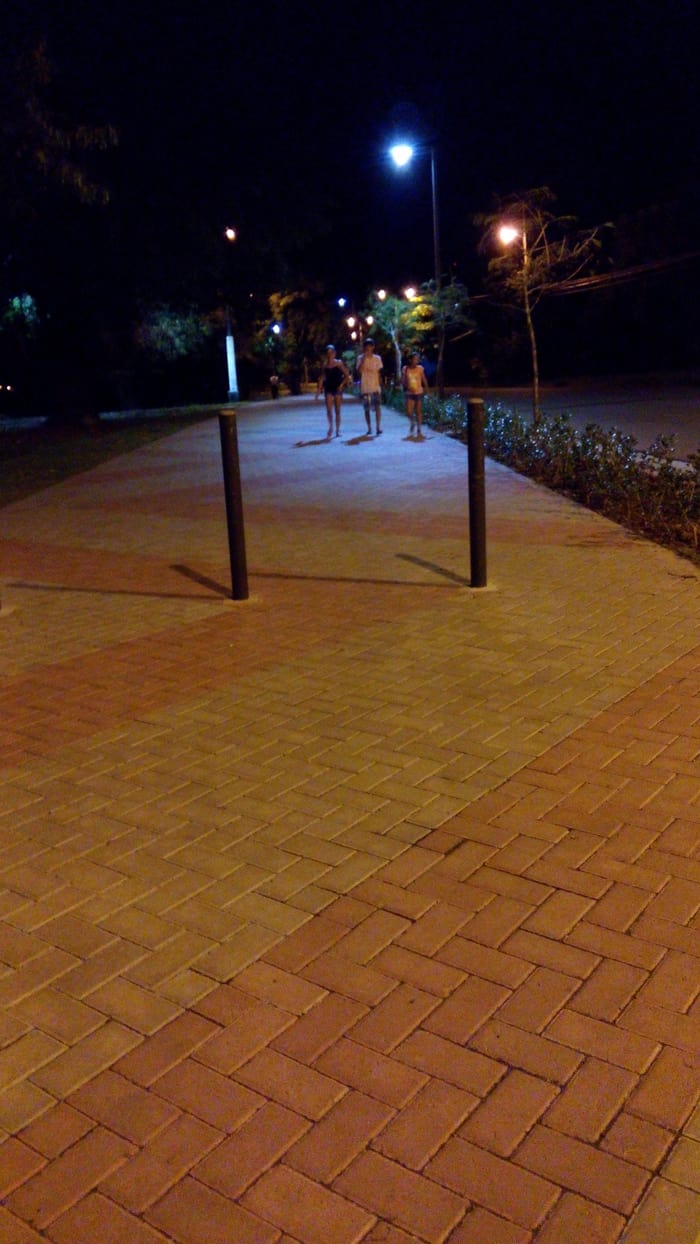 This area used to be very sketchy, especially at night, he said. But now, he said, "Come out here at like 6:30 in the morning, and you're going to be like, wow. There's hundreds of people running and biking and doing exercise drills, and it's cool, it's where Quepos come to relax."
Jeff is well aware that many people think of Quepos as a place to drive through on their way to Manuel Antonio. But he is an unabashed advocate for Quepos in its own right.
"They gave me this whole sociological study when I started the job," he said, "and Quepos was 'unsafe,' 'dirty,' 'unsustainable,' 'old,' all these negative words. And Manuel Antonio was the opposite — 'beautiful,' 'sustainable,' 'safe.'
"And part of our mandate here is how do we change that, how do we make sure Quepos itself has beauty, and changes its image," he said. "And we did it. I mean, Manuel Antonio is a neighborhood of Quepos … not the other way around."
Contact Karl Kahler at kkahler@ticotimes.net