I roused myself from the simple, handmade wooden bed just in time to catch the last of the dawn mist hanging over the small valley and surrounding jungle. In a matter of minutes it disappeared, leaving an unseasonably clear sky for the rainy season in the Osa Peninsula.
I quickly put clothes on and caught up with one of my travel companions and Servulo Sandoval, who was letting us tag along to milk two of his cows. After tugging the calf away from its mother's udder and into a stall, Servulo gave us a quick demonstration, making it seem as easy as squirting liquid from a water bottle.
I sat on the low wooden bench and after a few tries, a thin stream of milk shot into the bucket. I got another ounce or so out and then turned the job back over to Sandoval, who finished it in a matter of minutes. He was like a machine.
Sandoval, his wife, Eraida Muñoz, daughter Yensi Sandoval and son-in-law Fredy Rosales hosted our group of travelers as part of a rural tourism project in Osa designed to help locals get in on the multimillion-dollar tourism business around Corcovado National Park.
Through the project, called Caminos de Osa, more than 40 micro-entrepreneurs have gone through a training program geared toward helping them modernize and professionalize their business, or for some, to start from scratch.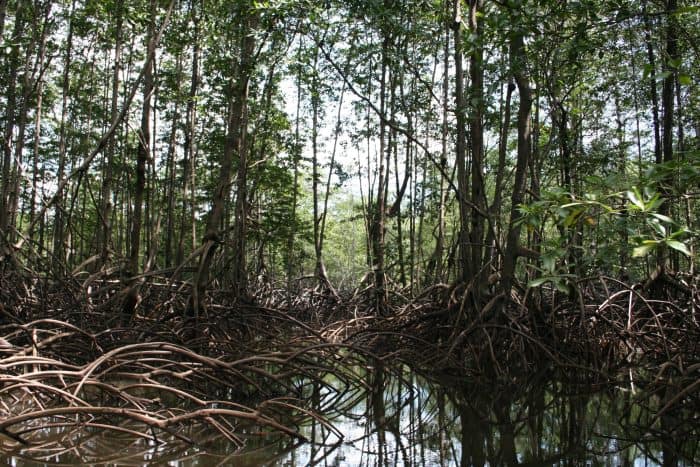 Caminos de Osa is based on a fundamental premise: Conservation can't be successful if local people can't make a living without compromising the land and the species in need of conservation.
"The locals were always complaining that Corcovado really didn't benefit them," said project coordinator Susana Matamoros. "They would just see the tourists go by, on to the big hotels in Drake Bay and Matapalo."
The project's backers, which include Stanford University, the Costa Rica United States Foundation for Cooperation and Costa Rica's National System of Conservation Areas, among many others, have spent the past two years preparing three tours for visitors designed to show off the natural beauty and biological diversity of the Osa Peninsula and the warmth and rich history of the people who call it home.
"Now tourists walk through their communities," Matamoros said.
The tour we took, "Camino del Agua," is a three-day trip that showcases the importance of water for transport and life in the Osa. It started with a hearty breakfast at the Las Gaviotas restaurant on a placid branch of the Sierpe River called Estero Azul. We then got into a boat with our guide, Enoc Espinoza of Sierpe Azul Tours, for the first leg of the trip.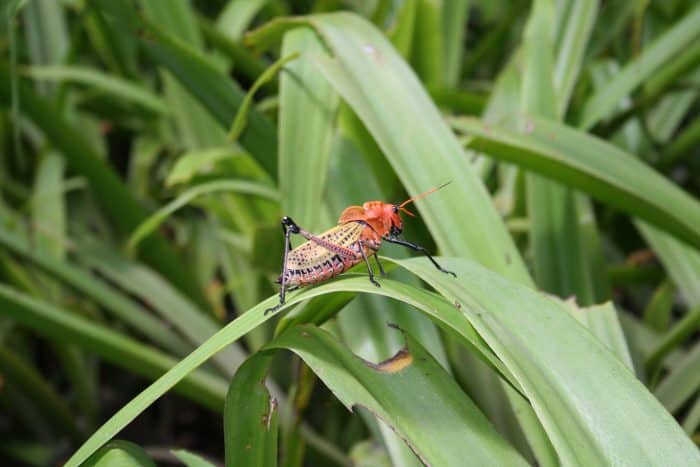 Enoc immediately proved his deep knowledge of the history and rich biodiversity around us. Lesson No. 1, though "Estero Azul," or "Blue Estuary," sounds pristine and romantic, it got the name from the blue, plastic bags that used to litter the area when bananas were a major crop in this part of Costa Rica, some 40 years ago.
The bags are used to protect the fruit from pests and sunburn.
Today, this is a protected wetlands area with abundant wildlife. On our hour-and-a-half trip, we saw a crocodile, white-faced and howler monkeys, scarlet macaws, cormorants and an American pygmy kingfisher.
Mangroves line much of the Sierpe's banks, but there are stretches where the banks have been cleared and plantations — now mostly oil palms and rice — can be seen in the distance.
Enoc explained how mangroves reproduce and had each person plant a seedling on a cleared bank. He pointed out one bank that he and his tour participants had been working on. It was populated by spindly mangroves.
About halfway through the tour, he ordered the young boat captain to pull into a narrow offshoot of the river and cut the engine. Suddenly, we were enveloped in an exquisite silence, surrounded by a tangled web of mangrove roots.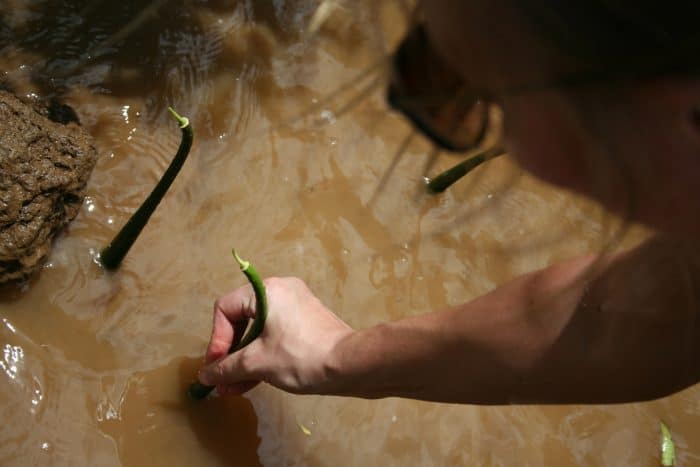 The tour ended at Estero Guerra, where we got off the boat and were met by the next set of entrepreneurs, the Muñoz-Sandoval-Rosales family. A cooler full of ice-cold coconuts soon appeared.
We cooled off with the sweet water while Yensi spread out an impressive lunch on a wooden table by the water. She explained what everything was while serving us on banana leaves. Environmental consciousness is a big part of the training entrepreneurs get through Caminos de Osa.
We had pureed malanga, refried beans, plantain chips, homemade tortillas and, the climax, a picadillo made with ground beef and chopped plantain skins. Yensi explained that she and her mom, Eraida, had made everything from scratch, and most of the ingredients came from the land they farm.
Eating around Costa Rica, it's easy to conclude that there's not much variety in the typical casado. I thought the same until I had Yensi and Eraida's food. This was real, traditional Costa Rican food, and it couldn't be much fresher.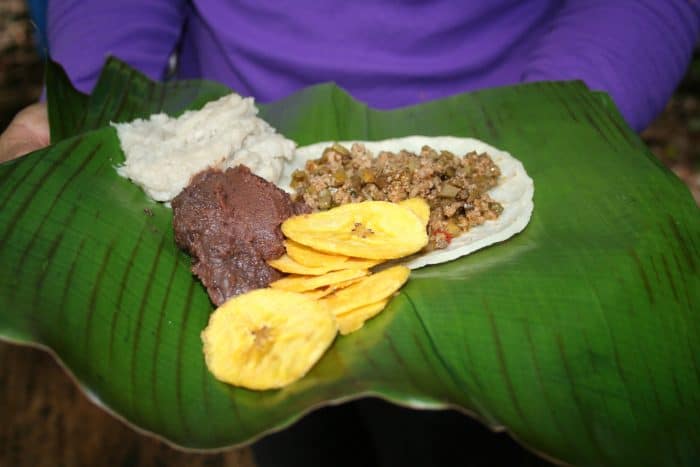 After lunch, Fredy took us on a short hike through a defunct cacao plantation to a small, pleasant waterfall. After a dip, our group split up, with half heading to Yensi and Fredy's house for the night and the other half to Eraida and Servulo's house.
The community of Estero Guerra consists of about 10 homes and one school, which Fredy said was down to just one student. "Almost everyone has left," Fredy said, including his two adult daughters.
"Maybe they see life in the countryside as too hard," Fredy said. "But I like the peace and quiet. Those are things that have no price."
Access to remote Estero Guerra has improved. There's now a good dirt road connecting the community with El Progreso, the nearest town, and a little further, Drake Bay.
The community has one motorized boat that can carry people to the town of Sierpe in about an hour; it used to be an eight-hour paddle, Servulo said.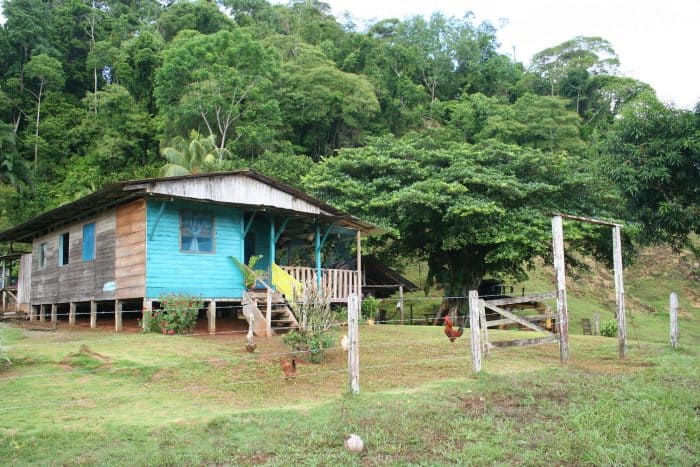 But the remoteness and surrounding protected areas limit economic activity here. Plus, people like Eraida and Servulo are aging and are no longer up for the hard work involved in farming for a living.
The couple hopes their new tourism business and Caminos de Osa can help out.
Two of my travel companions and I settled into our room in Eraida and Servulo's modest, wood-plank house. They built the room just recently to accommodate visitors. It was small but cozy, with two sets of bunk beds and a single.
The couple also extended the porch to wrap around one side of the house and added rocking chairs, providing gorgeous views of the valley and surrounding forest.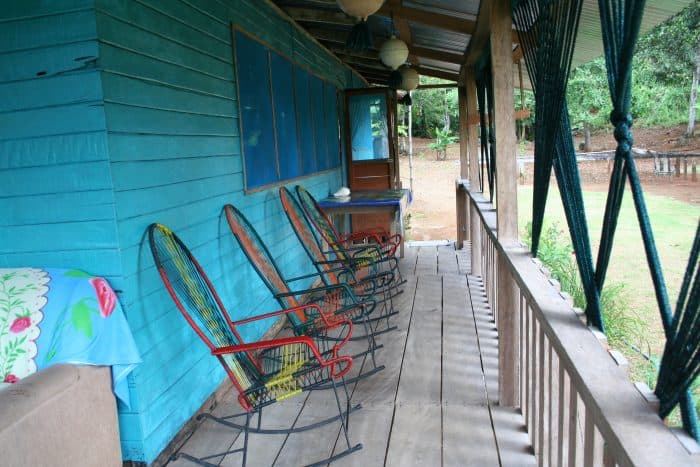 After we got settled, Eraida served us homemade sweet bread and coffee, and soon after, another excellent, home-cooked meal for dinner. A good portion of what we ate in Estero Guerra was grown by the people here.
Eraida and Servulo grow yuca, malanga and several other root vegetables, along with pineapple, papaya, rambutan (known here as mamón chino), limes and other fruits. They also keep pigs, goats and cows.
Before bed, I stood in Eraida's kitchen brushing my teeth while she stood 10 feet from me at the bathroom sink, brushing hers. We chatted about the quality of her shiny, perfectly scrubbed cooking pans lining the wall above my head.
This was my quintessential Caminos de Osa moment: sharing an intimate minute with a woman I had just met, in her rural home, far away from five-star resorts and rowdy bars, surrounded by nature.
For some, that may sound too intimate; for me, it was just what I had been looking for in Costa Rica.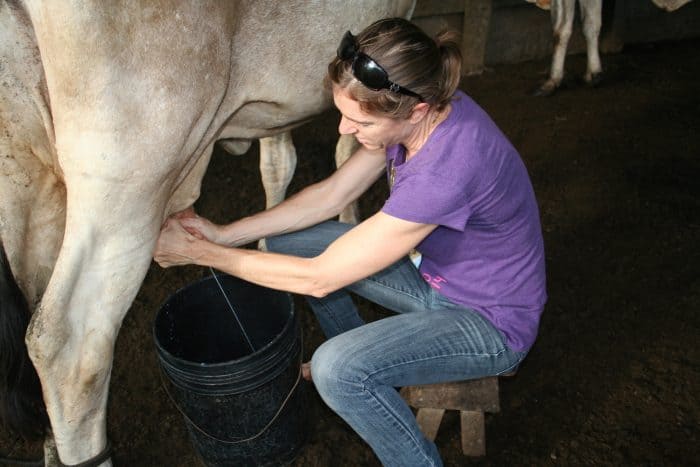 Caminos de Osa is certainly not the first attempt to help locals benefit from tourism in the area. But Matamoros said previous efforts didn't put enough emphasis on marketing.
Caminos do Osa has a slick website where potential visitors can learn about the tours and the project, and organize a tour directly. Plus, the organization spent much of this year familiarizing tour companies with the project so that those companies can now offer the tour to their customers.
Perhaps most importantly, Caminos de Osa established an association made up of participating small business owners that's charged with marketing the tours and making the whole outside-funded project self-sustaining.
The foundation takes a percentage of each Caminos de Osa tour fee, which goes toward marketing as well as trail maintenance and other improvements to the routes.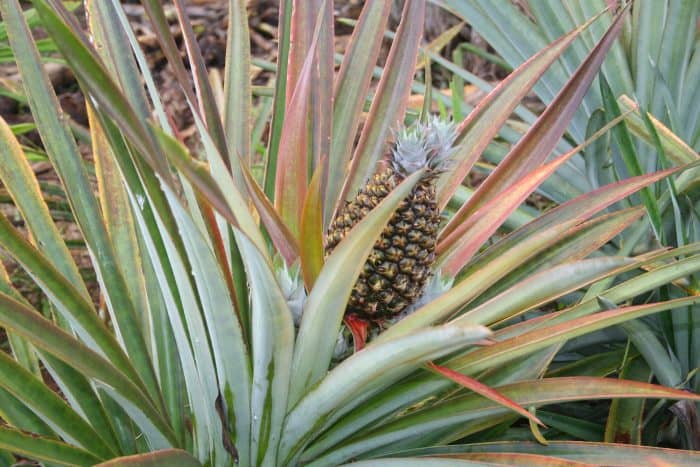 The entrepreneurs involved in the project had to be committed from the start. Besides the training course, which included an assessment of each business as well as workshops on client service and even self-esteem, there were no handouts.
In Estero Guerra, the women of the family, Eraida Muñoz and Yensi Sandoval, took the lead in developing their families' tourism businesses. For the better part of a year, the two traveled several times a month to the training sessions held in distant Puerto Jiménez — at times walking, hitchhiking, or riding ATVs or buses.
"I would leave at 5 in the morning and arrive back home at 7, 8 o'clock at night," Eraida said. At one point, the 62-year-old announced that she was quitting, that it was too much for her. But her peers wouldn't let her.
Eraida's voice cracked as she remembered that moment and how far she's come since then. She was clearly proud of the work she and her family and fellow entrepreneurs have done to get her home ready to receive guests.
But she was also sober in her assessment of how much more work needs to be done.
"We've got a start," she said.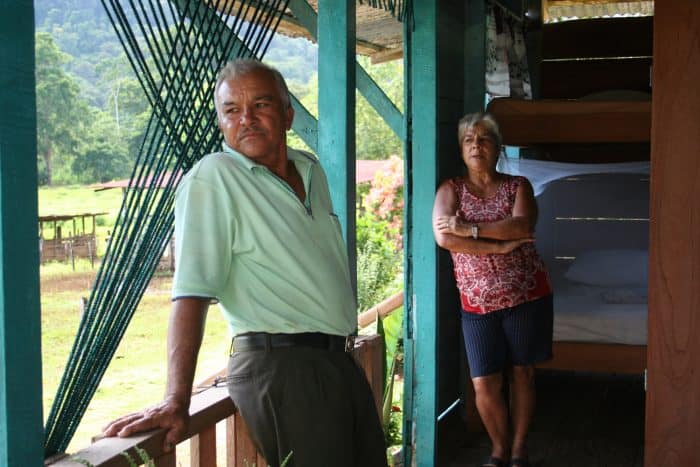 Camino del Agua, Day 2
After my attempt at milking a cow, we headed off on the next leg of our trip, a pleasant, two-hour horseback ride to El Progreso. Don Felipe Rodríguez, another graduate of the Caminos de Osa program, led us on the trip, pointing out trees and plants along the way and explaining their traditional uses.
We took the new road, winding through forest, open pasture, crops and occasional campesino homes. The highlight of the ride came about halfway through when we reached the top of a hill and were met with a stunning panorama of rugged coastline where the Sierpe River meets the Pacific Ocean, with the river winding its way back inland.
We ended our ride at Rancho Almar restaurante, where cool lemonade awaited us while the owner, Marielos Almengor, another Caminos de Osa graduate, made us a lunch of fresh fish and tostones, fried, green plaintains, my favorite. After lunch, Franklin Araya, another Caminos de Osa graduate, took us through the quaint beach town of Drake Bay to our hotel, Casa Drake, in the hilltop community of Planes de Drake above the bay.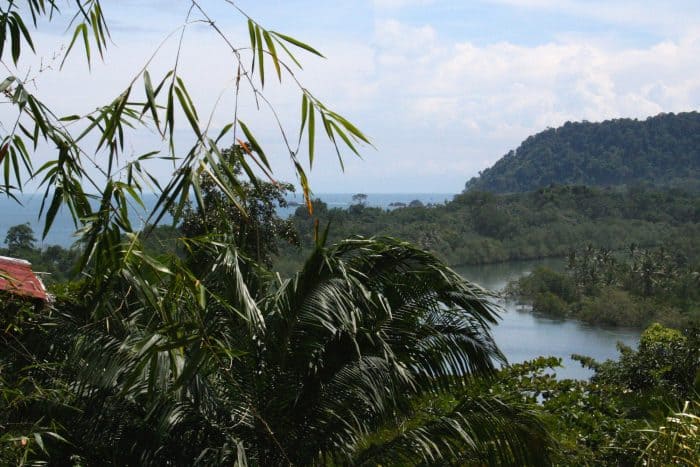 We had the rest of the day free, although organizers are preparing a waterfall hike for this second afternoon of the Caminos del Agua tour. Some in our group sipped beer on the airy balconies off each room at Casa Drake and marveled at the abundant bird life around the hotel grounds.
Two of us decided to venture down the road that Franklin had told us would eventually take us to the shore. It was a longer walk than we expected, and it was almost dark by the time we got there, but we were rewarded with a wild bit of rocky beach. Looking south, we could see the trail headed to San Pedrillo beach and eventually to Corcovado National Park disappearing into dense forest.
We took a quick dip in the ocean and hurried back up the steep road, praying for a ride. And we got one! A man came up the road on a quad — a common vehicle in these parts — and took us up the hill in the fading light. As we chatted, we discovered that he was related to the owner of our hotel. We were starting to learn that practically everyone is related in rural Osa.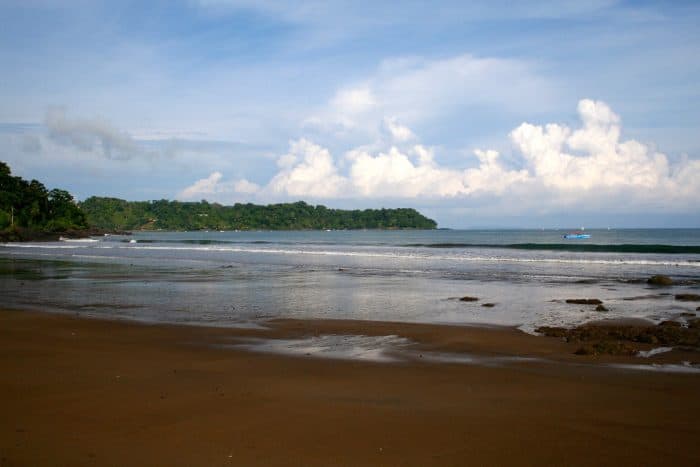 Camino del Agua, Day 3
Our final day featured a half-day snorkeling trip to Isla del Caño, an island biological reserve about 15 kilometers offshore from Drake Bay. The boat ride was smooth and fairly uneventful, although it's common to see whales and schools of dolphin. We saw a small group of tropical spotted dolphin and, bobbing on the surface, some red-footed boobies that our guide explained were probably waiting for the dolphins to scare up sardines.
Isla del Caño is a little over a square mile of dense forest coverage, surrounded by good rock and reef diving and snorkeling sites, though our guide said large amounts of coral here had died off in recent years because of warming waters and pollution, including from sunscreen.
After a short tutorial and safety talk we jumped in the delightfully warm water. The visibility was better than I expected for the rainy season but still not great. We saw angelfish, parrotfish, Moorish idols and several guineafowl pufferfish — one bright yellow and the other the more common dark gray with shiny, white spots.
After our first snorkel, the boat dropped us off at the beach on Isla del Caño, where we lounged and had some snacks before heading back out for our second snorkel. This time, we were rewarded with a huge school of bigeye trevally — a silvery buggy-eyed fish in the jack family — and a hawksbill sea turtle.
The most striking creature I saw was a huge, spiky, bright blue and purple starfish. When I excitedly tapped our guide to point it out, and we pulled our heads out of the water, he didn't seem excited. It was a crown-of-thorns starfish, he explained, an intruder in these parts. He said these starfish are native to South American waters and are eating up the coral around Isla del Caño.
We headed back to Drake Bay for a hearty lunch at the Pirate Cove Hotel, which also ran the tour. After that, we had another afternoon off. I chose to venture down another road to the edge of Corcovado National Park. I thought maybe I could walk into the park a little and at least say I'd been there.
At the end of the road, a park ranger sat outside a guard station on a metal chair. He told me this entrance to Corcovado isn't yet open to the public, but he got me a chair and invited me to sit down and chat.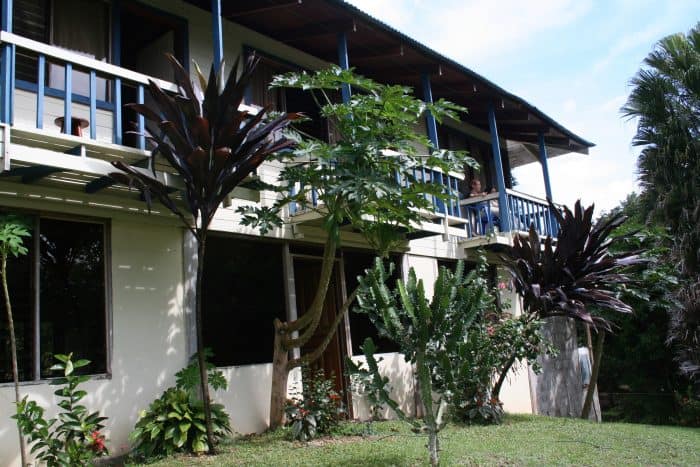 When I told him where I was staying, at Casa Drake, he told me he used to catch the hotel owner illegally hunting wild animals within protected areas. Something clicked for me: That's exactly what Caminos de Osa is trying to change.
Zacarías Alemán, former hunter, is now the proud owner of a beautiful little hotel and board member of the Caminos de Osa association that is trying to create a sustainable source of income for his family and many others in the area.
The participating businesses and the proponents of Caminos de Osa are clear that there's still a long way to go. The association is working on upgrading some of the hiking trails, and Caminos de Osa is developing a quality rating system that will let tour companies and visitors know what they can expect from the various businesses.
Tour companies are just now starting to promote the routes to customers. As high tourism season approaches, locals are hoping for an increasing flow of adventurous visitors on the trails of Osa.
You can find out more about Caminos de Osa and book one of their three tours — Camino del Agua, Camino del Oro and Camino de la Selva — on the organization's website: www.caminosdeosa.com.
Contact Jill Replogle at jillrep@ticotimes.net.