Around 7 a.m. on July 22, 59-year-old Jon Becker had finished surfing off of Tamarindo's Playa Grande. Becker put one foot in the Playa Grande Estuary, which separates the town's two main beaches, but before he could even hop on his surfboard to paddle across, a crocodile clamped down on his leg.
With help from a friend and a lifeguard, Becker got free of the crocodile and back to shore. Doctors at the Enrique Baltodano Hospital in Liberia were able to save Becker's life, but not his right leg, which was amputated below the knee.
The incident was the third crocodile attack in the Playa Grande Estuary since 2013, and the seventh reported attack in Costa Rica this year. Despite its small size and population, Costa Rica is tied with Brazil for the most reported crocodile attacks in the Americas this year, according to CrocBITE, which compiles reports of croc attacks worldwide.
The severity of the latest attack and its occurrence at a popular vacation spot spurred an instant reaction from tourism leaders, who complained that the Environment Ministry (MINAE) has not done enough to manage the country's croc populations. Local surfers also protested on the beach after the attack, holding painted surfboards with slogans like, "stop crocodiles."
Employees of the National System of Conservation Areas (SINAC) in Tamarindo have now teamed up with the Tamarindo Development Association (ADIT) to try and address the town's problems with crocodile-human conflict. But the issue persists in the rest of the country. Despite complaints, MINAE has yet to announce a comprehensive plan to deal with Costa Rica's high number of croc attacks.
The Tamarindo Plan
Positioned near both Tamarindo's most popular surf break and the entrance to Las Baulas National Park, the Playa Grande Estuary is the perfect hotbed for croc-human conflict. Surfers crossing from Playa Grande back to Tamarindo have to either cross through or near the estuary or drive the 30-minute roundabout route that circumnavigates the park. Because of the popularity of the Playa Grande waves and the protected status of the approximately 88 American Crocodiles in Las Baulas National Park, neither group is willing to budge.
Instead of removing crocodiles or banning surfing in the area, SINAC and ADIT hope to allow the two groups to coexist. Warning signs have already been placed around the estuary, but the groups are putting most of their efforts behind stopping illegal feeding of crocodiles by boat tour operators and accidental feeding by fishermen gutting their fish near the estuary.
According to crocodile experts, crocodiles that have been fed by humans can begin to associate people with food and become more aggressive.
"That is the biggest problem and we are solving it," said Rotney Piedra, the administrator of Las Baulas National Park. "We are sending out documentation to tour companies so they will have to register to take their boats into the park and we are doing more frequent patrols of the area."
ADIT has also promised to place a surveillance camera near the estuary to help monitor illegal feeding, and SINAC is going to conduct population studies to determine if any crocodiles need to be removed to prevent future attacks.
"To me, the idea of removing a crocodile violates the entire premise of a national park," Piedra said, "but if one crocodile is going to continue attacking, we need to take that into account."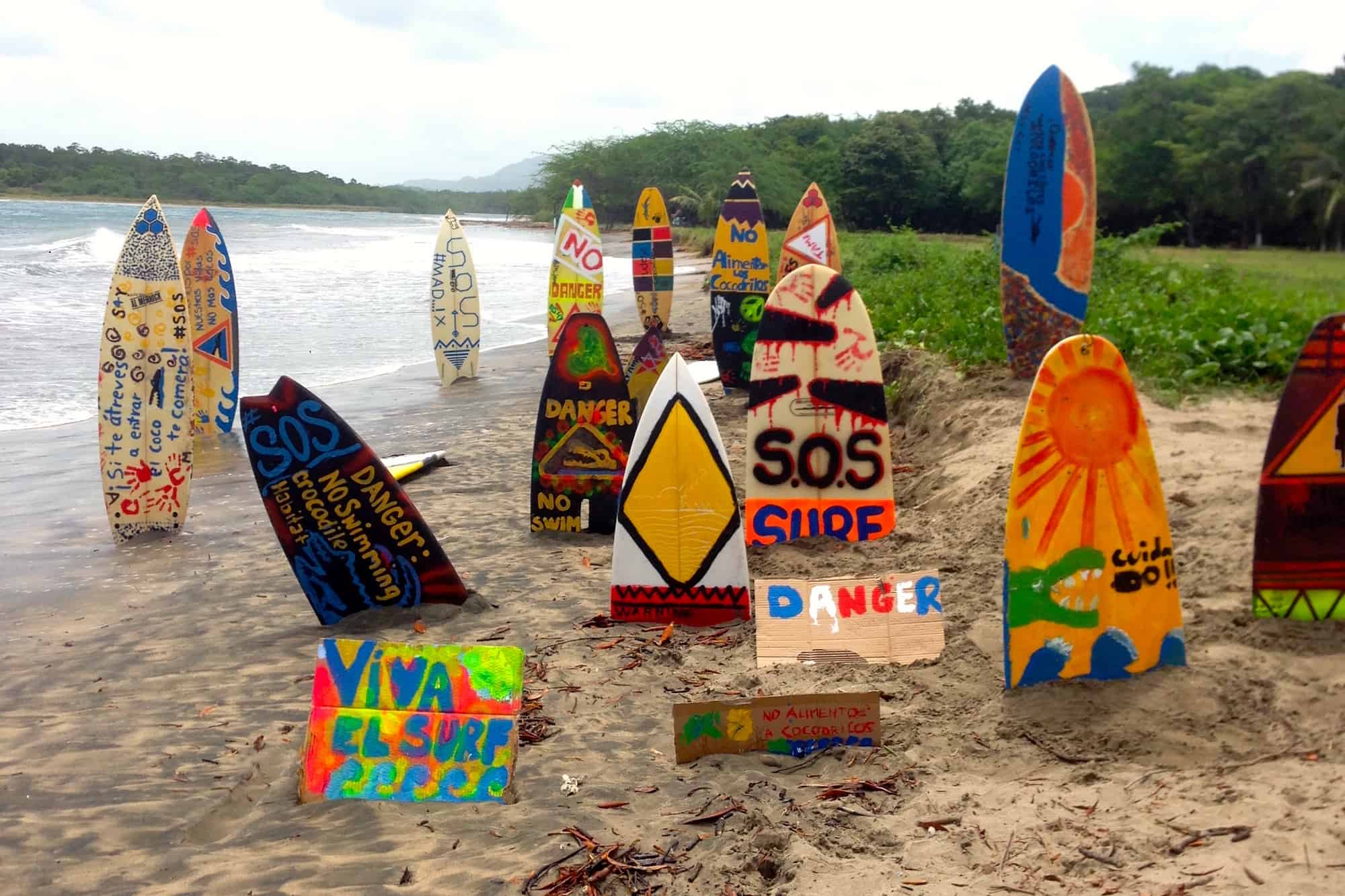 Crocodile sanctuary
To reduce conflict, crocodile conservations say more efforts are needed throughout the entire country. Illegal crocodile feeding occurs regularly at tourist hotspots like the Tárcoles River bridge. Besides these hotspots, many attacks occur in rural areas where people live in close contact with crocodiles.
On August 1, Costa Rica's National Tourism Chamber (Canatur), announced it would not support any tours that feature wildlife feeding, and asked visitors to avoid taking such tours. The announcement comes two years after SINAC promised to crack down on crocodile feeding tours on the Tárcoles River.
For Shawn Heflick, a conservation biologist and crocodile researcher based near the Tárcoles, the problem is more complex than simply banning crocodile feeding tours.
"What you have is a lack of education," Heflick said. "People know the crocs are there but they perceive these crocodiles as something harmless like green iguanas. Because there has never been a major attack in their area or the attacks don't happen frequently enough, people don't behave differently."
Heflick has already taken the first steps toward building the education plans he believes Costa Rica needs by building a crocodile sanctuary near the Tárcoles bridge. The sanctuary, Crocodile Conservation International, has been awaiting MINAE approval since October. If opened, it would take in crocs slated to be killed by MINAE due to aggression or for population control.
According to Heflick, the crocodiles would be displayed to the public and used in educational workshops. The money gathered from the sanctuary would be used to fund crocodile research and educational campaigns.
Kill the crocs?
While crocodile conservationists across the board believe that education and cracking down on feeding is part of the solution, some don't believe it goes far enough. Juan Bolaños, a member of the Association of Central America Crocodile Specialists and a frequent consultant for SINAC, believes that MINAE needs to start killing more crocs.
"There needs to be an institutional effort to get control of the population," Bolaños said. "Any aggressive crocodiles need to go."
For the last six years, Bolaños has worked with SINAC in the Tempisque River to select crocodiles to kill or relocate before breeding season. The annual crocodile cull was deemed necessary in 2010 after the discovery of a severe imbalance in the sex ratio.
Crocodile sex, as with many reptiles, is determined by the temperature during egg incubation. Scientists believe that climate change and deforestation are driving the temperature too high and causing a surplus of male crocodiles.
Unable to find mates, male crocodiles have become more aggressive, a trait Bolaños believes endangers the species as a whole.
"If we don't do away with aggressive crocodiles in a responsible way, people are going to start doing it for us," he said.