SARCHÍ, Alajuela — Sarchí is the birthplace of the brilliantly painted oxcarts that are a national symbol of Costa Rica, and the Eloy Alfaro oxcart factory is the epicenter.
"This is something we've been doing for 120 years, and we're the only town in the world that does this type of decoration for oxcarts," said Enrique ("Henry") Villegas, a cart painter and tour guide here. He took a break from painting a wheel to show me around.
The intricate, elaborate and oh-so-colorful designs are unique not only to Costa Rica, and not only to Sarchí, but nowadays to this very factory, the only one left that is still producing these handmade beauties on a regular basis.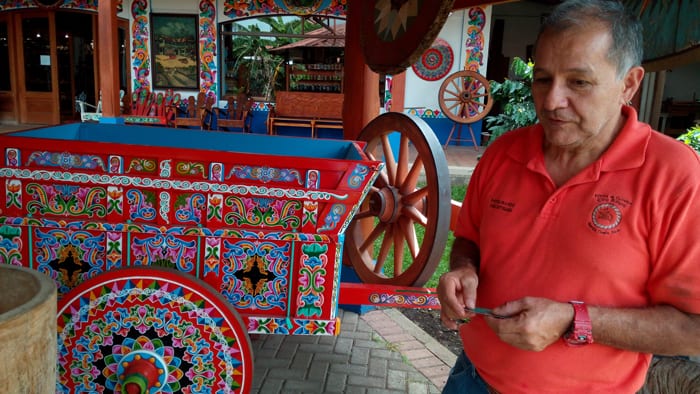 "We are very proud of this vehicle, which represents us in the best way," said Henry. "We like to say that if we were to compare it with cars, this would be a BMW."
In addition to beautifully decorated tables, sturdy rocking chairs and all kinds of colorful souvenirs, this rough-and-tumble factory produces about three oxcarts a month — to farmers who actually use them for work.
"They could buy a tractor to work on their farms, but it's a question of tradition," he said. "It's a wonderful tradition, and they esteem it highly; they don't want to lose it for anything."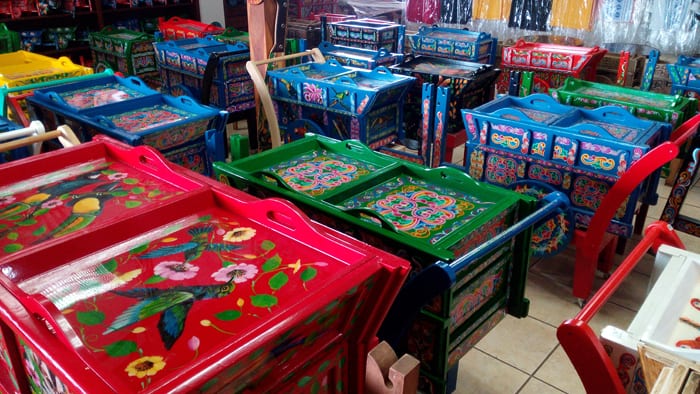 The town celebrates its heritage by displaying the world's largest oxcart in its town square — 14.5 meters long, or five times the normal size. It was built at Eloy Alfaro.
A couple of centuries ago, oxcarts were just ordinary, undecorated carts used to transport coffee and other goods to Puntarenas for export. Yet if you think building a wagon for oxen to pull would be easy, consider the wheel.
Oddly enough, the pre-Columbian civilizations that built the cities of the Aztecs, Mayas and Incas did so without ever inventing the wheel. It's a fairly sophisticated device that has to be round, must be made of a durable material, needs a working axle and has to be made in matching sets.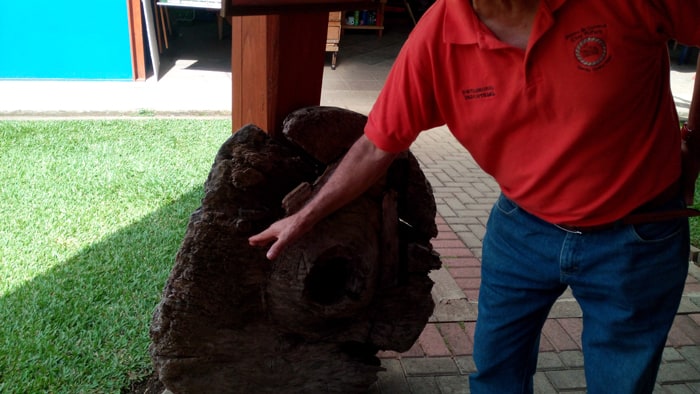 The earliest oxcart wheels in Costa Rica were made of solid pieces of wood, which had to be very large and were not easy to find. Also, because wood has unidirectional grain, a single piece of wood turned into a wheel would wear unevenly and become oval.
Early innovations included wrapping a ring of iron around the wheels, which prevented the wood from disintegrating on Costa Rica's early dirt roads, and adding a metal bushing to the center. But a huge piece of wood was still needed to make every wheel.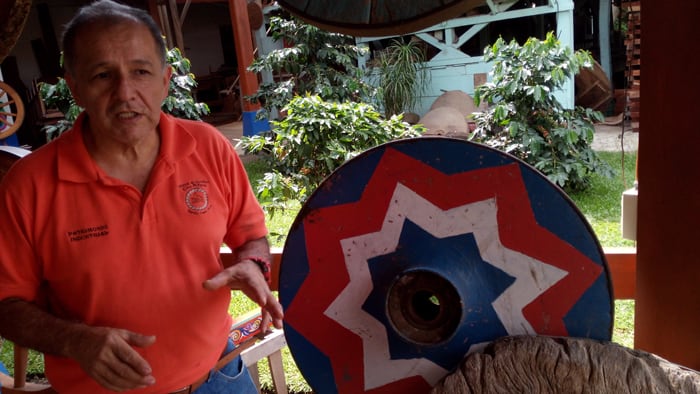 "Just 80 years ago, a worker here in this factory started doing some tests with respect to construction of the wheel," Henry said. "Finally after much testing, he invented this wheel, which is what identifies us."
The great leap forward was to build a wheel out of 16 wooden wedges, each placed 22.5 degrees away from the last, for a total of 360 degrees (like a pie cut into 16 pieces). It was a lot easier to cut little wedges from available lumber than to find a giant block of wood to make the entire wheel. The same metal bushings in the center and iron ring around the outside were used, and Costa Rica's modern oxcart wheel was born.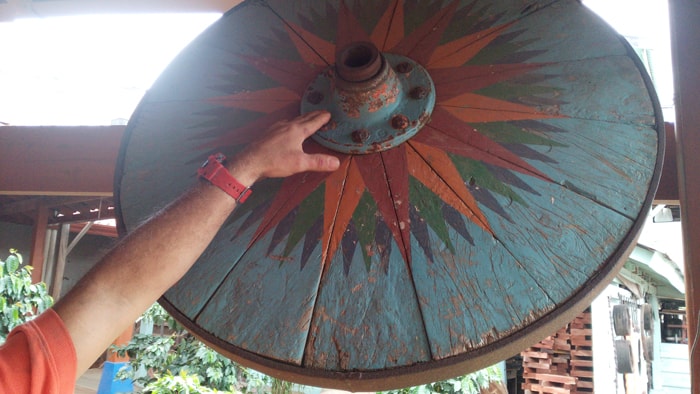 The design has been compared to a compass, which also has 16 points (including, for example, north-northeast, northeast and east-northeast), but this seems to be more of a coincidence than an homage to the compass.
The strip of iron to protect the wood is rolled into a circular shape and welded closed, but at this point it's 1 centimeter smaller than the wheel. It's taken to a forge and heated for 45 minutes until it expands and becomes larger than the wheel. Then the wheel is placed inside and cold water is poured on top until the iron contracts snugly around the wheel.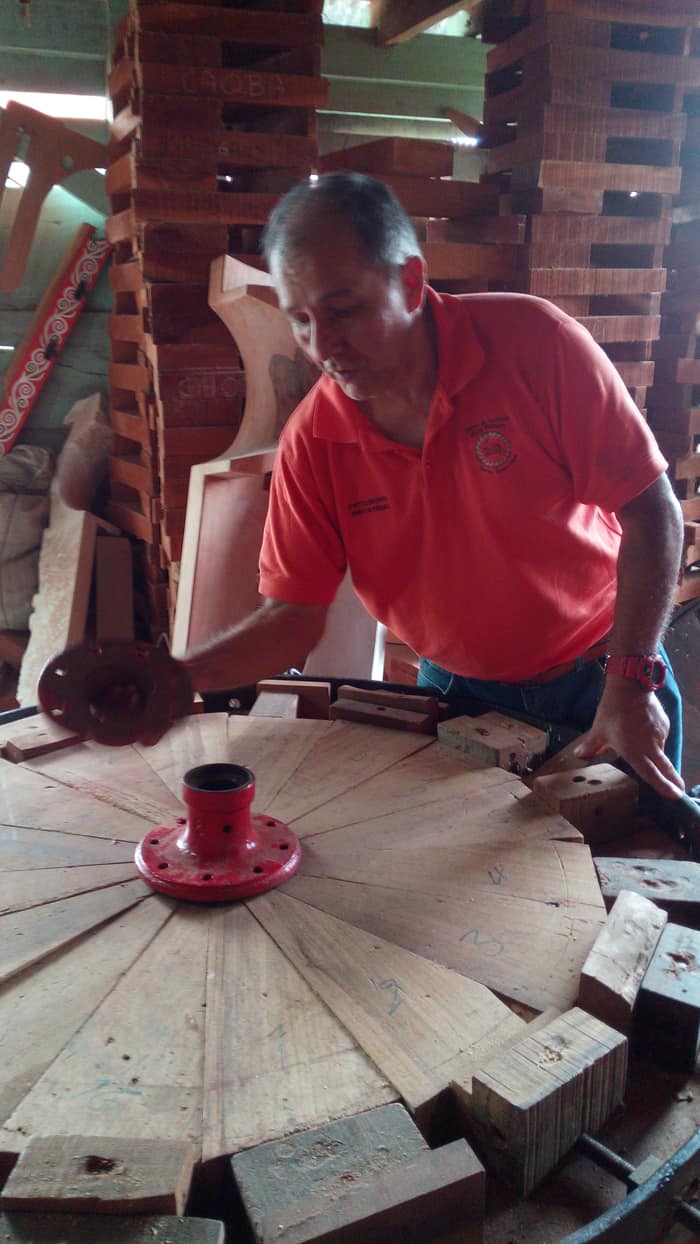 "Our experience in this factory is that wheels that are 50 years old or older, they bring them in for new decoration, and the wheels are in perfect shape," Henry said, then added with a smile: "So we can guarantee a minimum of 50 years or 100,000 miles, whichever comes first."
In the old days, oxcarts were decorated with fresh flowers when used in parades or festivals, but the flowers wilted in the sun. So someone in a finca called La Luisa in the mountains here got the idea of painting them roughly 120 years ago. The idea caught on and was widely imitated, and soon Costa Rica had a national symbol of its own design.
The production process here is itself a marvel of innovation, in which water diverted from a river powers a series of wheels that make this factory run, with no need for electricity. Founded in 1923, the factory started with a 15-horsepower, 17-rpm wooden wheel powered entirely by water. In 1934 it started using metal drums, and in 1965 it installed a solid iron wheel.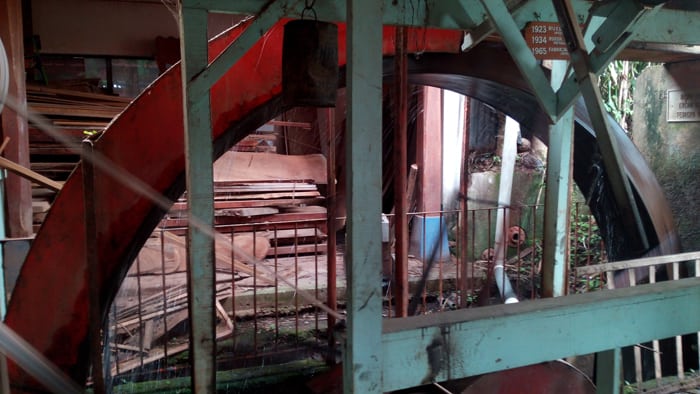 Henry demonstrated how this water-powered system activates a series of belts and pulleys to fire up a band saw, a hacksaw and a metal lathe.
"So instead of electricity we use the weight of the water, and the factory has worked the same way for 93 years," he said.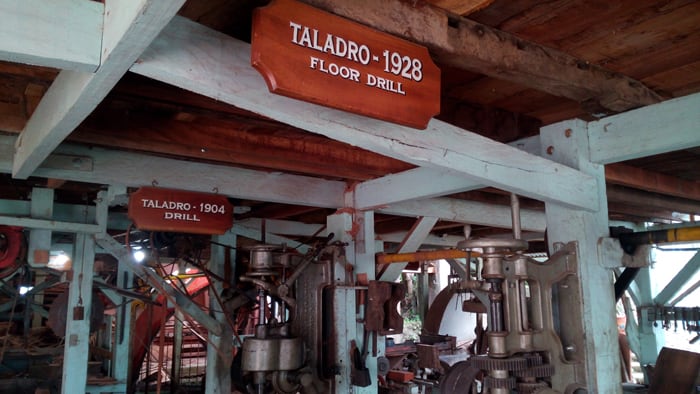 Henry introduced me to a half-dozen guys who were painting carts and carving wood, including one guy who can carve an entire Nativity scene out of cedar in three days, but at the moment was carving a dachshund.
I asked Henry how much the company charges for the three oxcarts a month it makes.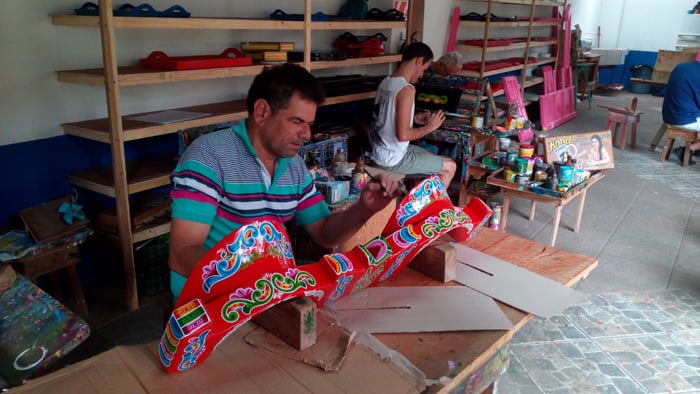 He said a normal-size cart, to be used for actual work, runs about $3,000, roughly 1.5 million colones.
"How many would you like?" he asked.
"I don't have an ox," I said.
"We'll get you one later."
IF YOU GO
Getting there: A stop at the factory is included in several organized tours, and you can find it on Waze searching for "Fábrica de Carretas Eloy Alfaro." It's 100m north of the Palí in Sarchí Norte, in the western Central Valley about an hour from San José.
Hours: Open daily, 7 a.m. to 5-6 p.m.
Rates: Factory tours are free, though tips are accepted. A large showroom sells a wide variety of souvenirs, furniture and oxcarts.
Phone: (506) 2454-4131
Email: carretaseloyalfaro@gmail.com
More info: http://souvenirscostarica.com/en/