ROATÁN, Honduras — Long before Johnny Depp donned the dreadlocks and eyeliner, the real pirates of the Caribbean made camp on this cutlass-shaped island.
This little piece of paradise was claimed by the Spanish in the time of Columbus, but Spain never built any permanent settlement here. This oversight, according to an exhibit at the Roatán Museum at Anthony's Key, paved the way for repeated invasion, forced resettlement of the native population, and lawlessness that made this a perfect haven for the lawless.
I came here to celebrate a friend's 50th birthday, along with a dozen of her friends and her two grown children. We rented a couple of luxury villas at Villas del Mar, which had a total of seven bedrooms that slept up to 16 and, at $6,800 a week, cost a respectable amount of treasure.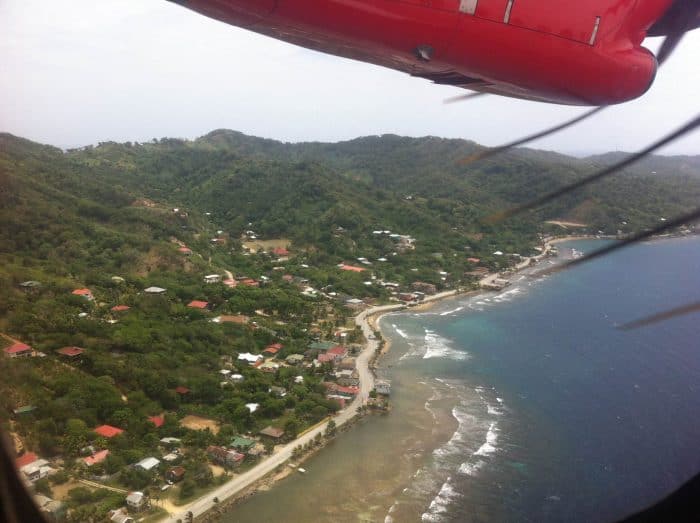 Flying in from San Pedro Sula, I knew from the air that this was my kind of place — thick green forest on an island surrounded by turquoise water, which has several patches of bright green where there's shallow sand rather than coral under the surface.
The first to arrive, I was met at the airport by a porter named Banjo — which struck me as a name I should use for a classic Caribbean character in a novel I should write someday.
Under Banjo's guidance, two drivers divied up the duties for shuttling two groups of passengers arriving at different times. It was a 45-minute drive to the villas, with an all-important pit stop at the big supermarket, where the first group of arrivals was tasked with buying drinks and snacks.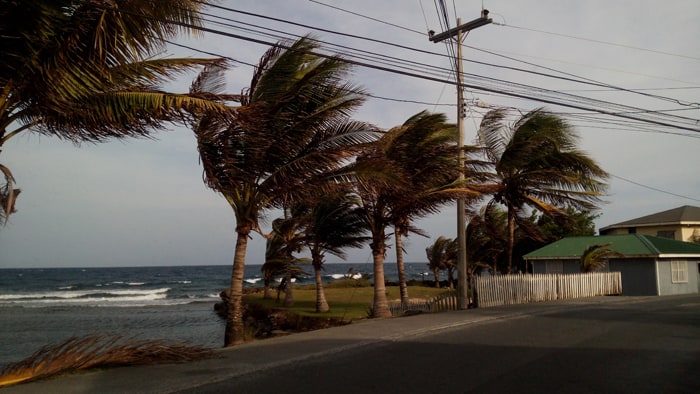 We were then driven to the villas — oceanfront tropical mansions with every comfort imaginable, from swimming pools to air conditioning to a private dock to a borrowing collection of perhaps 500 hardback novels. Even free sunscreen and insect repellent were provided.
Some in our party were surprised to see that the villa staff were packing sidearms or even shotguns, and I was reminded that Honduras is supposedly the murder capital of the world. Roatán is richer and safer than the mainland today, but it has a long and storied history where right is derived from might.
Columbus landed in 1502 on nearby Guanaja, which like Roatán is one of Honduras' Bay Islands. In 1530, Spain granted settlers here the right to demand labor and tribute from the natives. By the mid-1500s, French and English freebooters were using Roatán as a base to raid Spanish galleons loaded with gold.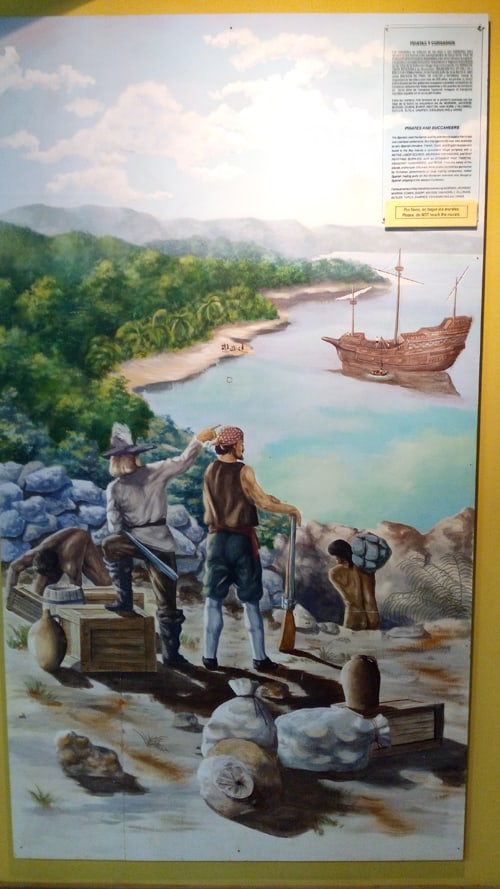 Pirates with names like Henry Morgan, Edward Mansfield and John Coxen continued to use the Bay Islands as a base for the next two centuries. England and Spain both claimed the islands off and on until 1859, when Honduras was recognized as the rightful sovereign.
Sometime around the 1960s, it occurred to someone that tourists might like this place, and Roatán found its rightful place in the world, still separating foreigners from their wealth, but now quite legally.
Party time
The second group in our party, including the birthday girl and her kids, arrived mid-afternoon and the reunion was complete. We feasted on a shrimp curry dinner prepared by the cook who worked here, and after a few cocktails we dragged our jet-lagged selves to an early bedtime.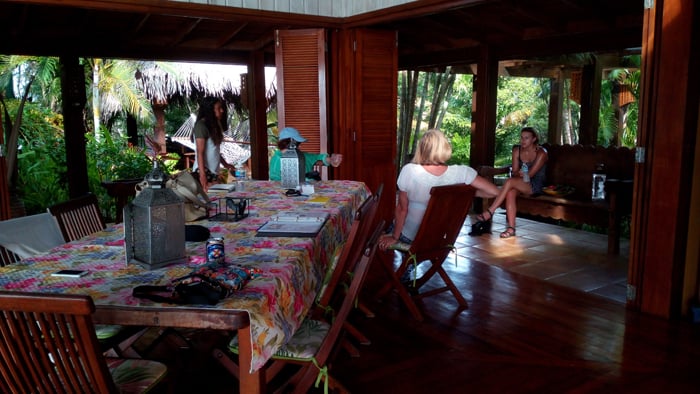 In the morning, a half-dozen of us walked down to the dock and crawled into kayaks to explore the northeast coast of the island and do some snorkeling. After close to an hour of paddling, I noticed the empty cup holder between my legs and wished I'd brought a beer. (I corrected this oversight the next time I went out.)
But my heart was full: The ocean was beautiful, the land was lush, the temperature was perfect, the exercise was invigorating and the company was excellent. This was shaping up to be a nearly perfect vacation.
We headed down to Punta Gorda, with 18-year-old Chloe leading the way, and then paddled a couple hundred feet out to the reef, where the waves were breaking, and tied our kayaks to a buoy so we could snorkel.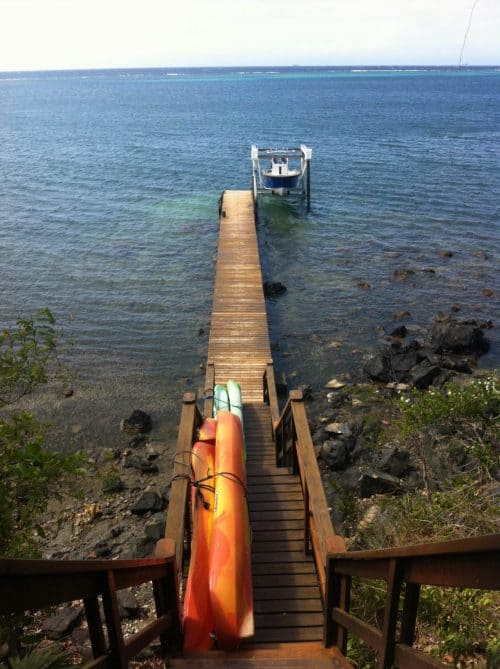 The coral reef here is said to be part of the Meso-American Reef, called the second-longest in the world after Australia's Great Barrier Reef. It makes a good story, but a Moon guidebook I found in the house says this can't really be called one reef, as Belize has a barrier reef and the Bay Islands have a fringing reef, and there's a trench 3,000 meters deep between them.
Oh, well. Whatever its size, it was spectacular for snorkeling, with the kind of sights you expect to see on a great scuba dive, all of it just a few feet below the surface.
After we managed to climb back into our kayaks without flipping them (no easy feat), we headed for home. Chloe took her usual place in the lead and I decided to race her, giving her the disadvantage that she didn't know we were racing.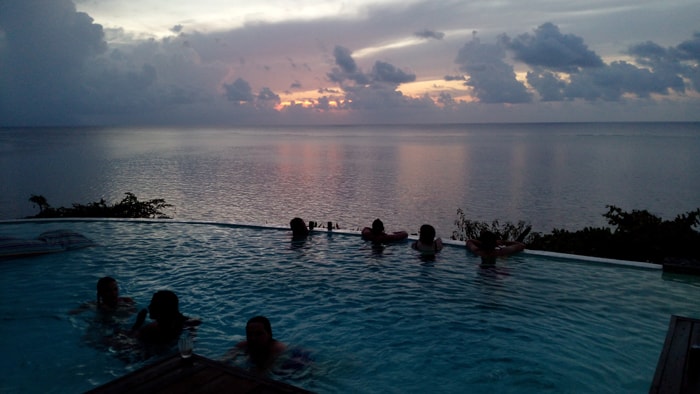 When I spotted our dock I thought I had an easy win because she was too close to shore and I had the advantage of the current. But she powered right past me and beat me by three lengths.
When I told her I was secretly racing her, she said, "I'm very competitive." Apparently she was secretly racing too, just out of force of habit.
I pulled up alongside the dock, put my paddle on it and then looked down to untie my mask from my rope. When I looked up I had drifted completely out of reach of the dock, forcing me to abase myself further by crying, "Help!"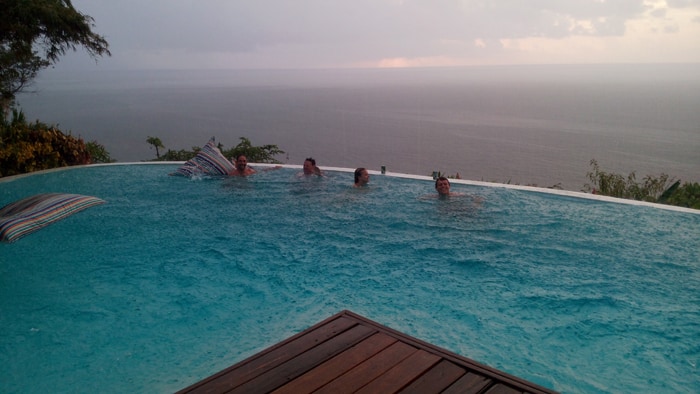 I threw Chloe my rope but I was too far away, so I asked her to throw me my paddle. She expertly hefted it through the air, throwing better than I caught, because it whacked me right on the shin.
"That was a pretty good throw," she said. I was lucky to escape unbloodied.
Scuba time
On Monday the four certified divers among us headed out for two dives with Subway Watersports. One was an expert, 20-year-old Graeme, who got certified as a divemaster at Subway in 2013. The others were all amateurs — Graeme's mother, Kat, her friend Mike and me.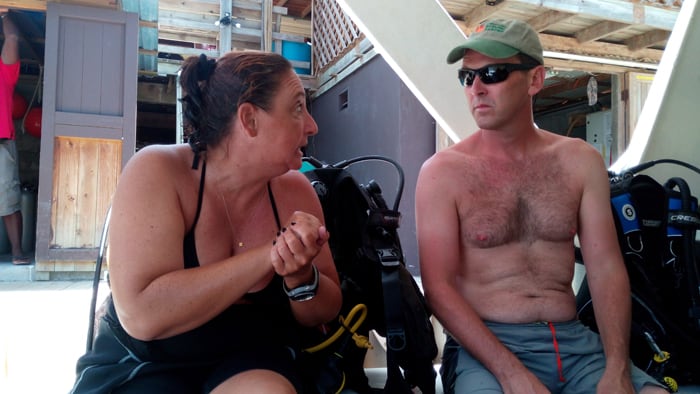 So the three of us signed up for a refresher course in the swimming pool with Serena Moscati, 42, a vivacious instructor from Italy.
It turned out Serena was not only re-training three beginning divers but also training four or five interns undergoing divemaster training (the course Graeme had already completed).
In the pool, we practiced recovering our regulators, clearing our masks and achieving buoyancy control. Then we climbed in a dive boat and headed out to sea, where we went for a dive along a beautiful reef.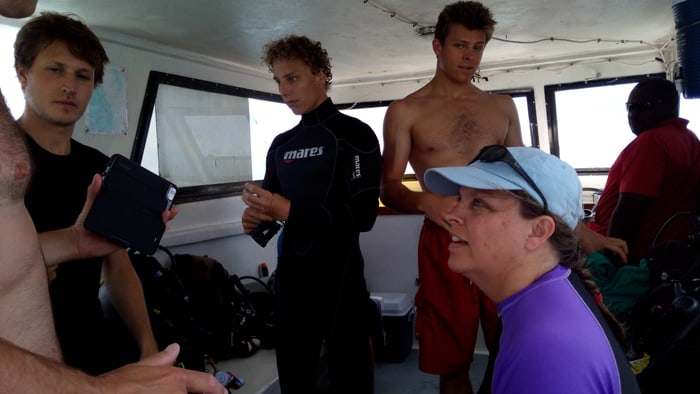 The four of us were all paired up with the four divemasters-in-training, which meant we got extremely close attention underwater. On at least three occasions someone pantomimed for me to either inflate or deflate my vest to achieve the right buoyancy.
I started to feel like I must be doing badly to need so much assistance, but then I reasoned that these guys were just so eager to help they were constantly on the lookout for any little suggestion they could make.
I last went diving a little over a year ago in Bocas del Toro, and the skills came back quickly. There is something magical about hanging suspended in water, breathing comfortably, as if levitating in a dream.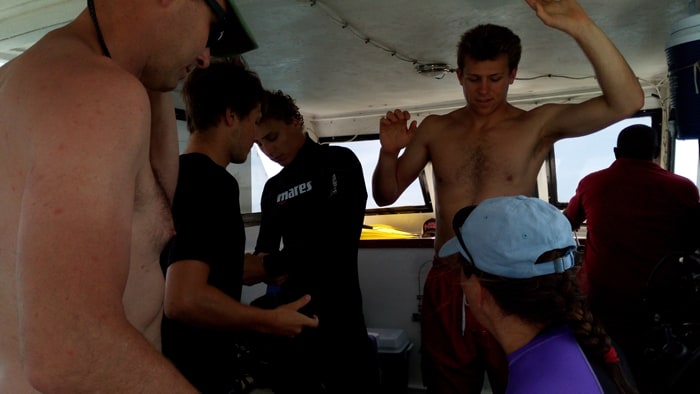 When I was a little kid I thought being a scuba diver would be the coolest thing in the world (an idea I may have gotten from a James Bond movie). So here I was living out my childhood fantasy, and I was feeling pretty cool, a little bit like a bald Bond.
And then somehow my weight belt came unlatched, and one of my two 5-pound weights slipped off and plunged to the ocean floor. At this point my dive buddy made a tactical error, immediately diving to retrieve it.
The reason for the weights is that the buoyancy of the tanks, of the human body and of any air trapped in the gear tend to propel the diver to the surface. So when deprived of half the weight of my belt, I immediately started to ascend, and there was very little I could do about it. Without help I probably would have risen all the way to the surface, which can give you decompression sickness if done without a three-minute safety stop.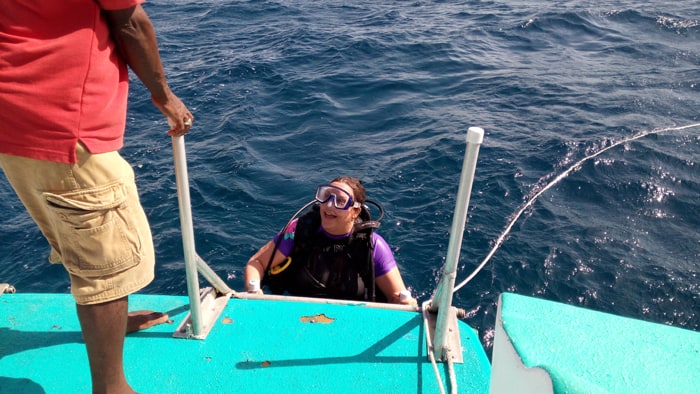 Fortunately the student dive leader witnessed my predicament and came straight to me, swam above me and held me down. I couldn't see him, but I assume that to do this he had to turn upside down and kick his fins, because he wouldn't have been carrying enough weight to counteract my shortage of weight just by holding onto me.
We were soon joined by the instructor, Serena, who took the weight recovered from the bottom, threaded it back onto my belt and latched the belt for me. I felt like an airplane passenger with three personal flight attendants — one to pick up something I dropped on the floor, one to put up my seat-back tray table and one to fasten my seat belt.
On our second dive there were no such glitches, and the place where we dove, the Turquoise Wall, was the most beautiful I've ever seen. Visibility was an astonishing 100 feet, the water miraculously clear of any sediment.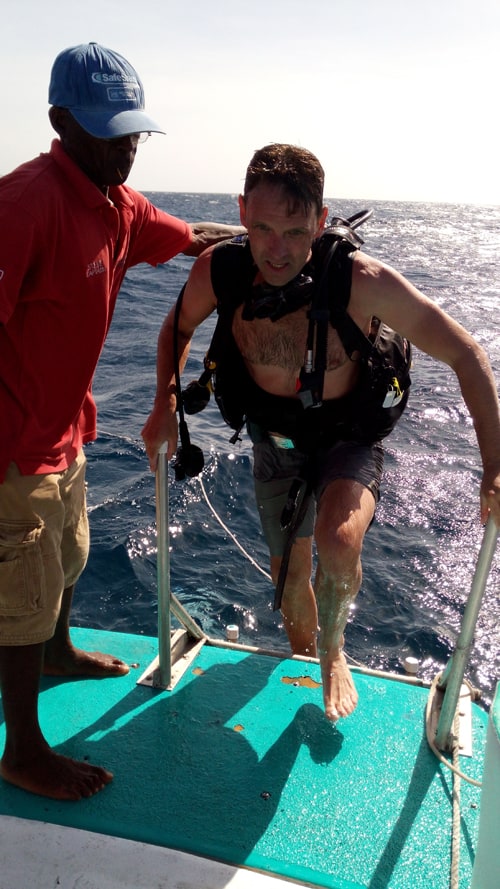 The reef was glowing with bright oranges, greens and purples, the plants and coral in shapes like fans, tubes, trees, vases and brains. We saw a huge crab walking sideways along the bottom, in addition to red snappers, a lionfish, a filefish, a trumpetfish, a black durgon and some Christmas tree worms.
If God created the oceans first, he appears to have pushed his imagination to the limit. There is surely no place on dry land bursting with so many types, shapes and colors of flora and fauna.
Scuba diving would be fun even if you couldn't see anything, but the visuals make it truly magical. One of the best things about this sport is that it draws you to tropical places that are invariably beautiful above water and below. I learned to dive in Tulúm, Mexico, and since then I've done it in St. Maarten, Cabo San Lucas, Costa Rica, Panama and even Arkansas. Next stop: Belize.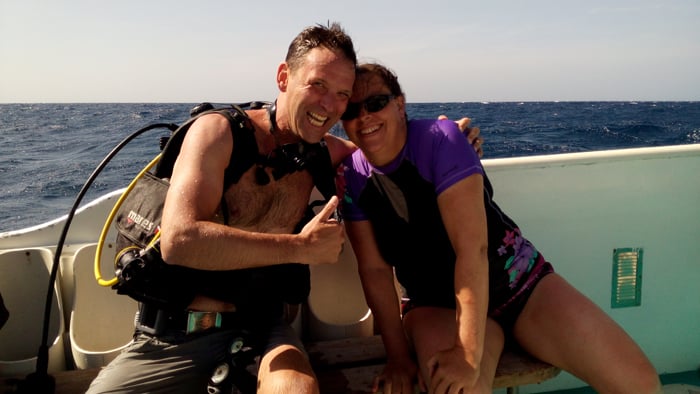 I asked Serena what's the worst thing that ever happened to her underwater with new divers.
"Sometimes you have a panic situation," she said. "I'd have to say not very often, thank God, but it happens, that's why it's good to be pre-prepared and prevent the problem. So when you see a person that is a little scared, being very close to the person is very important."
As I would have expected, when new divers panic they swim straight for the surface, which as I mentioned can be dangerous. But even worse….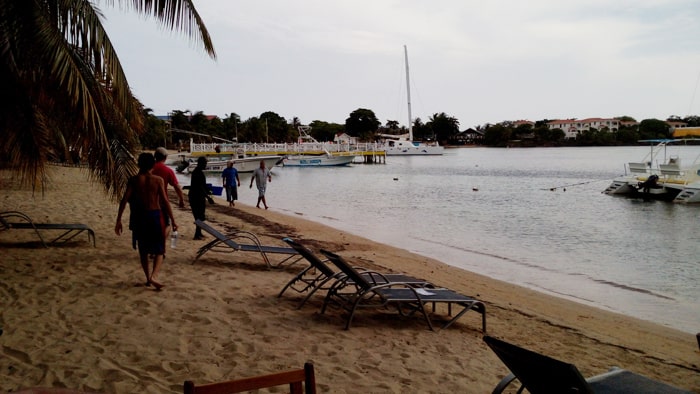 "The worse thing is they usually have a tendency to take off the regulator and mask," Serena said.
Really?? I was shocked that panicking divers would discard the two things that allow them to breathe and see.
Serena allowed that it seems "absurd" to reject your only air source underwater, but it seems to be a claustrophobic reaction, as if the equipment is suffocating you rather than allowing you to breathe.
"The tendency of panicking is: I want these things off," she said.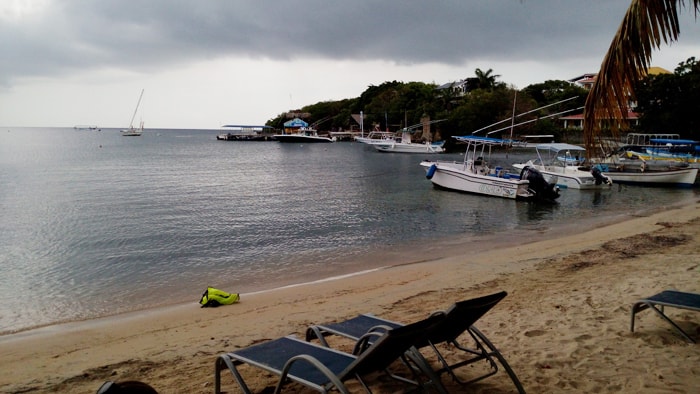 Faced with an emergency like this, Serena said she will pinch the diver's nose closed to prevent inhaling water through it and try to force the regulator back into the mouth. Neither of these tasks is easy because the diver is panicking and fighting and trying to surface.
And yes, she said, some divers have gotten away from her faster than she could catch them and kicked all the way to the surface without mask or regulator.
"Even if it's a few seconds, it takes the instructor hours because you have to deal with the situation," she said. "But thank God, nothing serious ever happened."
Fortunately we experienced no such problems, and we had a week of delightful R&R to look forward to, with ziplining, spa treatments, a visit to a history museum, an all-day boat trip to the tiny island of Pigeon Cay, a series of delicious meals and no shortage of sunset cocktails.
I have a feeling that next time someone in our group has a round-numbered birthday, Roatán will be calling to us again.
Contact Karl Kahler at kkahler@ticotimes.net