When the Plaza de la Cultura, one of San José's landmarks, reopens to the public it will have a musical fountain playing Costa Rican music synchronized at night with a light show.
The $3 million project to restore the iconic square, located next to the National Theater in the capital's downtown, began on April 4 and is scheduled for completion in November.
The project, however, is more than an aesthetic renovation. The popular square is also the roof of the three-story underground building that houses the Central Bank Museums, including the Pre-Columbian Gold Museum. The renovation project seeks to fix a series of water leaks that are causing damage to the building's walls and columns.
Central Bank architect Rafael Marín said the concrete used for the square is highly porous and permeable, and allows filtration of rainwater in some of the museums' rooms. Humidity could cause the building's steel reinforcements to corrode, he said.
"If not treated soon, humidity can damage the concrete slabs that work as the building's upper deck," Marín said.
Museum spokeswoman Diana Núñez said mineral salts and corrosion already caused damage that prompted the closure of one of the museums' rooms.
It's hoped that a new waterproofing system will prevent rainwater leaks.
The new Plaza de la Cultura design will also include an improved lighting system and three new ramps to improve accessibility from different levels. Ramps, sidewalks and other public areas around the square will also have signage for the visually impaired.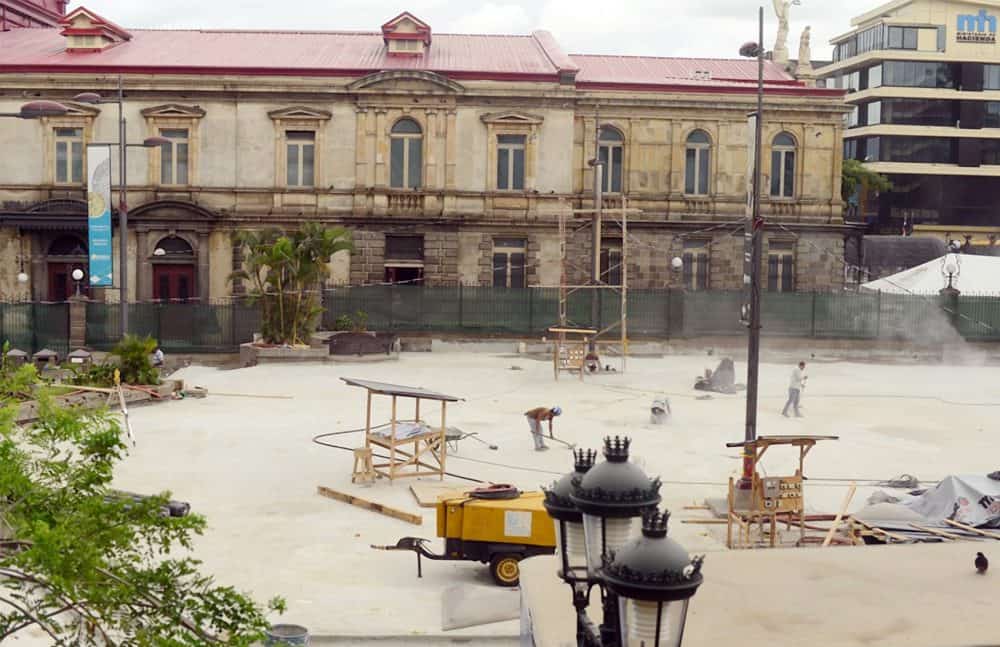 A San José landmark
The renovation of the Plaza de la Cultura is part of a plan to improve the historic center of San José and encourage tourism, especially visits to the city's museums.
Plaza de la Cultura was inaugurated in 1982 and originally had a fountain with a transparent base that allowed visitors to look down into the museums below. The transparent panels, however, were removed during a renovation in 1996.
The 20th Century World Architecture Atlas included the Central Bank's Museums building as one of the finest in the world built between 1900 and 1999.
Besides the gold museum, the three levels of the building house art, numismatics and archaeological artifacts.
Núñez said construction is not interfering with museum hours and currently most of the rooms are open to visitors on their normal schedules.
Promoting San José as a tourism destination is a new focus of the Costa Rica's Tourism Board (ICT). Officials said last year that they want visitors to spend time not just at the country's beaches and national parks, but also in the capital.
Last year, President Luis Guillermo Solís signed an executive decree declaring "of public and national interest the tourism development of downtown San José."