President Luis Guillermo Solís says he's stumped by what, exactly, has been causing a recent increase in traffic jams. He says the problem goes beyond road capacity.
"You could double the number of lanes and the next day motorists would be stuck in traffic again," Solís said during a public event last week.
The president said he doesn't understand why traffic jams are affecting one place one day, and then a totally different place the next day.
During a press conference last week, Solís said he wished he had a magic wand to solve the problem immediately. He also addressed angry reminders that one of his campaign promises was, as promoted on billboards, "Get home faster, spend less time in traffic jams."
He reiterated the promise, saying his administration "isn't over yet."
Solís said he asked Traffic Police officials for a report on the specific reasons why motorists have been stuck in traffic for up to five hours at a time in recent weeks and why the number of traffic accidents has increased.
Possible solutions
According to data from the Traffic Police, rush hour in the Central Vally is usually 7 a.m. – 9 a.m. and 4:30 p.m. – 7.00 p.m.
Public Works and Transport Minister Carlos Villalta said authorities are working on a plan to modify work schedules at public offices in the Central Valley in order to alleviate rush hour.
Ministry officials are evaluating two options: One would have half of government employees start work at 7 a.m. and the other half at 8:30 a.m., while the other option would leave it up to each agency to negotiate special hours with its employees.
Three public agencies are already changing their workers' schedules:
Minister Villalta said authorities are also considering improvements to public roads, including building more lanes and modifying 25 intersections to expedite flow on highly congested roads. He said they're also looking at reorganizing bus routes.
President Solís sent a request this week to the Legislative Assembly to amend the national budget in order to hire 1,100 more Traffic Police officers to patrol roads and crack down on infractions that cause accidents and snarl traffic.
Traffic Police Director Mario Calderón said he has increased patrols along the busiest roads in the Central Valley, but officers are constantly called to attend accidents and other emergency situations.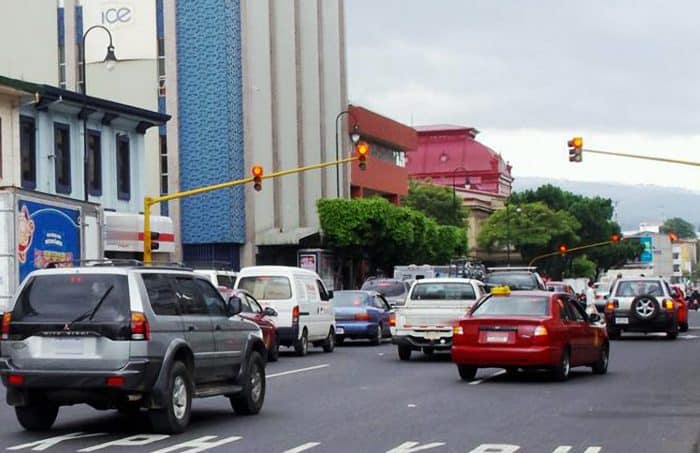 Other initiatives
The private sector and some lawmakers are also making efforts to improve traffic.
A free app called Ruta Alterna offers real-time information about traffic accidents, road closures and traffic jams, using official reports from the Traffic Police and the Red Cross. The app also includes a live chat where users can share information and updates about traffic incidents, and a log that allows users to review incidents from previous days.
Ruta Alterna is available for both iOS and Android devices, and provides updates on Facebook and Twitter.
On the legislative side, Citizen Action Party lawmaker Franklin Corella Vargas is preparing a bill that would authorize and regulate carpooling and ride-sharing. The bill seeks to incentivize carpooling by offering drivers access to exclusive parking spots, free parking at metered spaces and exemption from the one-day-per-week vehicle restriction.
Corella has yet to submit his bill to the Legislative Assembly but he's already facing opposition from taxi unions, which say the legislation would legalize Uber and similar services. Ride-hailing services like Uber are technically illegal in Costa Rica, although Uber is widely used and the government has declined to crack down on the service.
Recommended: The ultimate guide to taxis in Costa Rica