On a scale of one to ten, MAGMÁTICA rates a ten.
As an educational tool, the facility, located just outside of the city of Cartago, teaches how earthquakes and volcanoes shaped the world and the continents. As a tourist attraction, it combines thrills and fright as you sit through a simulation of the tremendous earthquake that leveled Cartago in 1910. And it's interactive from start to finish.
MAGMÁTICA is a museum dedicated to the earthquakes and volcanoes that changed the shape of the earth and created the isthmus of Central America. Part of the facility is traditional museum fare, with plaques and displays attractively teaching history.  However, MAGMÁTICA also uses high-tech displays to put visitors right there in the jungle, petting sloths and playing with toucans, or on a boat in the ocean reaching out to leaping whales. Other displays are simple but creative: for example, you can make a model volcanic erupt by combining baking soda and vinegar.
MAGMÁTICA opens with a cave-like entrance to a jungle where birds and butterflies dip through the trees while you learn about the biodiversity of the Western Hemisphere. We see how, where Costa Rica now stands, a broad river once connected the two oceans; the movements of the earth caused the land to build up until a land bridge connected North and South America and animals could pass from one land block to another.  Armadillos, as one example, were found only in South America, but began to move north after Central America was formed.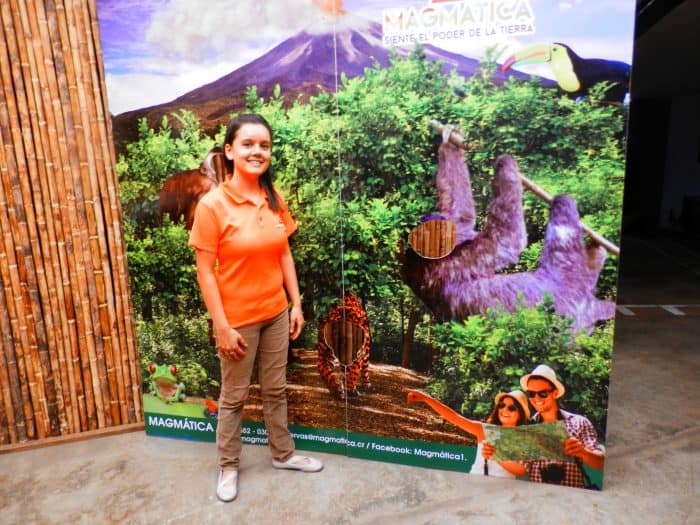 The sensational part and the main attraction is a small house, like the simple houses found in Cartago in 1910: it has newspaper pasted to walls to keep out the drafts, tin cups hanging on hooks, and a kerosene lamp dangling from a nail. In this space, visitors relive the 6.4 earthquake that completely destroyed the city. There's even a window facing an image of Cartago's Cathedral. As the rumbling noise grows, the room shakes, cups rattle and fall on the floor, the lantern swings in circles and, out the window, the church crumbles into the famous ruins of Cartago.
Visitors go on to survive two more earthquakes: Limón (1991) at 7.6 on the Richter scale, and Alajuela (1990) at 6.1. We learn how the location and depth of the epicenter determines how much of the quake you feel.
MAGMÁTICA is the creation of Manrique Araya Arrieta, a businessman who was looking for a tourism project that would reflect the region around Cartago with its two volcanos, Irazú and Turrialba, and its earthquake-influenced history.
"MAGMÁTICA is a different concept, and it teaches us how to react to an earthquake," he explains. "The only other earthquake simulator [of this kind] is in Chile."
Following studies and consultations, MAGMÁTICA opened in October 2015. Along with its museum and simulator, it features a restaurant, Gallito Pinto, with 1910 decor and modern versions of Cartago cuisine at moderate prices. Package tours with lunch and the museum are available, as are meeting rooms for classes or companies. English-speaking guides can be arranged in advance.
All in all, MAGMÁTICA is well worth the trip, and provides lessons – and excitement – that the visitor won't soon forget.
MAGMÁTICA is just one mile from the center of Cartago, on the road to Irazú, on the left hand side, convenient to reach by car, bus or train and taxi. Prices are ¢5,000 (about $10) for nationals and residents, ¢4,000 ($8) for children and seniors, and $15 for foreign tourists. Telephone for reservations at 2552-0304, write reservas@magmatica.cr, or visit the facility's Facebook page.