The bakery's storefront on Avenida Central in Los Yoses, just east of downtown San José, looks like dozens around the metropolitan area selling pan dulce and other sweets. That is, until you take a few steps back and see the looming 25-story residential tower under construction behind it.
Towers like Latitude Los Yoses are sprouting up all over the Greater Metropolitan Area, which includes San José and parts of Cartago, Alajuela and Heredia, changing the Central Valley skyline. Between April 2014 and March 2015, there was a 30 percent jump in the amount of space approved for construction of buildings taller than five stories in the Greater Metropolitan Area — to just over 1 million square meters, according to figures from the Costa Rican Chamber of Construction.
Construction approvals in the last 12 months are nearly equal to the previous period.
The boom in high-rise construction is being driven by a combination of changing consumer preferences, more attractive housing credit, and quality of life concerns, according to architects, real estate agents and developers who spoke with The Tico Times.
In the mid-2000s, San José Mayor Johnny Araya started promoting high-rise development as a way to repopulate the capital after decades of urban flight caused by fear of crime and a lack of new urban housing. High-rise construction started off in La Sabana and Ezcazú, but towers have also gone up over the past decade in Heredia, Curridabat, Montes de Oca, Desamparados, and other traditionally low-rise neighborhoods.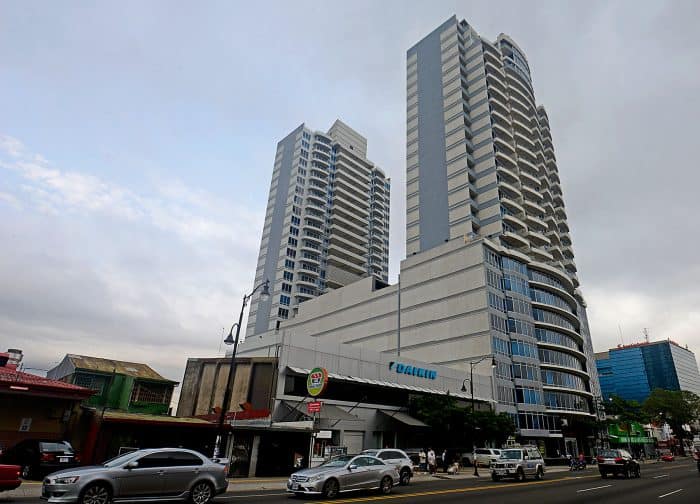 Not your grandparent's home
Some observers said the high-rise boom reflects a generational shift in what buyers and renters are looking for. For many young people, the traditional Costa Rican home is financially out of reach, even if desirable. Besides the financial limitations, there are several trends pushing people toward high-rise living:
Families are smaller and more people are living alone;
Towers offer collective security;
Undeveloped land to build new single-family homes is expensive and scarce;
Young people are more transient and less interested in living in the same home for the rest of their lives;
Traffic is pushing people to live closer to where they work; and
People want to live within walking distance of amenities like parks, restaurants and bars.
José Salinas, president of Grupo Inmobiliario del Parque, the developer of Latitude Los Yoses, said the metropolitan area has emulated the U.S. model of car-dependent residential sprawl. He thinks Costa Ricans are now seeing the pitfalls of that model.
"We've been destroying one of the most beautiful valleys in the world with suburban development, exchanging coffee plantations and forests for concrete, asphalt and fences," he said. Long commutes and persistent traffic jams are pushing people back into the city and into high-rise living.
"We wouldn't be building them if people weren't buying them," Salinas said.
The trend in new construction is likely to continue for the next several years. Arturo Sotela, manager of TK Bienes Raíces, said the real estate market hit its nadir in 2011 following the financial crisis but has since picked up, especially now that banks have fewer loan requirements.
Francisco Navarro, market intelligence director for Colliers International Costa Rica, agreed. Navarro said that the residential market was healthy and banks have been supporting new buyers with favorable credit, sometimes offering to finance up to 100 percent of an apartment or condominium with no money down.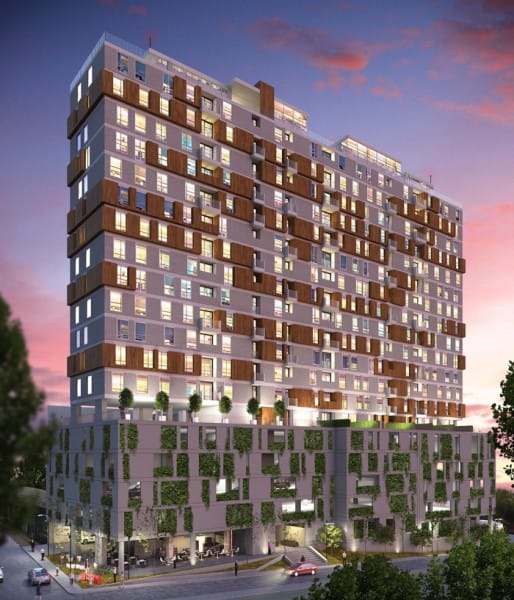 But many people buy apartments as an investment rather than a first home. The developers of towers like URBN Escalante, a $38 million development in pre-sale on the southern edge of the trendy Escalante neighborhood, are aiming to appeal to university students, and young professionals and couples. But Navarro said that this demographic often doesn't have the means to buy apartments starting at almost $90,000. Instead, older people are buying these apartments as investment properties to rent to younger tenants.
Shaky market for office towers
Though market watchers feel bullish about the high-rise residential market, there is debate over whether the boom will extend to office towers. One project that's in the works is Torre 40, a $35 million office tower that aims to challenge the 30-story Torres Paseo Colón as the country's tallest building.
Omnia Desarrolladora Inmobiliaria, the developer behind the 40-story commercial office building, believes that the tower's location — just down the block from Torres Paseo Colón — along with its amenities and the prestige of occupying the tallest building in the country will attract clients. Omnia Sales Manager Maybell Araya said that with an estimated 15 percent annual growth in demand for office space in the San José area, they hope to have the tower at capacity within two years.
Some, though, are concerned that Torre 40 will end up creating a glut in office space in the city. Francisco Navarro of Colliers International said that there is already a 15 percent office vacancy rate in the San José area. Demand for office space has been falling recently and Navarro said he does not think the office market is "healthy."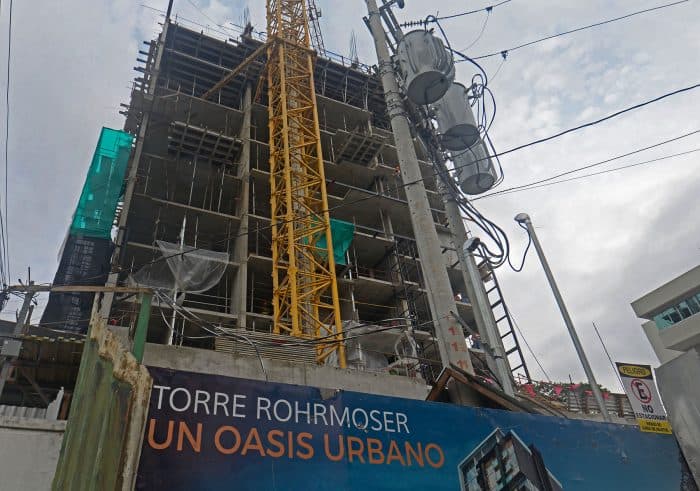 Beware density for density's sake
Changing tastes, expensive land and favorable financing may be supporting high-rise construction, but some worry that Costa Rican cities aren't well prepared for high-density living. Victor Montero, president of the Council of Tall Buildings and Urban Habitat—Costa Rica, said city leaders need to start thinking harder about public policies that will make this type of construction sustainable.
More people living in the same space requires better urban planning, public transportation and investments in utilities, Montero said. It's not enough for people to live near amenities if the urban landscape still requires them to have a car, for example. Urban planners need to think about how density is going to impact demand on public spaces, he said, and the quality of life for neighbors.
Montero said San José and Curridabat have started to regulate tall buildings, but that there needs to be a more holistic approach to how cities adapt to handle more inhabitants in the same space.
"We're always going to be short of something, whether it's money or training or whatever," Montero said. "But without vision, we're lost."