From Costa Rica's southern border with Panama north to Nicaragua, police discovered dozens of clandestine airstrips in a series of recent flyovers along the country's Pacific coast. In total, police spotted 33 landing strips, nearly all of them located near beaches or navegable rivers, the Public Security Ministry said Wednesday.
Officials logged more than 550 hours of flight time to discover the hidden runways. Many were found far away from any populated areas and appeared hastily built in pastures and farmlands.
Police said some of the runways had once been used for transporting agricultural products but were likely now being used for illicit means.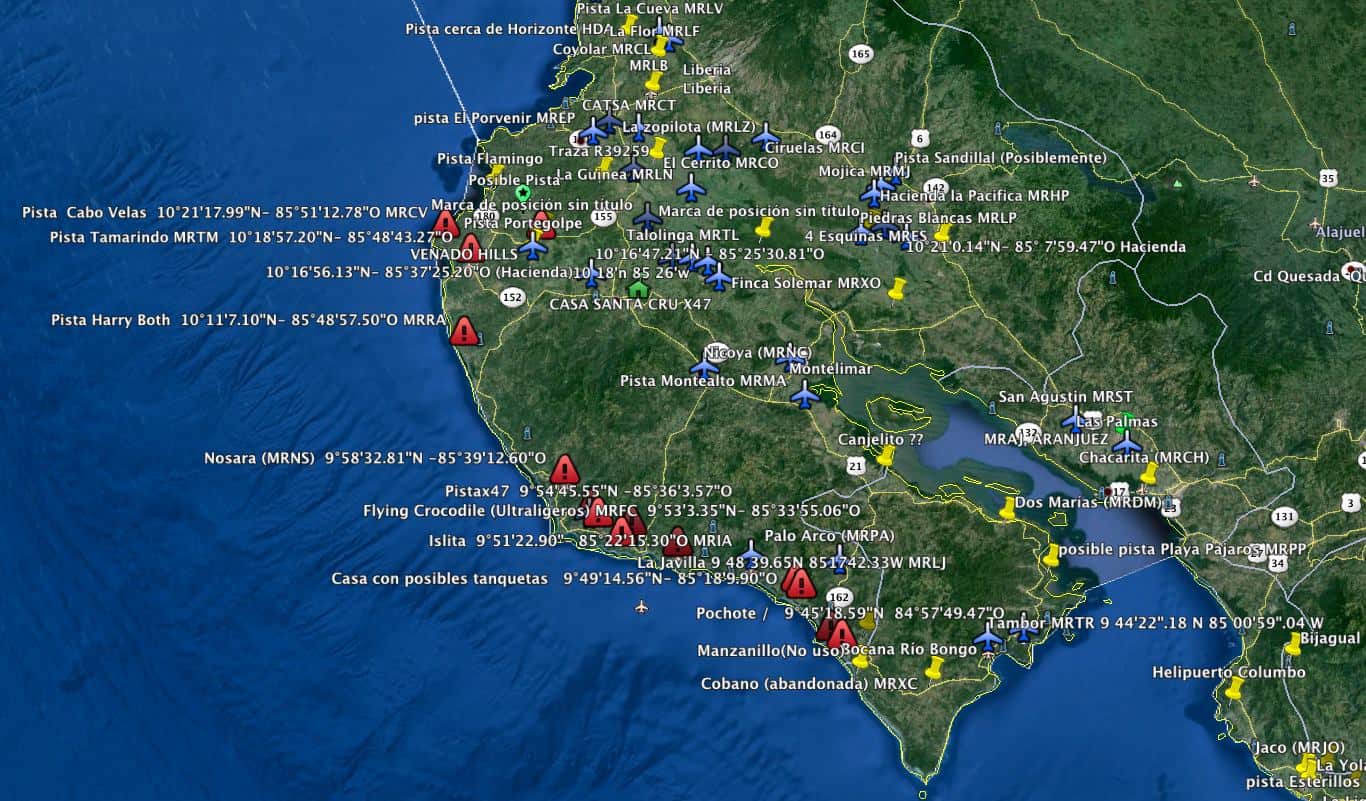 Of the secret landing strips found, 18 were in the northern Pacific region, including multiple strips in the canton of Santa Cruz and near Playa Flamingo. Another eight were discovered in the southern Pacific region, including two in the Osa Peninsula.
The announcement from the Public Security Ministry comes a day after a plane crashed off the coast of the southwestern town of Puerto Jiménez in the Osa Peninsula. Investigators believe the plane and the body of its apparent pilot were connected to an abandoned car that was found nearby with 352 kilograms of cocaine in it.
Police discovered identification on the body belonging to a 55-year-old Mexican man named Óscar Omar González Castillo as well as Mexican currency, according to the Public Security Ministry.
Police officials said they plan to share the information obtained from the flyovers with the Civil Aviation Authority in order to increase surveillance of illegal air traffic and drug trafficking through Costa Rica.
Since June 2015, seven suspected drug-trafficking planes have been discovered or have crashed in Costa Rica. On April 7, a plane carrying 150 kilograms of cocaine and $45,000 in cash crashed at a clandestine runway in Nosara, Guanacaste, killing the two people on board.