A small plane crashed into the ocean off Puerto Jiménez in the canton of Golfito early Tuesday morning. A body was found floating alongside the wreckage.
Police came to the scene around 2 a.m. and found an abandoned car onshore that had 360 kilograms of cocaine inside.
Police spokesman Sergio López told The Tico Times that investigators are treating the plane and the vehicle as connected, saying that's normally how drug trafficking operations carry out transfers from one place to another.
A police press release said the body was of a white-skinned man with black hair and a beard who appeared to be between 45 and 50 years of age. Authorities have not yet established the identity of the man, López said.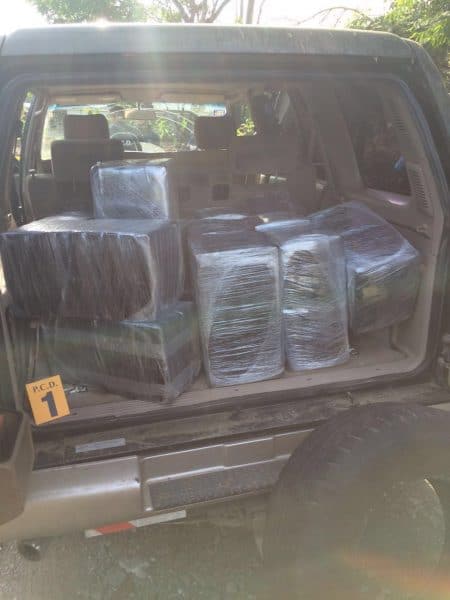 In addition to the lifeless body, Costa Rican Coast Guard officers were able to recover parts of the wrecked plane, although no drugs were found in the water.
Authorities seized the vehicle, which was found in the San Lázaro neighborhood of Puerto Jiménez, 340 kilometers southeast of Costa Rica's capital.
So far this year, five aircrafts carrying drugs have been found by Costa Rican authorities, including three this month. Police have seized 3,4oo kilograms of cocaine so far in 2016, according to Public Security Ministry statistics.
The latest discovery, which Public Security Minister Gustavo Mata called another "blow to drug trafficking," comes just days after Mata and police officials participated in a regional conference on security in Central America, held in the capital, San José. The three days of meetings included dialogue with the U.S. Southern Command, commonly known as SOUTHCOM, to map out more effective ways to combat drug trafficking.
Costa Rica's location on the isthmus, north of popular drug-producing areas in South America, makes it a popular passageway for drugs headed north to the United States.
"Unfortunately, because of geography they're sandwiched between the region that produces the coca and the one country that's the largest consumer of cocaine," SOUTHCOM spokesman José Ruíz told The Tico Times during the conference.
Ruíz trumpeted Costa Rica's cooperation in battling the drug trade: "Just through sheer geography they're in the middle of it, they're affected by it and they are eager to work with the United States and the international community to work on that problem."
Correction: An earlier version of this story stated that police had seized 3.4 million kilograms of cocaine so far in 2016. The correct amount is 3,400 kilograms. We regret the error.