DOMINICAL, Puntarenas — If necessity is the mother of invention, Donald Perry may be its eccentric stepfather.
The man who invented the jungle canopy zipline in 1979 in Costa Rica watched from the ground recently as I tested his latest innovation — the one-of-a-kind EcoTram, a single-rider aerial tram that the user moves through the rain forest forward or backward, or stops, by turning a knob with the hand.
"You got the zipline — this is the opposite," Perry said. "This is why we call it nature unzipped. You don't see nature when you're on the zipline."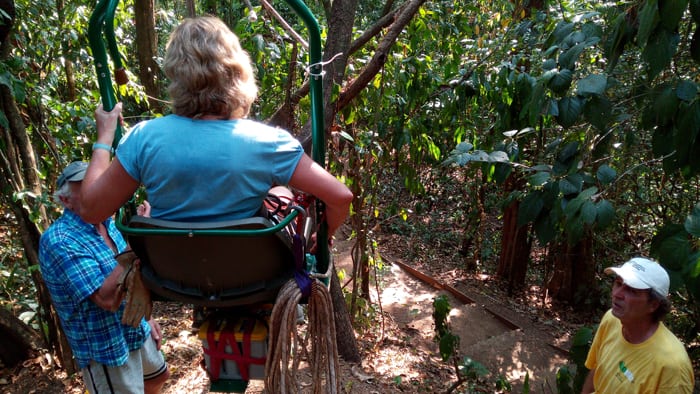 "It's unique in the world," said Jack Ewing, 72, who partnered with Perry to roll out the world's first commercial EcoTram at Hacienda Barú, his ecolodge just north of Dominical. "I don't know anything close to this."

I was impressed, but I was reminded that innovation occurs by trial and error, and that nothing is invented perfect the first time.
Far from the scream-inducing, high-velocity ziplines so popular in Costa Rica, the battery-powered EcoTram moves more slowly than a person walks. And that's just the point — to put the traditional canopy tour in slow motion, so that people can actually see what's in the treetops.
I rode the EcoTram twice — alone on a Thursday, accompanied by Ewing, and with three British people the next day, accompanied by Perry.
First I was fitted with a waist harness, as if for ziplining, and we walked to a platform where a single seat was dangling from a cable, like a one-person ski lift. I sat down and the guide fastened an ordinary seatbelt across my waist.

I waited for him to attach some super-duper fail-safe cables between my harness and the tram, but he said that would be necessary only in case of a malfunction, in which case I would have to hook in to a rope and rappel to the ground.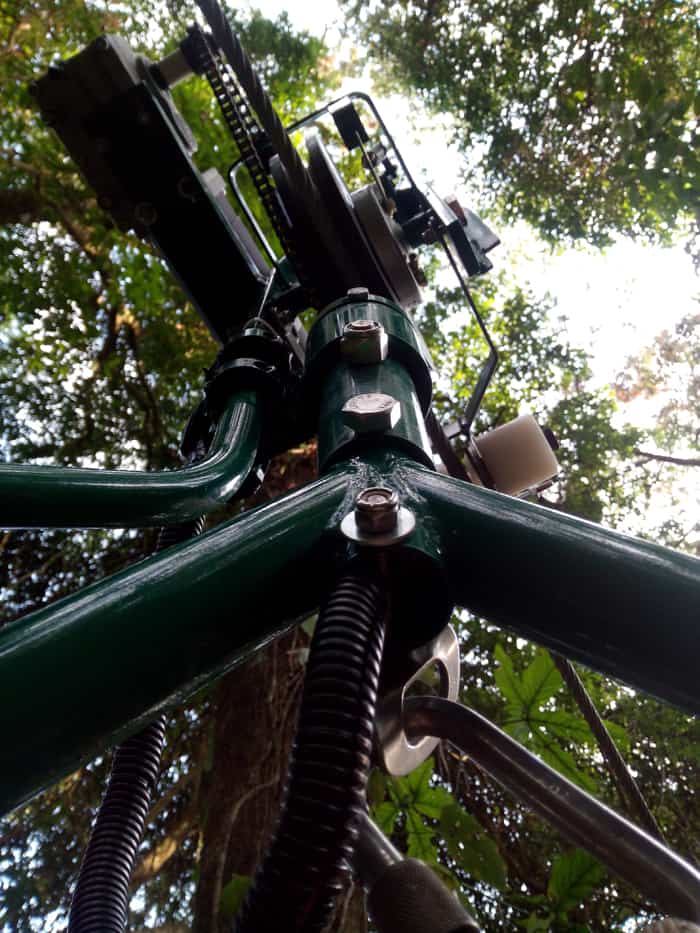 What? The only safety anchor was a seatbelt that any fool could unfasten? There was no backup?
Not the first day there wasn't. But the next day, a more experienced guide, Carlos Jiménez, did hook me up to the rappelling rope, and I told him I had thought this was a major oversight. Jiménez said I had a good point, because the figure 8 through which the rope was looped would not really arrest anyone's plunge unless they grabbed the rope.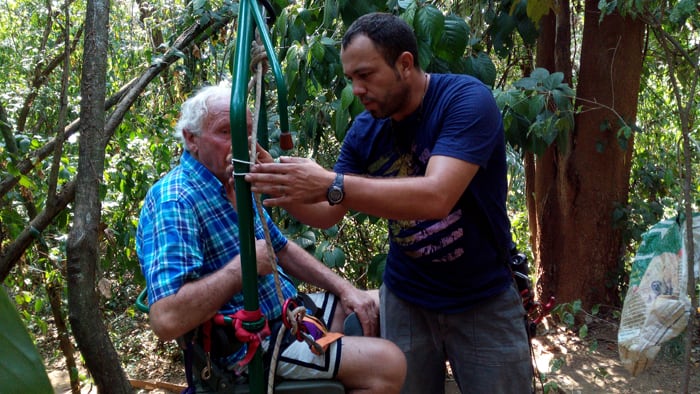 Perry disagreed, saying the rope was thick enough that its friction against the figure 8 would stop a falling rider in midair. Yet when the three of us talked this over, Perry and Jiménez agreed that my idea was good: Just attach a short safety cable from the rider's harness to the body of the tram, so that if something goes horribly wrong and the rider falls out, the cable catches.
"Do it," said Perry, looking at Jiménez. "Done."
OMG, now I'm a safety engineer. Does this make me another mother of invention?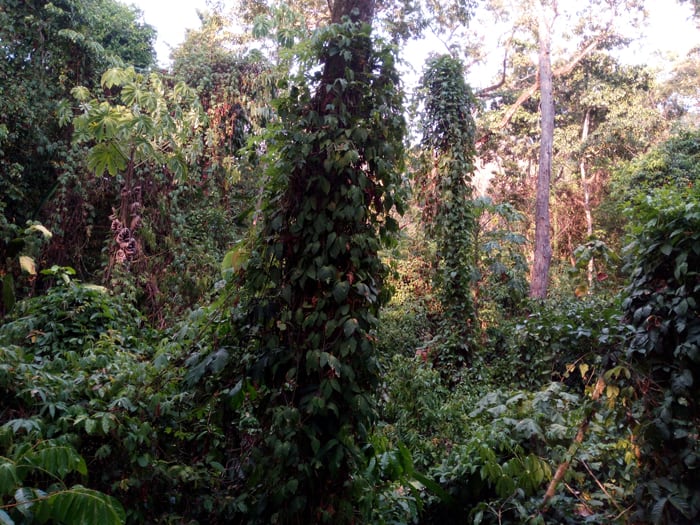 To be clear, there were no glitches on the ride that cried out for extra safety mechanisms. But if I've learned one thing about canopy tours, it's that you need an infallible backup to an infallible hookup to an infallible harness.
Jiménez said the people who have tried the tram so far have really liked it.
"We had one man, he was practically an invalid, he could barely walk with little steps," he said. "It took him like 20 minutes to get there, to where we start, but he was very happy because he said, diay, he had lost hope of doing an adventure like this. So it's a great opportunity for that type of tourism, for the elderly and the disabled."
Perry, incidentally, built the world's first jungle canopy zipline in 1979 at La Selva Biological Station in Sarapiquí. He used it not for thrills but to move more efficiently between giant trees while conducting biological studies in the jungle canopy.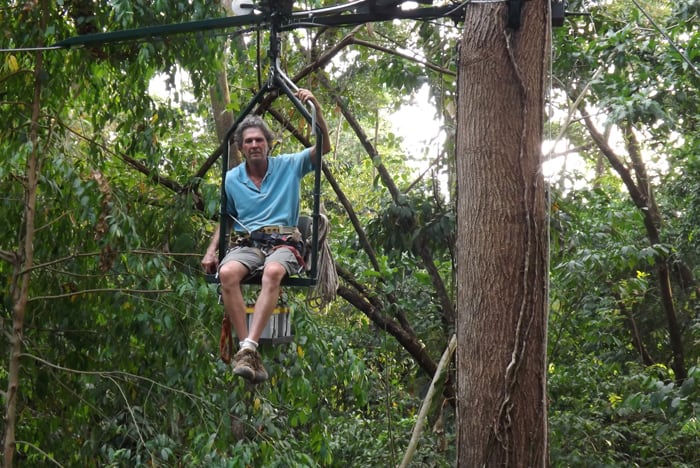 He later developed the Rain Forest Aerial Tram, a multi-person cable car that enabled tourists to view the forest from above. But he sees the EcoTram as his ultimate invention — what he calls "the future of canopy exploration." Not only is it controlled by the individual, but it's accessible to the disabled, the elderly and anyone who can sit down and turn a knob.
As I ventured out on the tram, it felt a bit like being on a Ferris wheel, except there was only one seat, it moved in a straight line and I was in full control.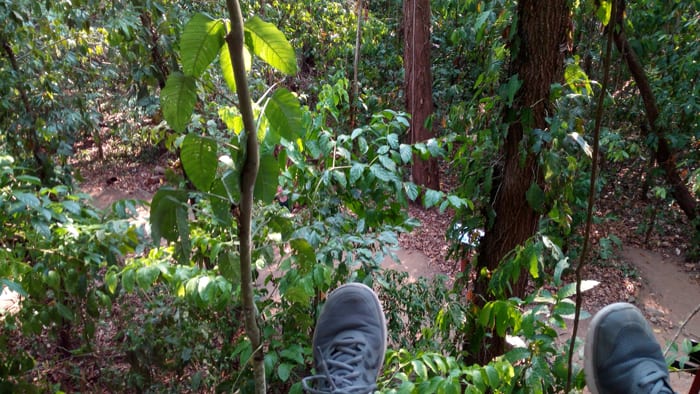 It gave me a mild case of the butterflies when I looked down and saw nothing between the ground and my eyes but my hanging legs. But I found it very cool to be able to control my own movement, forward and back, in a chair dangling roughly 10m (30 feet) above the ground.
But it was slo-o-ow going. It would be a lot more fun if it went fast. Yet the whole point is to slow down and take in the flora and fauna of the canopy. I have to admit that aside from a couple of little birds and some nice trees, I didn't see much to take in. But I thoroughly enjoyed the ride because of how it felt more than what I saw.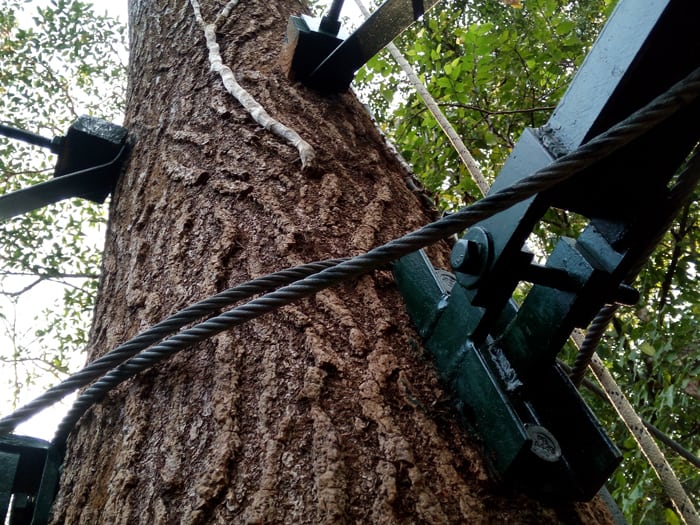 I said to Ewing, who was following my progress from the ground: "You should hang a plastic sloth in the trees and say, 'Sloth sightings guaranteed!'"
The tram moves from a platform to a tree, turns left and moves to another tree, for a distance of about 100m (300 feet). Then you turn around and retrace your path. I pointed out that it would be better if it were a loop, and Ewing agreed.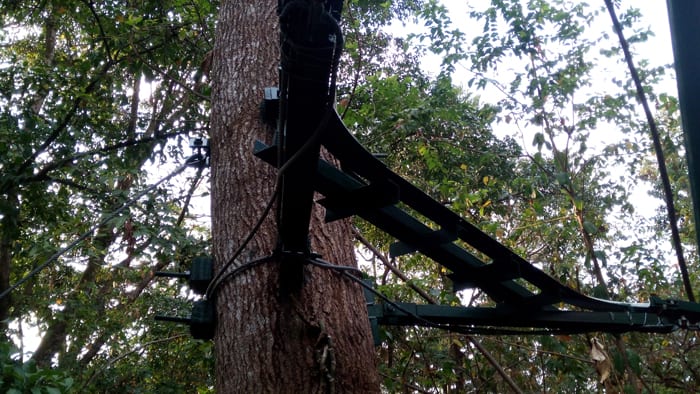 "You're absolutely right about the loop," he said. "We're talking with Don about this."
He said it takes about 12 minutes to do the ride at top speed, and most people do it in about 20 minutes. He said tour operators have pointed out that this would be unworkable for a busload of tourists, as if would take an hour for just three people to do it.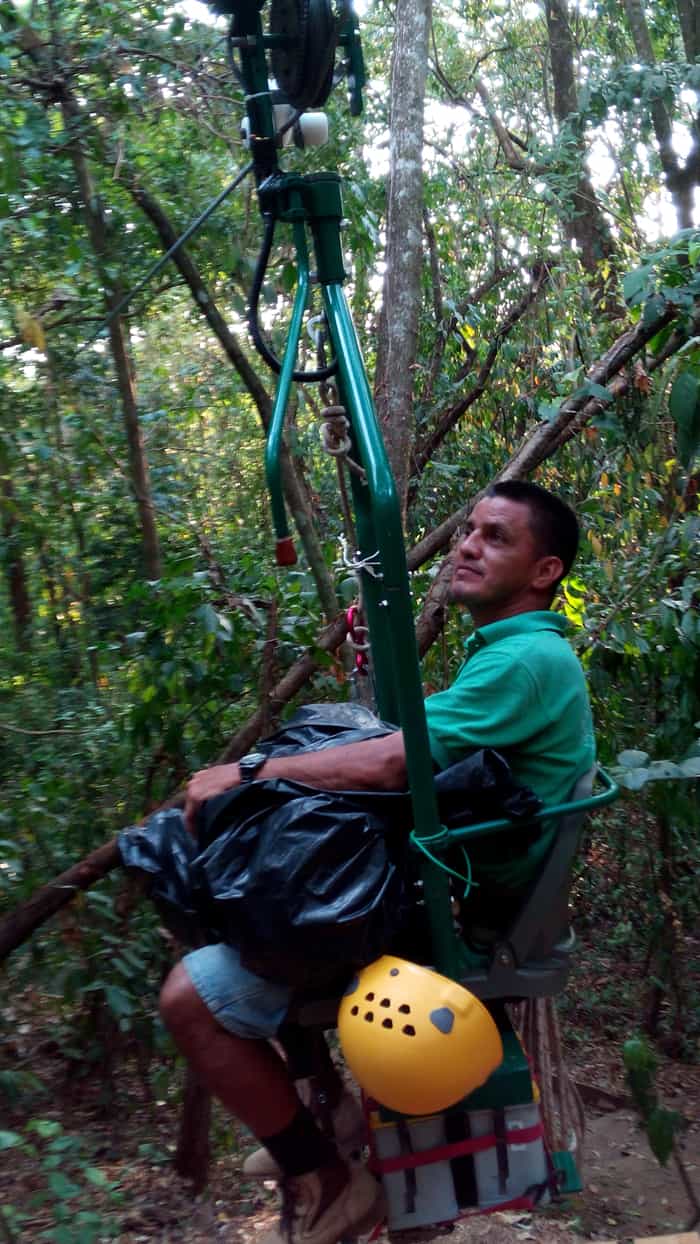 Ewing said the best solution would be to connect about five cables in a big loop, and have several trams ready to go. When the first tram passes the first tree, send the second tram, and so on. Allowing four or five people to ride at the same time would make it much more feasible for large groups. Ewing and Perry are talking about expanding the operation accordingly.
"This is a demo," Perry said, noting that adding more trams would cost roughly $7,500 each, not counting the installation of the cables.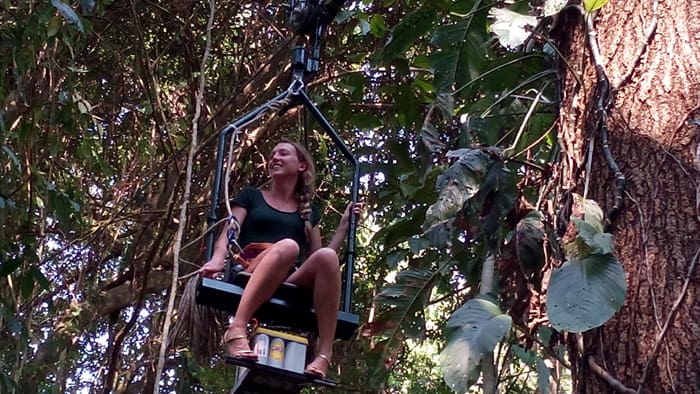 Perry is already building a second EcoTram at Cielo Lodge near Golfito, and he is on the lookout for new customers. He says he would charge $15,000 for a new installation with 300 feet of cable over two spans and one tram, and he would finance half of that.
Ewing said his system is not fully operational yet because certain safety considerations are still being worked out, like how a rescue would be conducted if necessary (if the tram stopped working, or the rider had a seizure or a heart attack or whatever).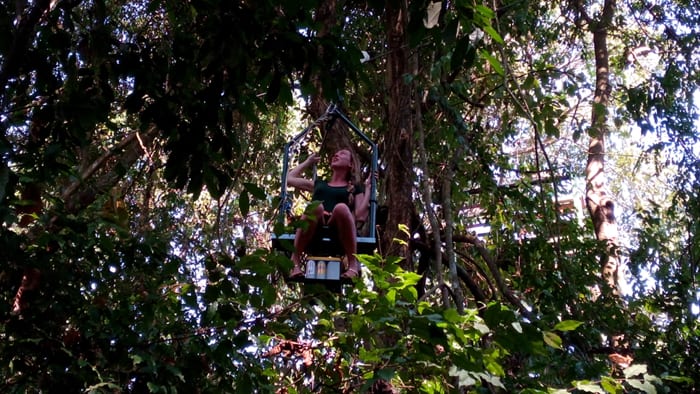 The first choice would be to send a second tram to tow the first tram back to base, Ewing explained to me on Thursday, but the second tram had developed a problem and was being worked on.
But the repaired tram was delivered to Hacienda Barú that very night, and was back in service Friday. When I asked Perry what was wrong with it, he shrugged and said, "We wouldn't sell this one, because it doesn't have some finished products. And one of the finished products I just put on, because that wheel had a tendency of flopping off and stopping right there. And so I put the part on to make it not do that."
Comforting!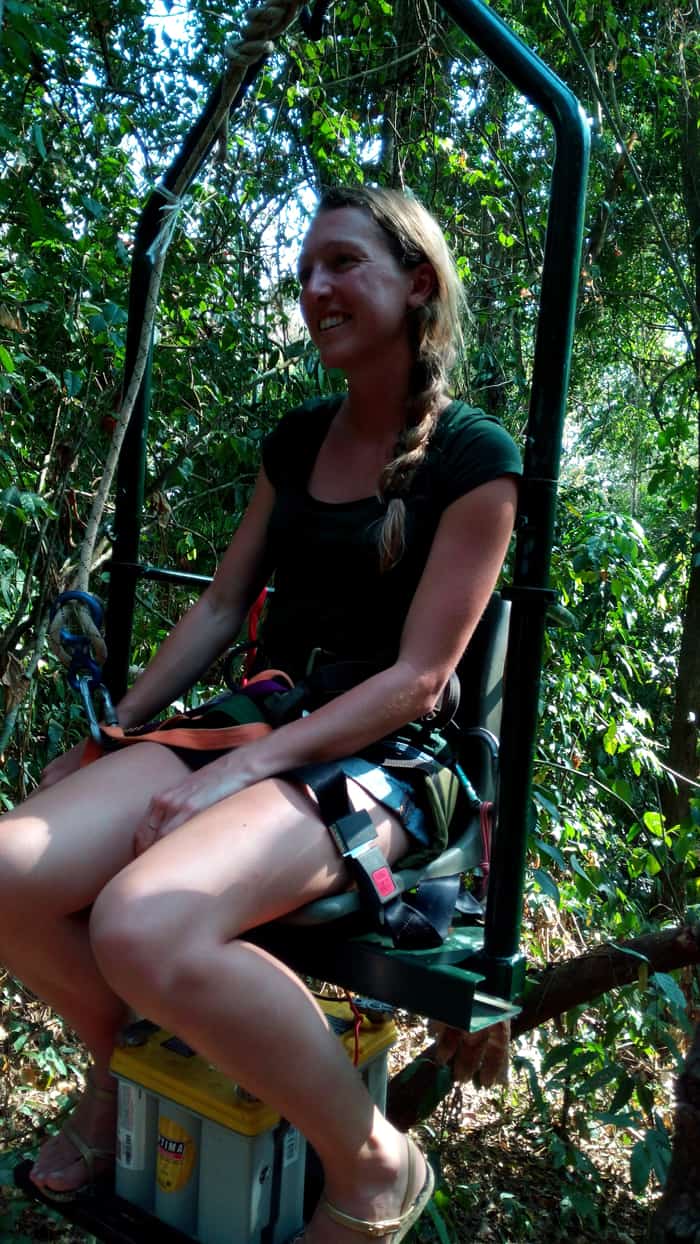 Before the repaired backup tram was delivered, I was given some quick but very complicated instructions on how to rappel to the ground in case my tram stopped working.
I, for one, might have enjoyed this rush because I love to rappel. But it's completely unrealistic to expect Joe Tourist to hook himself in, unbuckle the seatbelt, grab the rope, slide out of the seat (!) and rappel to the ground, even with a guide below talking him through what to do.
Ewing said if a stranded tourist were unable to rappel down, a guide would throw a rope over the cable, anchor it to the ground, climb up with mechanical ascenders and rescue the rider in person.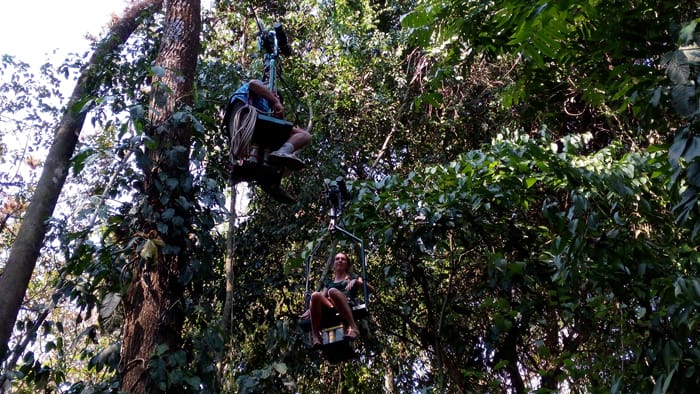 Whew! No worries, Grandma!
With the second tram up and running, a British-Australian family of three was ready to ride — and I learned that two people can actually ride two trams at the same time.
The first to go was Jim Smith, 74, a hot-air balloonist who is retired from working on offshore oil rigs. Next was his daughter, Sam(antha) Smith, 28, who works in public relations for an agency in London that represents financial companies.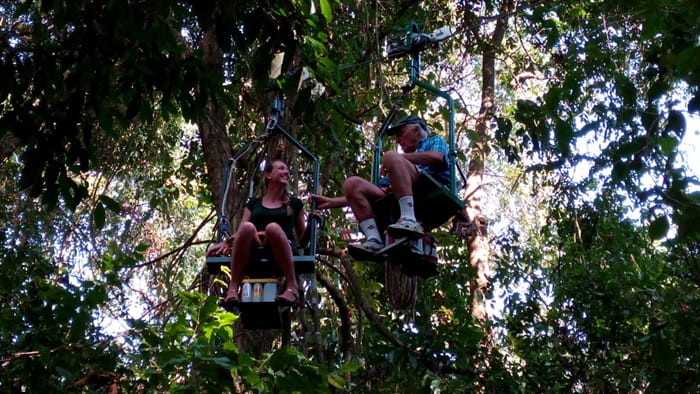 They both had a nice ride, though there were a couple of cautions I hadn't heard the day before: Don't get too close to the second tree, and (to Sam, in the newly repaired backup tram) don't take the curve at the first tree too fast.
A minor problem developed as the two returned to the platform: Their combined weight made the cable sag so low that Sam's feet were about to collide with a collapsed tree hanging diagonally in her path. Jim was told to back up, allowing Sam to clear the problematic trunk.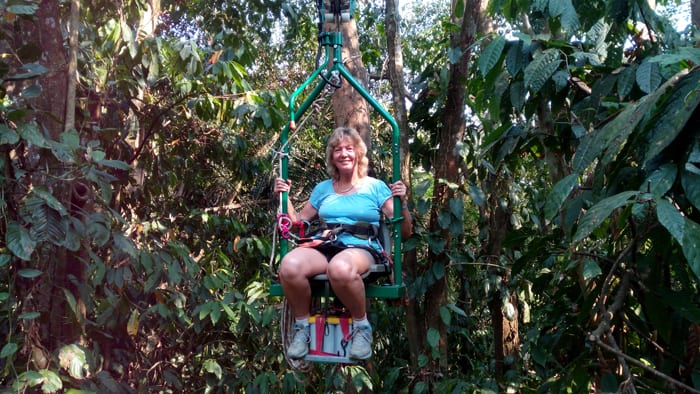 Ewing said he'll be charging $30 for a 20- to 30-minute ride on the EcoTram, and splitting the proceeds with Perry.
"The deal I have with Don is, he installed it and everything and he gets half of the income, and we don't have to put up any money, we just operate the tour," he said. "However, I have an option to buy it at any time.
"The cost of the cable is not that much, putting the cable up, but I think the cars are like $7,000 or $8,000 apiece. So if I see that the tour is going to be profitable, I'll do that."
Hacienda Barú Lodge, by the way, is a great place to stay, just 3km north of Dominical, if you can live without A/C on Costa Rica's hot, humid south Pacific coast.
"I wouldn't feel right about putting in air-conditioning and calling ourselves an ecolodge," Ewing said. "It's too energy-intense. Although I am considering building some more rooms, making them with air-conditioning and using solar panels."
The room I stayed in was pretty and spacious, with peaked golden-brown teak ceilings over 12 feet high, and two strong ceiling fans. There was a king bed and a twin bed, a full-size refrigerator, a coffeemaker, pretty wooden furniture, a desk and a screened patio with wood-and-leather rocking chairs. The walls could use some art.
In front was an inviting swimming pool, which unfortunately was too warm, but the beach is a short walk away.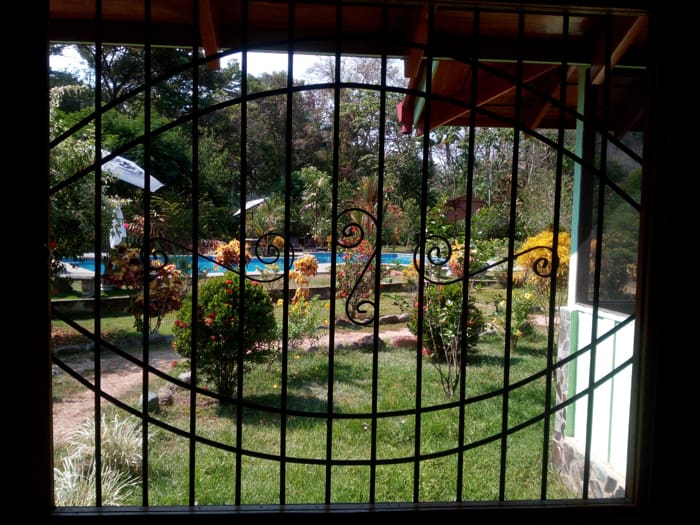 Hacienda Barú is also the name of the adjoining 815-acre Barú National Wildlife Refuge just to the south of the lodge, where biologists and students conduct research. The 7-acre lodge offers 7km of self-guided trails and 10km of restricted trails in the wildlife refuge where you need a guide, plus an orchid garden and a butterfly garden.
The lodge offers four birding tours, an 8-cable zipline tour and a lesson in how to climb trees using ropes and ascenders.
And now, it offers EcoTram. It remains to be seen how well this attraction will get off the ground, so to speak, but give it time.
Sally Smith, 69, a former reporter for the Daily Mail and the BBC who now works in public relations, is a believer. After we handed in our harnesses she said, "It's just excellent. I really do think it works."
Perry asked if she would say that on video, and she was happy to.
"It was a fantastic experience, and we felt very safe, but also there's that slight edginess because you're at the top of the forest," she said. "This is where everything happens. It's just absolutely brilliant. And from that height you see a completely new perspective on the canopy. … And there's also the fun of the actual ride."
Perry asked what she thought of the EcoTram's potential.
"I think the potential is phenomenal, the potential for different uses as well, not only just in the canopy here, but all over the world, in different situations. It's just unlimited, really….
"I think it's a fabulous new idea that the world's waiting for."
Perry was ready to hire her as his publicist.
IF YOU GO
Getting there: Don't trust the Waze app, which I found will take you 1km south of Dominical. You want to go 3km north of Dominical on the Costanera Sur, or 30.5km south of the hospital in Quepos. From San José, you can go two ways: west on Hwy. 27 and south on Hwy. 34, through Jacó and Quepos (faster and hotter); or through Cartago to the Inter-American Highway (colder and more scenic), then west from San Isidro de El General to Hwy. 34 and north 3km.
Rates: Most rooms are $85 for two people, including taxes and breakfast, in the low season and $107, including taxes and breakfast, in the high season. Economy cabins are $10 less. Children over 10 are $15 extra; children under 10 are $6 extra. The EcoTram ride is $30.
For more info:
On Hacienda Barú: http://www.haciendabaru.com
On the EcoTram: http://ecotram.com
The Tico Times paid full price for lodging and meals at Hacienda Barú.
Contact Karl Kahler at kkahler@ticotimes.net.