While the sixth edition of the Envision Festival, in Uvita, Puntarenas, was taking place this past weekend, residents of the community led a protest asking for the festival not to return to the region.
The festival hosts approximately 4,000 people for four days, with many staying on as tourists beyond the festival dates. While this provides an economic boost to the community, the people protesting against the festival see it as a threat to Costa Rican culture and a bad example for their kids.
"The community is affected, first because of the example [attendees set]. Our children think it is normal to act and dress like they do, and that's not our culture, with so much freedom," Ester Vindas, one of the protest leaders, told The Tico Times. "The drug use [by attendees] increases [each year]… There are already drugs in this community, so we have to work on prevention. We are affected by sound and visual pollution, [and also] the flora and fauna, because this is a wetland and nobody has taken it into account."
The protest started at the center of Uvita on Feb. 27, where the approximately 60 people walked with banners and t-shirts saying "No Más Envision" or "Stop Envision." The group walked approximately 3 kilometers to the sound of the National Anthem and the Patriótica Costarricense until they got to the gates of Rancho La Merced at about 5 p.m. There, some festival organizers and staff were waiting for them to offer fruit and water, and discuss their concerns, but the protestors did not take them up on the offer.
"There's nothing to negotiate; they are trying to buy us. Values have no price," Vindas said. "We should have protested since the second edition. This is an uncontrolled event, I think the authorities are not giving permits responsibly; they only thing they care about is the economic factor. I saw a woman changing her underwear publicly in front of the Banco de Costa Rica [in Uvita], so brazenly. Another woman came here and showed her boobs."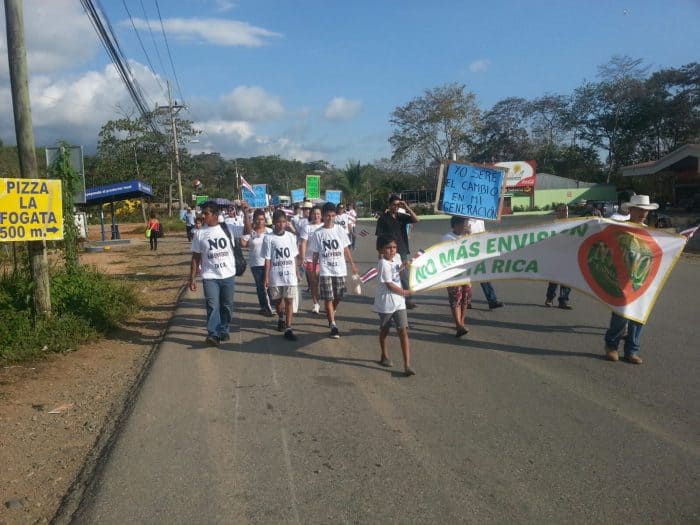 After protesters' arrival at Rancho La Merced, they stood around for approximately ten minutes and then left in a bus. They said it was a peaceful protest, so they had nothing more to do there.
"This is trash for Costa Rica. We are not used to seeing people naked or doing drugs in front of us," commented Yendry De Ortíz, a resident of the community of Barú. "Our children are growing up. It doesn't affect the adults because we have seen strange things, but we think about children.
"I haven't heard about their projects in the community. I'm not from this community, but I came because I want a better Costa Rica, and I don't want more disasters in my community thanks to these people, as we saw two years ago."
Divided opinions 
Other community members stood around the gates of the festival, but for a different purpose: Most of them were selling food, drinks, and crafts to attendees. The Tico Times asked them if they have noticed negative effects of the festival.
"Not at all. We eat thanks to it. It benefits us," said Evelyn Picado of Uvita. "There have always been drugs in Costa Rica; the difference is the freedom with which they do it. It's just that they have a different culture."
Picado also denied allegations that the festival has resulted in water shortages and noise problems.
"No. We don't [want for] water at all. I have drinkable water every single day," she said.
"There's no problem with noise, because the community is really far," said fellow resident Ramón Chacón, also selling products outside the festival. "We are 3 kilometers from the center of Uvita, and 1 kilometer from the center of Playa Hermosa. How can they say the noise is a problem? Now we are in front of the festival gates and you can hardly hear the music. We are not affected, we benefit from it."
"This is the best thing that has happened to Uvita. Lots of tourists come, and they bring money," said Alejandro Vargas, an Uvita resident. "Everybody is benefitting, [selling] pipes, ice cream, water, meat. Everybody makes money with Envision. Drugs will never disappear, and if that's the case. Why don't they protest to eliminate the drugs from Uvita or from the country?
"For example, the taxis weren't enough this morning so we needed 30 more taxis from Pérez Zeledón, that is 60 more people (one driver during the day and one during the night) and all of them stay in Uvita and eat in Uvita. All the markets are full. That helps a lot. Also, [festival organizers] donated money to build sidewalks at Uvita and Bahía, and they have donated computers to schools in Uvita, too."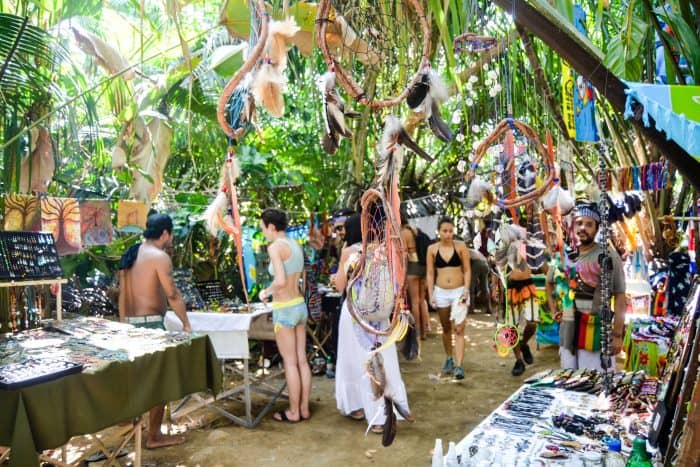 Festival response
According to organizers, Envision is not just a business trying to make money: the organization has partners who live in the community, understand its needs and are working to help.
"We are developing Casa Envision, which is a school in Uvita that was abandoned. The community let us come in, and we cleaned up the yard, put new sinks in and painted the walls. We are developing it into a youth center, for youth empowerment," said Justin Brothers, co-founder and co-producer of the Envision Festival. "This lets them learn how to run a center, how to run a business and develop programs, and how to push their own creative ideas forward as well."
"We did action days at schools in town: [building] planting boxes so they can plant vegetables on their own, interacting with the kids, [working to improve] the water system in Uvita, donating computers to a school in Dominical. We are doing as much as we can. We are not just trying to come in for two weeks, crush everything, and leave. The goal is really to make a positive impact, not just financially, but specifically focusing on the youth because that's the next generation. Empowering them, supporting them, increasing everything around this entire community."
For Brothers, who said organizers do their best to make sure attendees dress properly in town, opponents of the festival are just scared of the unknown.
"Anybody who does show up for the protest, we are going to meet them with some watermelon, water and smiles," Brothers said, minutes before the protest took place on Saturday afternoon. "And, if they are nice, we are even going to invite them to come in and check it out. Because a lot of that is kind of not knowing what is all about, and not really knowing what the situation is."
On Feb. 24, Envision hosted a tour with the local municipality, the Costa Rican Tourism Institute, the police department, people from the indigenous community of Boruca, and other organizations, inside the grounds of the festival so they could see that there was nothing to hide.
Considering the water issues some people have complained about in the past, this year the festival was getting water from different communities all around the region so that Uvita wouldn't face shortages, Brothers said.
Municipal support
Some protesters accused the Municipality of Osa of prioritizing economic interests over local culture.
Osa mayor Alberto Cole de León said Envision has always complied with or exceeded municipal requests and requirements, and contributes to the local economy, filling the region's hotels.
"The municipality has always supported the festival, and has facilitated the legal procedures … not only for this activity but also for other important activities in the community," Cole de León told The Tico Times.
"We can only see positive things. About the protest, this is a tolerant town and we respect the right to protest," said Cole de León. "We are willing to listen to any complaint or question anybody has about it. But nobody has yet come to us. We heard about the protest but didn't know against whom they were protesting or why it took place."
Cole de León also recognized the Envision Festival's outreach efforts, especially the important role Casa Envision will play for youth in the region.
"It's a beautiful project, and we hope the expected results can be seem in the near future," the mayor said.