Read an update to this story here
Updated at 5:10 p.m. on Tuesday
At a news conference Tuesday afternoon, Director Walter Espinoza of Costa Rica's Judicial Investigation Police described the few details known so far about the grisly slaying of five members of a family, including three children, in the northern Pacific community of Matapalo, in Guanacaste province.
Two other minors — a 4-year-old girl and a 7-month-old girl — were injured and taken to La Anexión Hospital in Nicoya. The daily La Nación reported that both surviving children were in stable condition but that the 4 year old was anemic from blood loss caused by cuts to her chest. The infant was dehydrated but otherwise uninjured. They were later taken to the National Children's Hospital in San José.
Police said a suspect, a Nicaraguan man named Adrián Salmerón Silva, is still at large, and he may have fled to neighboring Nicaragua. Police requested assistance from Nicaraguan authorities.
Para fines policiales buscamos este sujeto, Adrián Salmerón Silva, nicaragüense, sospechoso de homicidio múltiple. pic.twitter.com/g9Qsz24KsR

— Seguridad Pública (@seguridadcrc) February 16, 2016
The deceased are a 56-year-old businessman from the United States, his 38-year-old Costa Rican-born wife and three of the couple's children, authorities said, ages 12, 8, and 6.
"All of them had stab wounds," Public Security Minister Gustavo Mata told Telenoticias Channel 7 earlier in the day.
Public Security Ministry spokesman Carlos Hidalgo said preliminary information received points toward the motive being a personal conflict between the suspect and the 56-year-old male victim. Later, at the news conference, authorities said the wife had reported a domestic violence complaint against the suspect.
According to authorities, a neighbor heard a child crying in the home Tuesday morning and called the police. The attack likely occurred 48 hours before that, with the surviving victims left alone at the scene until police arrived.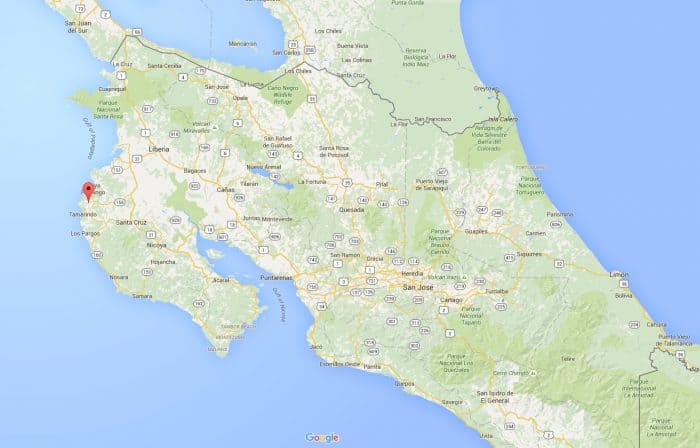 The community of Matapalo is located 260 kilometers northwest of Costa Rica's capital, San José, and about 15 km north of the popular tourist beach town of Tamarindo.
Judicial Investigation Police agents were still investigating the crime scene late Tuesday afternoon.
Tico Times reporter Zach Dyer contributed to this story. This story is developing. Follow updates at wordpress-257819-2837440.cloudwaysapps.com.