SANTIAGO, Chile – A Chilean court on Wednesday ordered poet Pablo Neruda's remains be returned to his tomb, three years after they were exhumed to determine whether the Nobel laureate was assassinated.
Neruda died in 1973, just days after General Augusto Pinochet seized power.
Doubts have surrounded the cause of Neruda's death since his former driver claimed the poet was given a mysterious injection in his chest at the Santiago clinic where he was being treated for prostate cancer.
Neruda, who despite his illness had been planning to leave for Mexico to lead the opposition to Pinochet's regime, died hours after the injection. He was 69.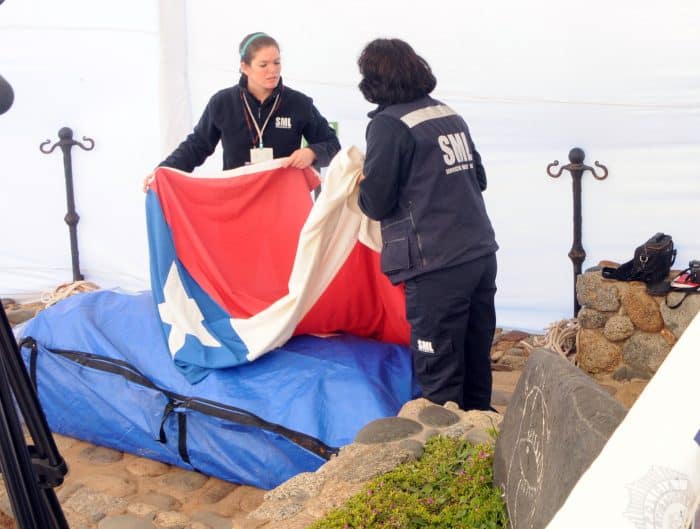 The cause of death was given as advanced prostate cancer, but in 2013 officials exhumed his body to determine whether he had been poisoned.
Chile's forensic medicine service ruled that "no relevant chemical agents" could be linked to his death.
But last May forensic scientists at the University of Murcía in Spain identified a massive Staphylococcus aureus infection in Neruda's remains, rekindling his family's suspicions. The Chilean Interior Ministry said the strain of bacteria does not occur naturally and may have been grown in a lab. Further test results are due next month.
With the three-year-old investigation ongoing, Judge Mario Carroza ruled it was time to return Neruda's remains from the forensic medical service in Santiago to his tomb at his former home in Isla Negra, on the central coast. The remains will be returned on April 26. The judge ordered forensic analysts to keep bone samples on hand for further tests.
Pinochet, who ousted Socialist president Salvador Allende in a coup, installed a brutal regime that killed some 3,200 opponents over 17 years.
Read our 2014 special feature "Pinochet's arrest remembered"