First group of weary Cubans reaches US after long trek, long pause in Costa Rica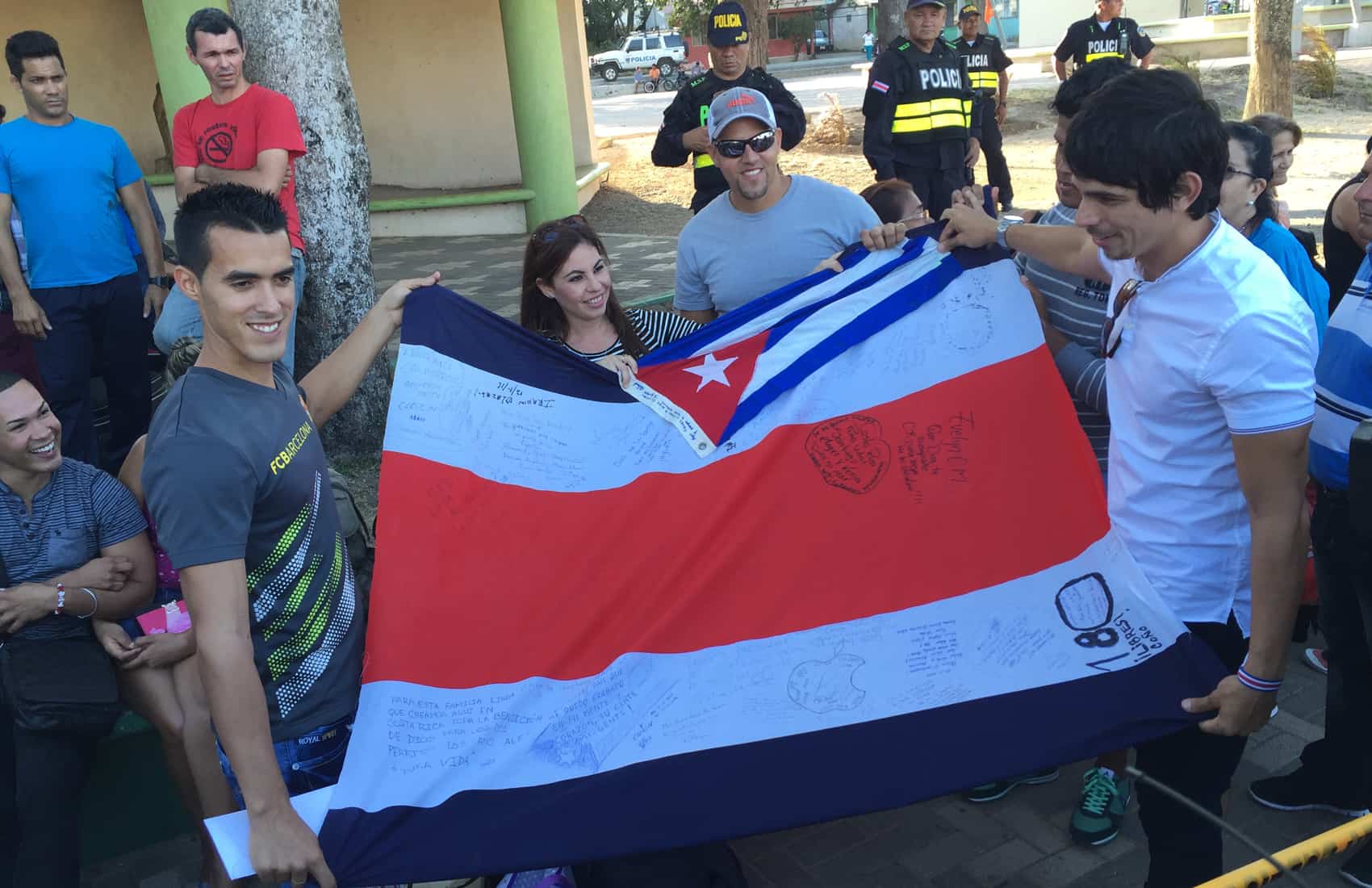 MIAMI, Florida — The first trickle of a group of thousands of Cubans trying to reach the United States crossed the Mexican border into Texas Friday, ending a dangerous, months-long odyssey through the Americas.
A dozen or so Cubans were processed in an immigration office in the border town of Nuevo Laredo and walked out on the other side of the frontier in Laredo, Texas.
Under U.S. law they're automatically eligible for eventual residency.
That's the sweet reward the Cubans sought after a grueling trek through South and Central America that was fueled in part, and ironically, by the thaw in U.S.-Cuban ties.
"We are happy because we achieved our goal," said one of the Cubans, Randy Cuevas, 29, in a video posted on the Facebook page of Cubanos en Libertad, an organization which helps Cubans arriving in Texas.
Le estamos dando la bienvenida Randy Cuevas es el primer cubano de el grupo de los 180 que salieron desde Costa Rica el primero que sale de la oficina de migración del puente internacional de Laredo Texas felicitaciones y Bienvenido a la libertad…

由 Cubanos en Libertad Non-Profit Organization 发布于 2016年1月14日
"This was my dream, the dream of all Cubans," said another, 20-year-old Lilian de Gonzalez.
The dozen who arrived overnight from Thursday into Friday were among 180 who set out from Costa Rica this week, first by plane to El Salvador — skipping over Cuba ally Nicaragua, which would not let them pass through — and then by bus through Guatemala to Mexico.
That bus trip alone took 13 hours. It was organized by regional governments and the International Organization for Migration.
Nearly 8,000 others remain stranded in Costa Rica, hoping to make the same trip north to the United States and the lure of a better life.
All of them — the avant garde arriving in Texas and those still in Costa Rica — have been stranded in Costa Rica since late last year.
Thousands of Cubans have left the communist island in recent months over concerns that the re-establishment of U.S.-Cuba diplomatic relations will prompt Washington to drop its policy of giving them automatic residence when they set foot in the United States.
El otro grupo de jóvenes que salen por este puente internacional de Laredo Texas que también viene proveniente de Costa Rica felices porque ya lograron su meta y son jóvenes libres que van a disfrutar de su libertad plenamente en esta tierra de oportunidades…

由 Cubanos en Libertad Non-Profit Organization 发布于 2016年1月14日
For many of the Cubans their trip began in Ecuador, where until recently they could travel without a visa.
From there they made their way through Colombia, into Panama and then Costa Rica, often traveling along smuggling routes.
Many of the Cubans experienced extortion and kidnapping threats along the way. The trip through Mexico is particularly daunting: there, crime and drug gangs are known to prey ruthlessly on migrants, often kidnapping and holding them for ransom and then killing them if no one back home pays up.
"It has been a tough fight. I have been putting up with this since October. But in the end I made it, thank God and thank everyone," new arrival Cuevas said of his trip.
"It was a tough odyssey."
Read more stories about the Cuban migrants' odyssey through Central America from The Tico Times.   
You may be interested