MIAMI – U.S. Marine Gen. John Kelly stepped down as the chief of U.S. Southern Command on Thursday, marking the end of a 45-year career that included commanding Marines during the invasion of Iraq, overseeing the military's controversial prison at Guantanamo Bay, Cuba, and becoming a high-profile Gold Star parent after his son was killed in Afghanistan in 2010.
Kelly was replaced by Navy Adm. Kurt Tidd while standing alongside his close friend and fellow Marine, Gen. Joseph Dunford, the chairman of the Joint Chiefs of Staff. The transition period comes as the White House and Pentagon grapple with whether to close the prison, which holds dozens of detainees captured in the U.S.' long war against terrorism since the attacks on Sept. 11, 2001.
Kelly defended his organization on Thursday, saying that Southern Command does the best it can to stem the flow of drugs from Central and South America with the assistance of the CIA, the FBI, the DEA and other U.S. organizations. The organization has generally received far fewer resources, including aircraft and ships, than other U.S. military organizations, particularly as wars were waged in Iraq and Afghanistan.
"As Americans, you should be proud of JTF," Kelly said of the joint task force performing the work in Central and South America. "We can all disagree about whether it should be there or somewhere else, but you should be proud of JTF."
See: US Southern Command discusses drug policy with Costa Rica's Solís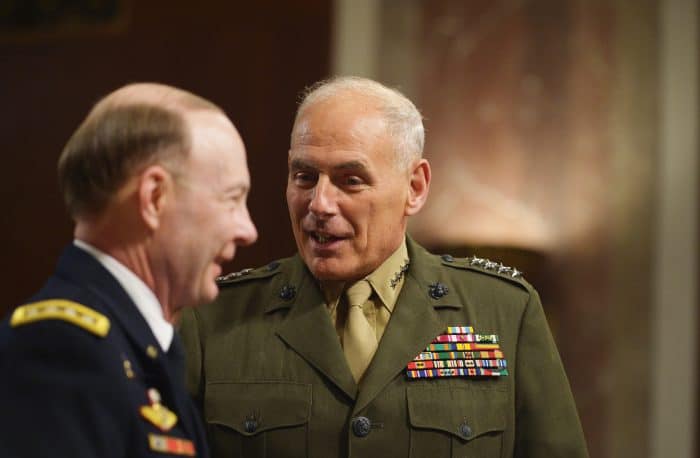 U.S. Defense Secretary Ashton Carter credited SOUTHCOM with helping to improve security in Latin America. But he added that Tidd will need to not only continue that work, but also will play a part in closing the Guantanamo military prison. The issue has dogged President Barack Obama, who promised early in his administration to shut down the military prison but has been unable to thus far.
Carter said an alternate location will be needed to hold the most dangerous detainees after Guantanamo is closed. He also announced that the U.S. government has just authorized the transfer of 10 Yemeni detainees to the government of Oman, dropping the detainee population at Guantanamo to 93.
Carter added that the retiring Kelly came of age at a complicated time for the country, and enlisted in the Marine Corps in 1970 when it became clear he was about to be drafted to serve in Vietnam. He'd previously served as a merchant Marine and hitch-hiked from his hometown of Boston to Washington state, and took industrial rail lines to get back home. Kelly returned to military service as an officer after graduating from the University of Massachusetts-Boston in 1976.
The death of Kelly's son Robert, a first lieutenant, was mentioned a few times during the ceremony. Carter said that the general's strength, experience and counsel has served to inspire other military families.
"Few can describe service and sacrifice more eloquently and more passionately than John," Carter said. "Few have a deeper appreciation for the magnificence of the young people who step forward to serve our country."
The secretary continued: "John, as you once said about those under your command-and I quote-'These were good and decent young men and women who every day performed remarkable and most often unsung acts of bravery and selflessness to a cause they decided was bigger and more important than themselves.'"
© 2016, The Washington Post