Update: Friday, Jan. 8, 3:45 p.m.
Fugitive drug kingpin Joaquín "El Chapo" Guzmán was captured Friday morning in the town of Los Mochis, Sinaloa, Mexico President Enrique Peña Nieto said Friday afternoon in a news conference. He said the capture was the result of six months of intense intelligence work.
"We had the support of millions of Mexicans who want to live in a country with laws and liberties," the presidency said in a tweet.
Durante meses se realizó un intenso trabajo de inteligencia: @EPN https://t.co/6J6eLvjPzV pic.twitter.com/2n1SjW2py7

— Presidencia EPN 2012-2018 (@PresidenciaMX) January 8, 2016
Update Friday, Jan. 8, 1:35 p.m.
MEXICO CITY – Mexican authorities have recaptured fugitive drug kingpin Joaquín "El Chapo" Guzmán, six months after his prison break, President Enrique Peña Nieto said on Friday, triumphantly declaring "mission accomplished."
Mexican marines have conducted extensive operations in the northwestern states of Sinaloa and Durango in search of Guzmán since the 58-year-old drug lord's spectacular escape on July 11, 2015.
But neither Peña Nieto nor other authorities gave immediate details about the location and day of the Sinaloa drug cartel leader's arrest.
Peña Nieto's arrest makes for a major sigh of relief for the president, whose administration was humiliated by Guzmán's prison break.
"Mission accomplished: We got him. I want to inform Mexicans that Joaquín Guzmán Loera has been arrested," Peña Nieto wrote on Twitter, without elaborating.
Misión cumplida: lo tenemos. Quiero informar a los mexicanos que Joaquín Guzmán Loera ha sido detenido.

— Enrique Peña Nieto (@EPN) January 8, 2016
A presidential spokesman confirmed the authenticity of the tweet to AFP, but declined to say more, adding that a press conference would be held later Friday.
Clash in Sinaloa
News of his arrest came shortly after the navy reported that five suspects were killed in a clash with marines in the Sinaloa city of Los Mochis, but it did not indicate whether it was related to Guzmán.
Six people were detained after the shootout, which broke out when marines were tipped off about the presence of armed men in a home, the navy said in a statement.
A suspected gang leader identified as Orso Iván Gastelum Cruz was in the house but managed to escape, the navy said.
On July 11, 2015, after 17 months at the Altiplano maximum-security prison in central Mexico, Guzmán slipped through a hole in his prison cell's shower, climbed on a motorcycle mounted on rails, and traveled 1.5 kilometers (one mile) through a tunnel.
U.S. and Mexican law enforcement officials say Guzmán then flew to his home turf at the Sinaloa-Durango state border, where he is revered as a modern-day Robin Hood.
More than a dozen prison and federal police officials have been arrested on charges of helping Guzmán flee, along with several associates of the drug lord who worked from the outside on building the tunnel.
Marines nearly recaptured him in October in a remote mountain region straddling the two states. Authorities said Guzmán injured his face and a leg while falling in the rough terrain, but special forces failed to nab him.
Guzmán had been captured on Feb. 22, 2014, in the Sinaloa resort of Mazatlán. He was found in a condo with his wife and their young twin daughters.
He had been on the lam for 13 years after escaping a first time in 2001 from another prison, in western Jalisco state, by hiding in a laundry cart. He had spent eight years in prison following his 1993 capture in Guatemala.
Questions will now likely turn on whether Mexico will extradite Guzmán to the United States.
Peña Nieto had refused to hand Guzmán over to the United States before his escape, but the authorities have since then secured an arrest warrant to extradite him.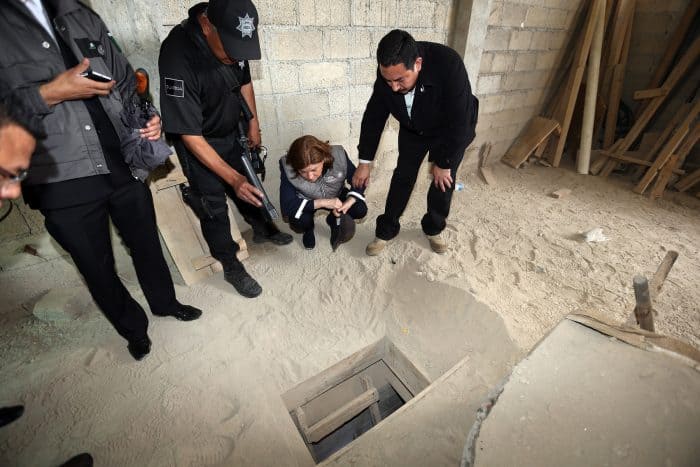 El Chapo: 'Lord of tunnels'
The man whose old nickname means "Shorty" had used the money from a drug empire whose tentacles reach Europe and Asia to dig himself out of trouble.
He is a legend of Mexico's underworld, with musicians singing his praises in folk ballads known as narcocorridos, tributes to drug capos.
With his daring underground escapes and ability to sneak narcotics under the U.S.-Mexico border, he also earned the nickname of "Lord of the Tunnels."
The bathtub in one of his houses in Culiacán, capital of Sinaloa, opened into an escape route into drainage systems that he used to flee from troops in early 2014.
U.S. and Mexican authorities have regularly discover sophisticated tunnels with rails and electricity to ship marijuana, cocaine and other drugs into the United States, with cash and weapons coming the other way.
Born on April 4, 1957, to a family of farmers in La Tuna, Guzmán had humble beginnings in a region known as a bastion of drug trafficking. He dropped out of primary school to work in marijuana and opium poppy fields as drug consumption rose in the neighboring United States.
He was recruited by Guadalajara cartel boss Miguel Ángel Felix Gallardo, the godfather of Mexico's modern drug cartels. After Felix Gallardo was arrested in 1989, Guzmán's Sinaloa drug cartel began its meteoric rise.
The mustachioed drug lord married an 18-year-old beauty queen, Emma Coronel, in 2007 and is believed to have 10 children with various women.
Guzmán's family has paid dearly for his life of crime. One of his brothers was killed in a Mexican jail in December 2004 and a son was shot dead in a Culiacán shopping center parking lot in May 2008.
DEA is extremely pleased at the capture of Chapo Guzman. We congratulate the MX Government and salute the bravery involved in his capture

— DEA HQ (@DEAHQ) January 8, 2016
This story is developing. Follow wordpress-257819-2837440.cloudwaysapps.com for updates.