Two members of the U.S. House of Representatives arrived in Costa Rica Tuesday to assess the Cuban migrant crisis that has flustered the region's politicians in recent months. Another U.S. politician, the mayor of the New Jersey town West New York, was also in Costa Rica Tuesday with news that he would donate significant amounts of money to help cover travel costs for Cuban migrants who can't pay their way.
The visits came less than a day after Latin American leaders agreed to fly thousands of Cuban migrants out of Costa Rica to El Salvador to continue their journey in search of asylum in the U.S.
President Luis Guillermo Solís met with U.S. Rep. Kay Granger from Texas at Daniel Oduber International Airport in Liberia, the provincial capital of Guanacaste, Tuesday afternoon alongside U.S. Ambassador to Costa Rica S. Fitzgerald Haney, Costa Rican Ambassador to the U.S. Román Macaya and Costa Rican Foreign Minister Manuel González. They discussed the factors that have brought so many Cubans to Costa Rica and the path forward.
U.S. Rep. Henry Cuellar, also from Texas, was scheduled to be at the meeting but was delayed, according to comments from González at a news conference.
Reps. Granger and Cuellar were scheduled to be in Costa Rica through Wednesday and planned to visit one of the 37 shelters housing thousands of Cuban migrants during their stay. Costa Rica issued 8,000 temporary transit visas to Cuban migrants between Nov. 14 and Dec. 18.
According to the U.S. Embassy in San José, the congress members were making a routine visit to Costa Rica to assess migration issues in Central America, but especially the Cuban migrant crisis. Both are members of the House Appropriations Committee, which oversees the federal budget. Rep. Cuellar represents the 28th District, which covers the border city of Laredo, where a majority of Cubans traveling by land enter the U.S.
Minister González gave few details about the airlift announced Monday afternoon but did say that Cubans will be expected to pay their way, including flights, bus tickets and entrance or exit taxes required by the countries they will traverse.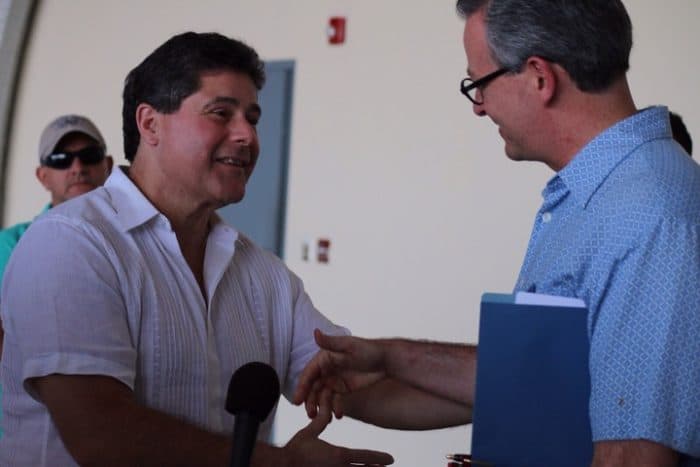 That's where Mayor Felix Roque comes into the story. Roque said that he learned about the migrant crisis from a Cuban doctor he knew in the U.S. whose son was stranded in Costa Rica after paying a smuggler. Roque said he thought something had to be done and flew to Costa Rica.
Roque said he already gave $20,000 he raised to help feed and house Cuban migrants at the Costa Rica-Panama border.
"I've also made sure that some Cubans are in hotels and not on the street. A few days ago we had Christmas dinner in the shelters in La Cruz and that was beautiful. The world needs to know what's happening here," Roque told The Tico Times on Tuesday in an interview at the Hilton Hotel in Liberia, where Roque is staying along with six Cubans for whom he paid room and board.
Roque said the money he planned to donate was his own, and that it was in the six figures, but did not specify an exact amount. Local media reported that it could be as high as $250,000.
The mayor's good works in Costa Rica come at a bad time for Roque back in New Jersey. Roque, 59, was indicted in June for allegedly taking $250,000 in bribes as part of a medical kickback scheme. He has pleaded not guilty to the charges.
The visit from members of the U.S. Congress does not signal a change in U.S. immigration policy, Foreign Minister Manuel González said during the press conference. The House members are only in Costa Rica to take stock of the situation.
The U.S.'s unique immigration policy for Cubans has come under fire during this most recent wave of immigration off the island. Cuban President Raúl Castro has said that the 1966 Cuban Adjustment Act, which allows Cubans who reach U.S. soil to automatically stay and apply for asylum, is a detriment to warming relations between the Cold War foes.
Costa Rica President Luis Guillermo Solís has said that Costa Rica and other countries on the Cuban migrants' route to the U.S. are "victims" of U.S. immigration policy.
Álvaro Sánchez contributed reporting from Liberia, Guanacaste.