MATAPALO, Puntarenas — I first came to Costa Rica in 1994 after my dad and my brother moved to Puerto Jiménez in the Osa. My brother, Paul Collar, was working for a gold miner named Paul Clift, and one day we took a drive to a river in the southern part of the peninsula so they could do some fieldwork.
On the way back, Paul Clift suggested we stop at Lapa Ríos for a drink, saying we had to see this place for ourselves, and I was blown away.
"It's like a palace made of toothpicks," I remarked of the main structure, a huge wooden rancho with a spiral staircase leading to a lookout with an incredible 360-degree view of the jungle and ocean.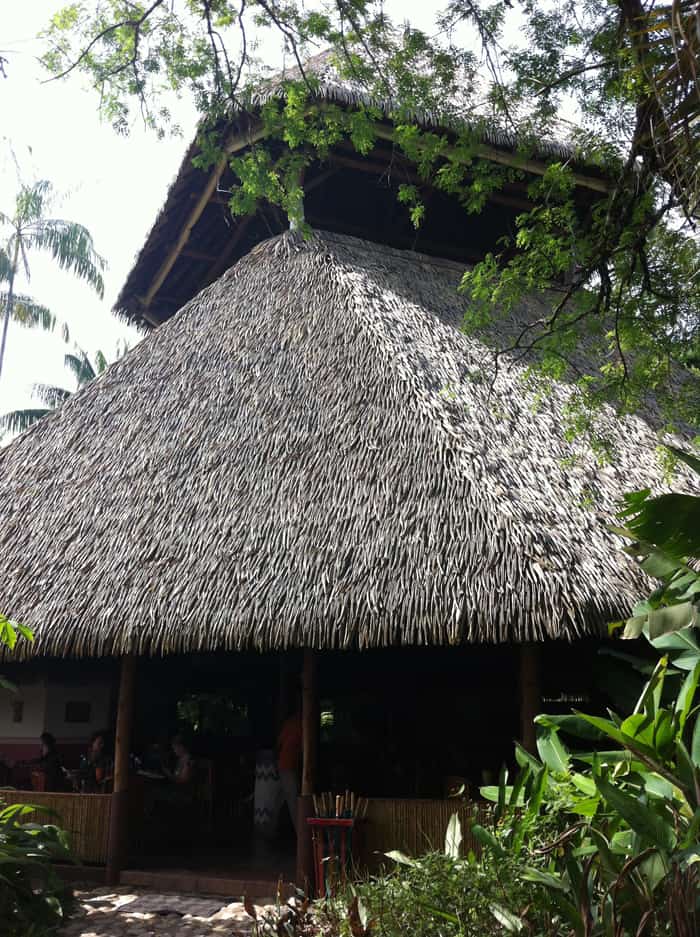 Lapa Ríos was one of the first and is still one of the finest ecolodges in Costa Rica, located within a 400-hectare (988-acre) private reserve in the pristine rain forest of Matapalo (which I like to call "the Beverly Hills of the Osa"). And it has prices to match, at $340-$470 per person, which includes all meals, unlimited tours and transportation to and from Puerto Jiménez.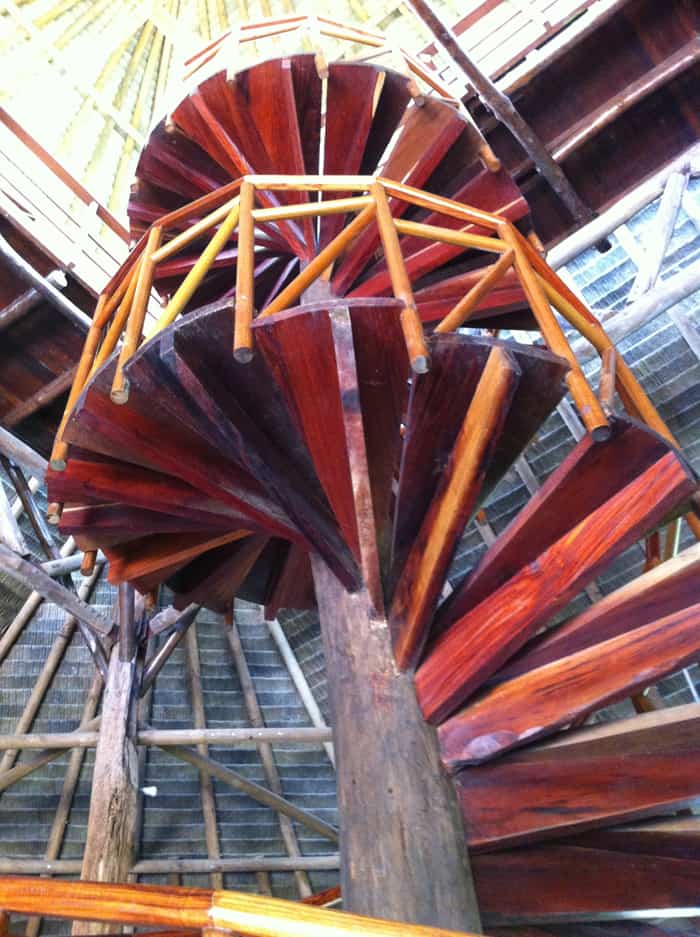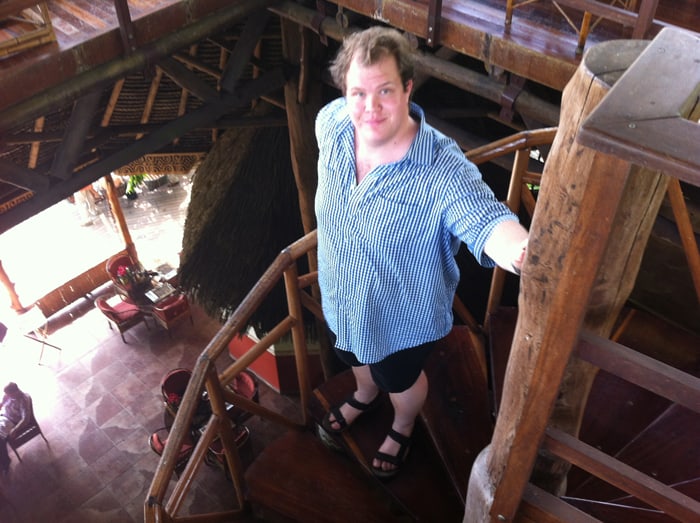 In early December I visited Lapa Ríos with my 25-year-old son Jordan, this time to spend the night, as part of a whirlwind tour of Osa ecolodges.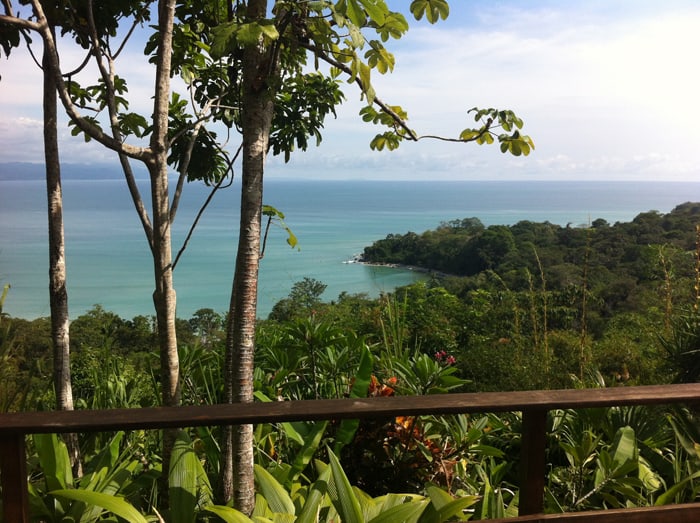 One of my guidebooks said the neighboring Bosque del Cabo is "considered by many to be the most spectacular of the Matapalo ecolodges," but when a talkative Tica gave me a tour of Bosque del Cabo, I asked her about this and she admitted that Lapa Ríos is probably the most luxurious, though Bosque del Cabo has the best ocean views.
We found this to be totally true — Lapa Ríos was the most luxurious of six lodges we visited in the Southern Zone in six days (on an admittedly unusual itinerary meant to cover a lot of ground).

Just don't expect to give your friends vacation envy by uploading your latest photos on Facebook. Lapa Ríos has no Wi-Fi, and the management says that's quite intentional.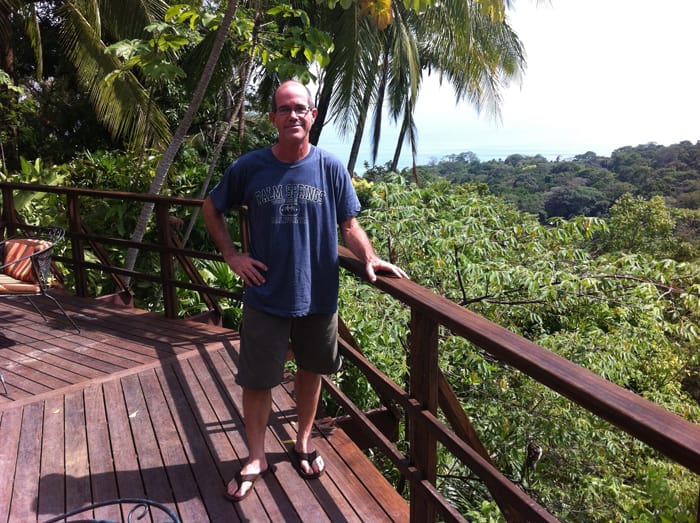 Our room was one of the nicest I've ever stayed in, from the queen beds to the bathroom fixtures to the private patios with outdoor showers to the indoor showers with screen walls where privacy is provided by the vegetation outside. There are 17 of these bungalows lined up along a rather steep ridge, so bear in mind that if you have one of the lower rooms it's a bit of a hike to the restaurant.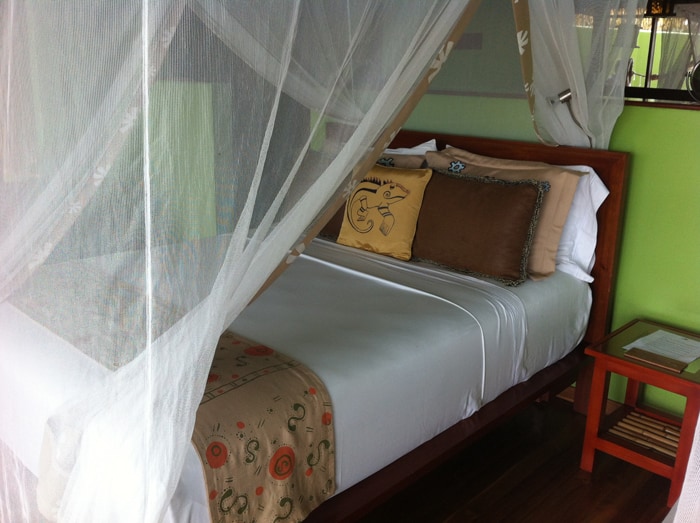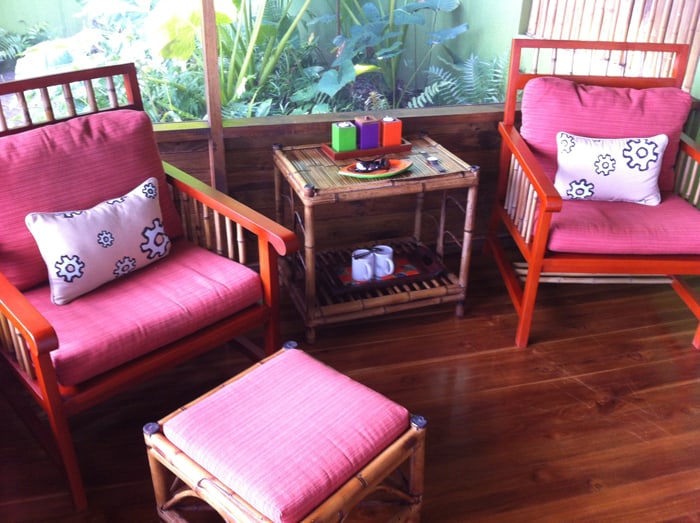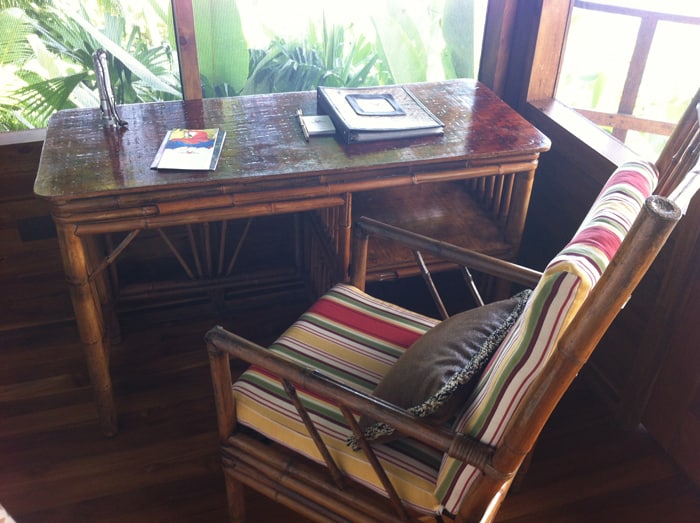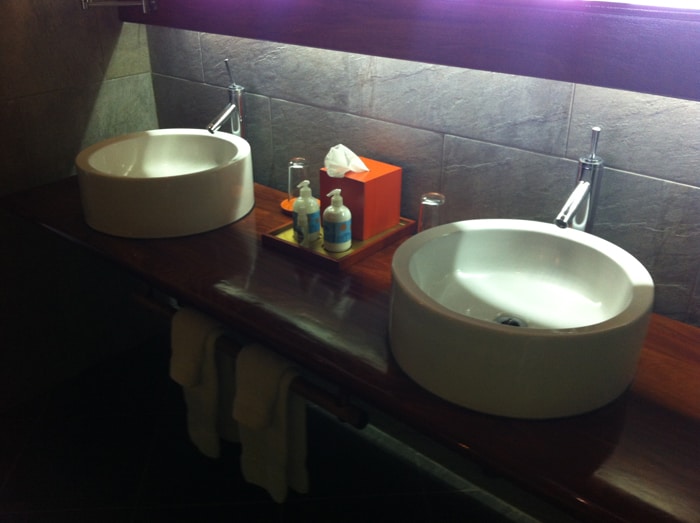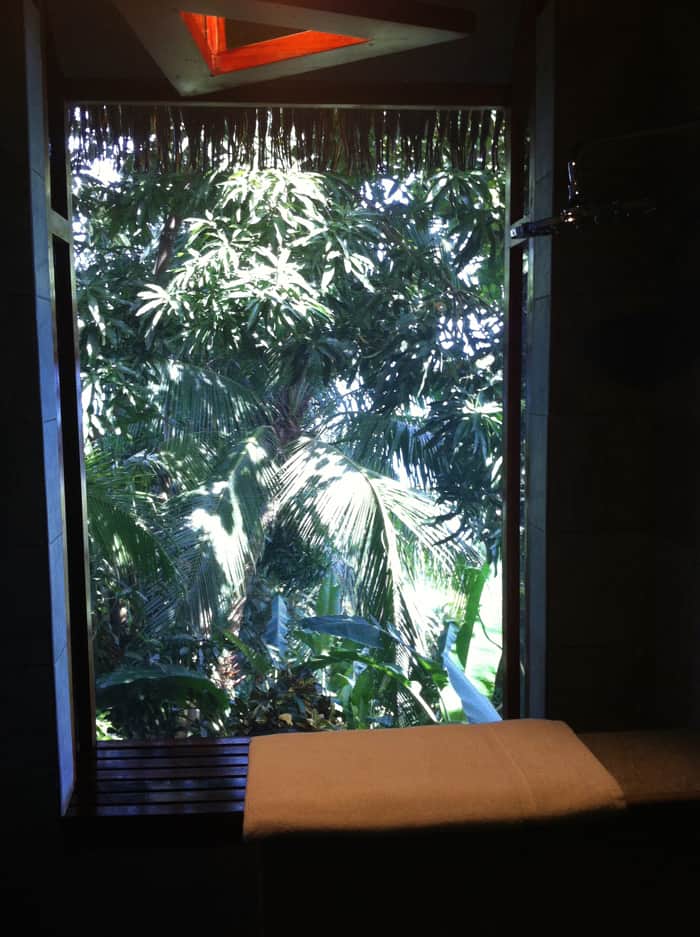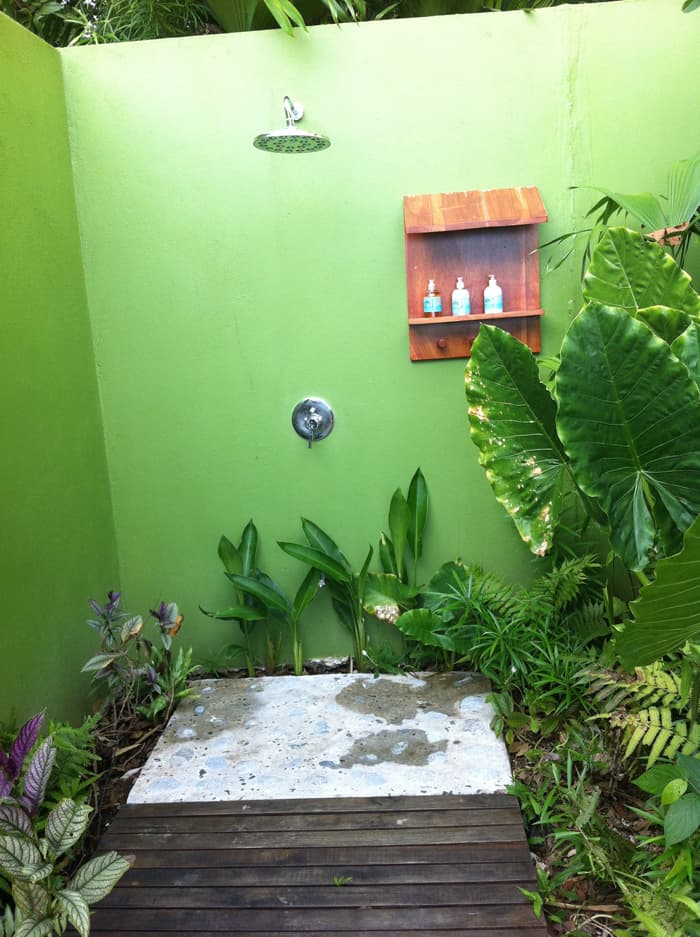 We enjoyed the pretty swimming pool (with a waiter serving drinks — my kind of swimming pool), and then showed up for the 3:30 birding tour, which turned out to be fabulous.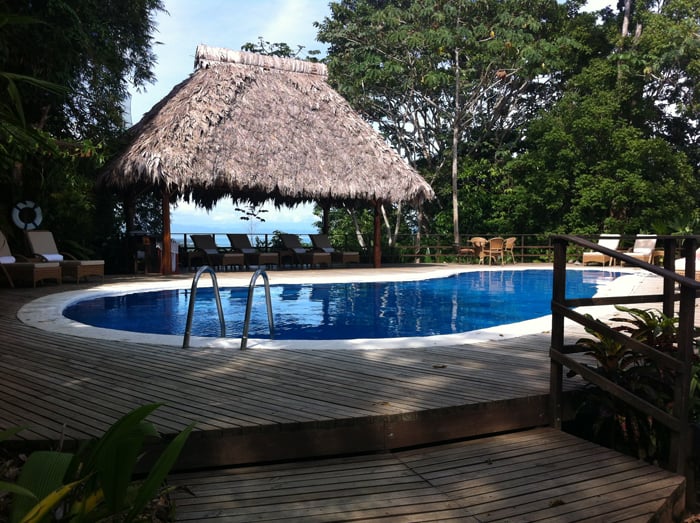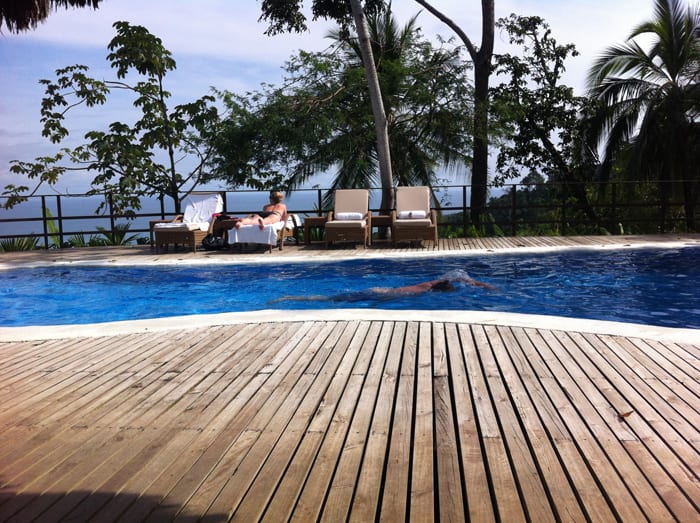 Guillermo Mulder, 27, the lead tour guide here, greeted guests on an observation deck in excellent English and showed us a three-toed sloth through a telescope, after which he zoomed in on an osprey.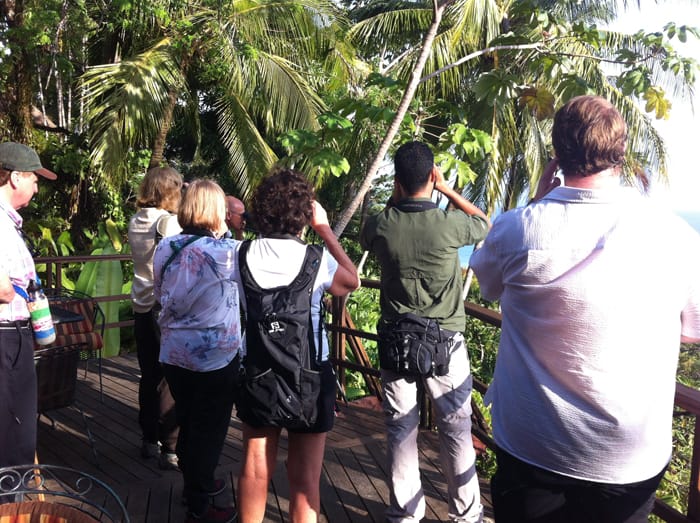 Then we climbed into the back of a truck and headed down the road, but we soon stopped to see some howler monkeys scampering around in the trees overhead.
"Be careful, that one's pissing," I said, noting the droplets falling from a branch above us.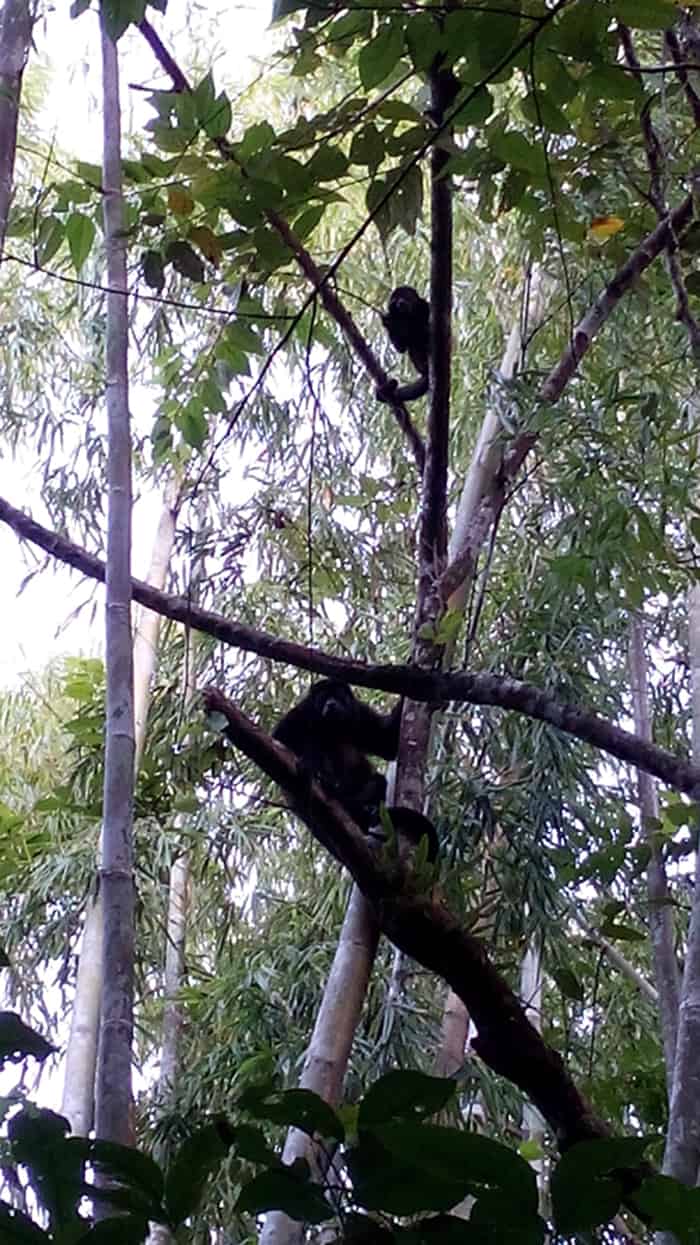 Guillermo advised us not to stand underneath the monkeys.
"You can tell the howler monkeys because of how slow they move," he said. "Usually a family doesn't move much more than 1 kilometer a day."
He explained that these monkeys' famous howls are actually meant to conserve strength and avoid confrontation, as the howler's leafy diet gives it a slothlike lack of energy.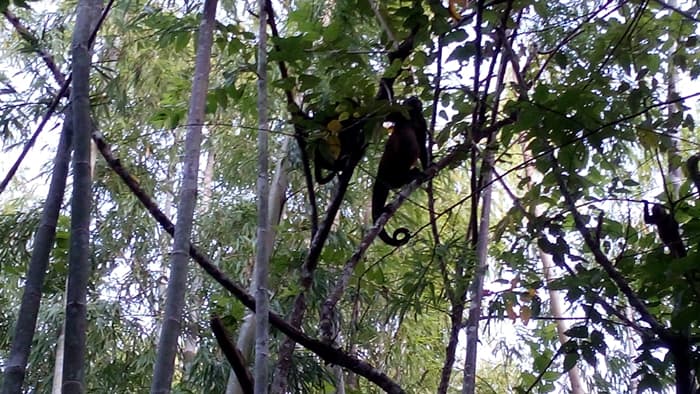 "The howling is mainly intimidation, and early in the morning they wake you up because all the families in the area will communicate their location," he said. "So instead of marking territory, running around peeing or marking with pheromones, each established family will just howl, answer, and that way they stay away from each other. So no need to travel fast or far." (Or fight.)
"These are all females, with their babies," he said. "The average-size family, there's about one male per five females."
I asked him if there were more females born than males, and his answer was disturbing.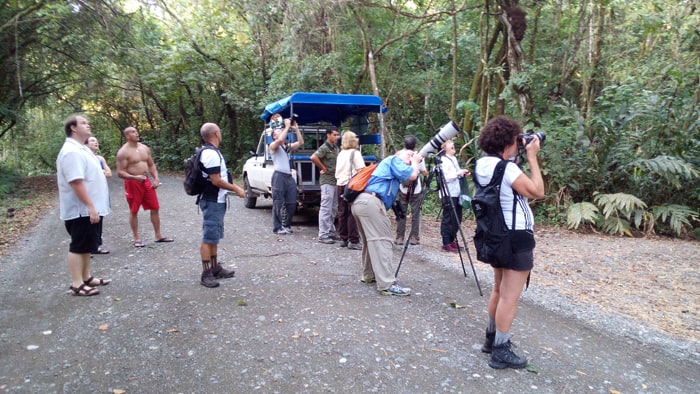 "No. Less males survive than females," he said. "Quite often, the alpha male will, when it's a new one, like recently established, he will kill the baby males, just to eliminate competition right away."
I did not know howler monkeys were baby-killers. These creatures were looking less cute by the minute.
"And when a young male does manage to live to a size and age where he can start his own family, some things might happen like with lion prides, where he takes over another male's family, and in that case the same thing happens all over again, they kill the babies."
Yikes. Let's go look at some pretty birds, shall we?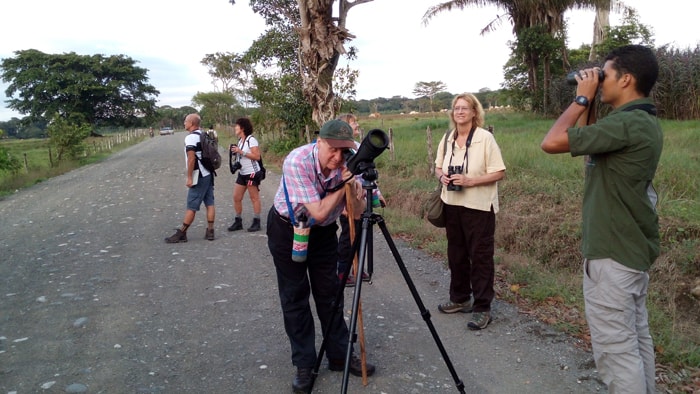 I expected Guillermo to take us to some exotic spot deep in the jungle, but instead he drove up the road toward Puerto Jiménez, a road I know well, and stopped at a spot I would never have picked as good for bird-watching.
Yet it was outstanding. Guillermo started naming species right and left, and zeroing in on them with his telescope — yellow flycatcher, Costa Rica swift, red-lored parrot, white ibis, yellow-throated toucan.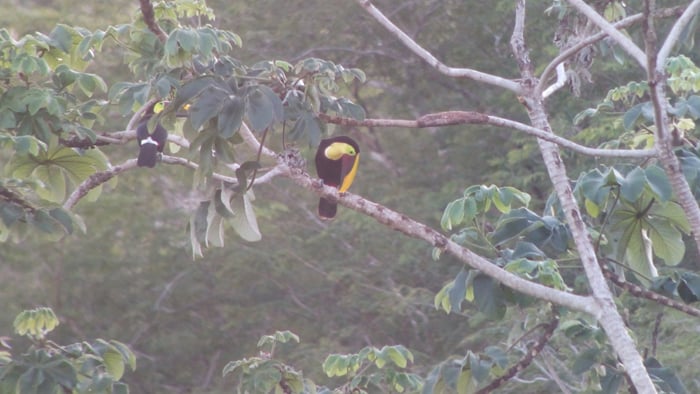 "This toucan is now named the yellow-throated toucan," he said. "It has gone through three name changes over the past two or three years; it went from chestnut-mandibled to black-mandibled, and in June this year it became the yellow-throated."
He pointed out two yellow birds and said they were kiskadees.
"You see the white birds?" he said. "Those are cattle egret, and you can see a scarlet macaw."
Two macaws, actually. "Yellow shoulder patch on the wings, and then blue wingtips."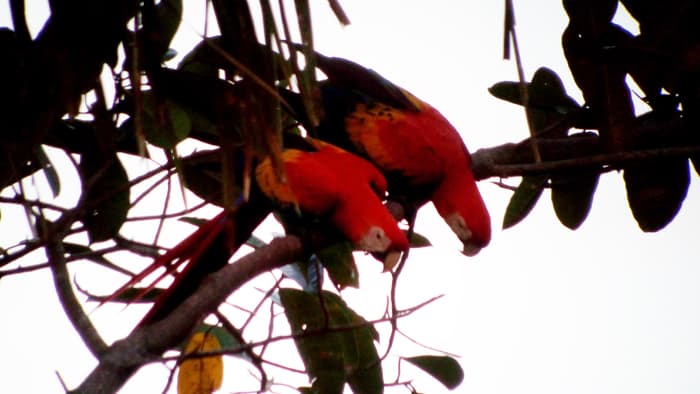 On it went: Southern lapwing, tropical kingbird, turkey vulture, black vulture, spotted sandpiper.
I was amazed by Guillermo's encyclopedic knowledge and outstanding English (also, his dapper adventure clothes caused me some fashion envy).
Seeing some horses grazing in a pasture, I muttered to Jordan, "What are those animals with four feet and big, long tails?"
Jordan, who had learned a thing or two at Corcovado National Park yesterday, said, "Those are relatives of the tapir. Also, distantly, the hippopotamus."
"I think it's the rhinoceros," I said.
Overhearing us, Guillermo said the Baird's tapir came from the rhinoceros and horse family. Was there anything this guy didn't know?
We got back in the truck and moved to a new spot, just short of a creek flooding the road. Guillermo said this was almost a perfect spot for birding because we were in view of a river, pasture, primary forest and secondary forest.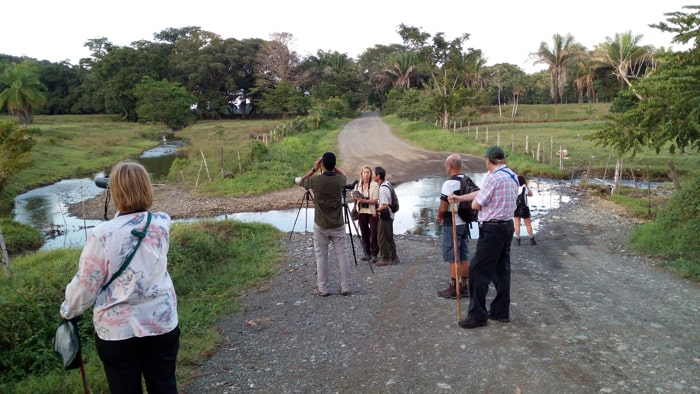 Guillermo again set up his scope and started showing us new bird species: Amazon kingfisher, yellow-headed caracara, orange-chinned parakeet, crimson-fronted parakeet, grassquit, bare-throated tiger heron.
"The grassquit, the little bird, has a very nice mating dance," he said. "It will sit on a fencepost like this and fly up and down."
I asked, "Is that what they call the Michael Jackson bird?" (Because of its mating dance.)
"No, that's different, that's the manakin," he said.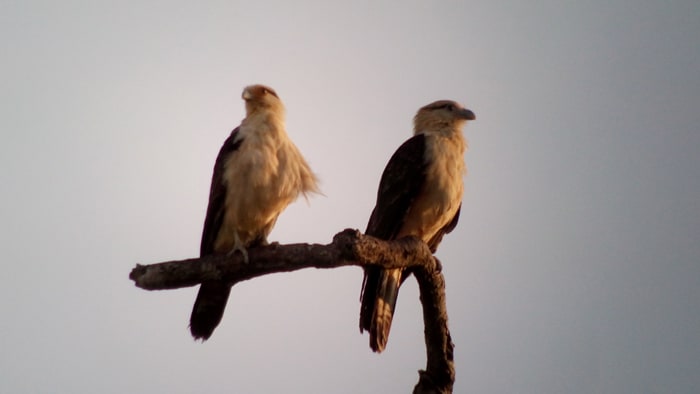 "And what's the one they call the 'Star Wars' bird?" I asked.
"The 'Star Wars' bird?"
"Yeah, because it makes a sound like 'Pio! Pio! Pio!'" (As in the sounds TIE fighters make in a galaxy far, far away.)
"Ah! That's a new one," Guillermo admitted. "That's funny."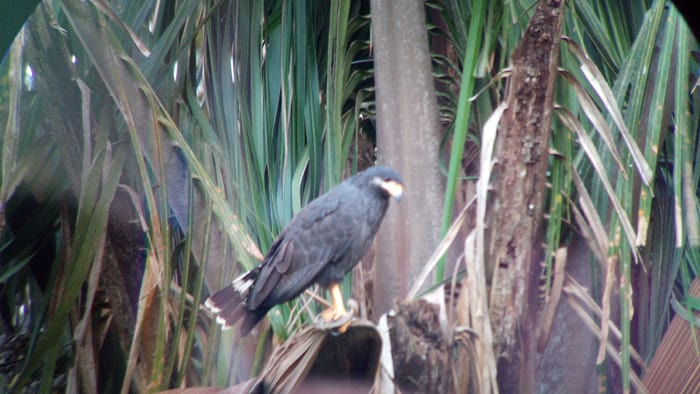 "I have a question for you," I said.
"What?"
"You know, you always see macaws in pairs, right, because they mate for life?"
"Yeah?"
"So are any of them gay?"
Guillermo laughed. He had obviously never been asked this question before.
"Uh, that, as far as we are able to tell with our technology, is … uh … you know, at least, nobody's ever reported it," he said.
"But the problem is that even in captivity, scarlet macaws have to be DNA-tested for the owner to be sure, absolutely, 100 percent, which one of the two is a female, because they look so much alike, and in the wild, it's really hard to tell which one is a male."
"Because they have gay penguins, right?" I pressed.
"Yeah, but with macaws, it's really hard to tell. I know of a lady who is actually studying to see if she can prove that they are not as monogamous as you might think."
By 5:30 (dark o'clock) we were back at the lodge, but I was so impressed with Guillermo's erudition that I had to ask him a few personal questions, starting with, "How did you learn such good English?"
"Basically I learned English here on the Osa," he said. "My first and second languages are Spanish and Dutch. My grandparents are the first Dutch family to live here on the Osa, since 40 years ago, almost."
"So how did you learn so much about birds? Did you study books, or did you go to college, or did somebody teach you?"
"No, I didn't go to school. I do read a lot of books," he said. "Most of it is, actually … through observation and self-study, pretty much.
"I started in maintenance here at Lapa Ríos, and of course just from living here on the Osa you know a lot of birds by their Spanish name, so I had a base to start from. So for the first month, or two months, what I did here is just memorizing all the English names, and then started to identify….
"You know, the first year I must have been a really crappy bird guide," he admitted. "But then over the years, you start getting more and more details. That's our greatest strength, because we are local, and we are here all the time.
"You notice those little details, like even birders that are super-experienced who have seen thousands of birds all over the world, they come here and look for us, because they know we know where to find what they want to see….
"With birding, the most difficult thing is not so much the names, because that, you know, you memorize them in a few months if you work for it. It's the calls. The calls are like a language apart."
After this thoroughly stimulating tour, Jordan and I revisited our deluxe room and then walked back uphill for dinner.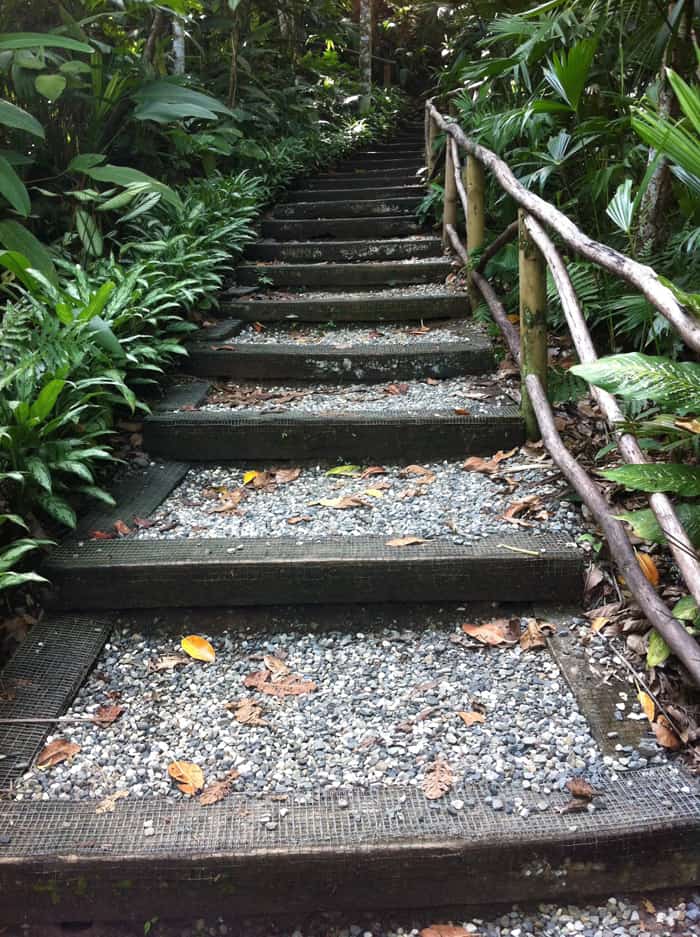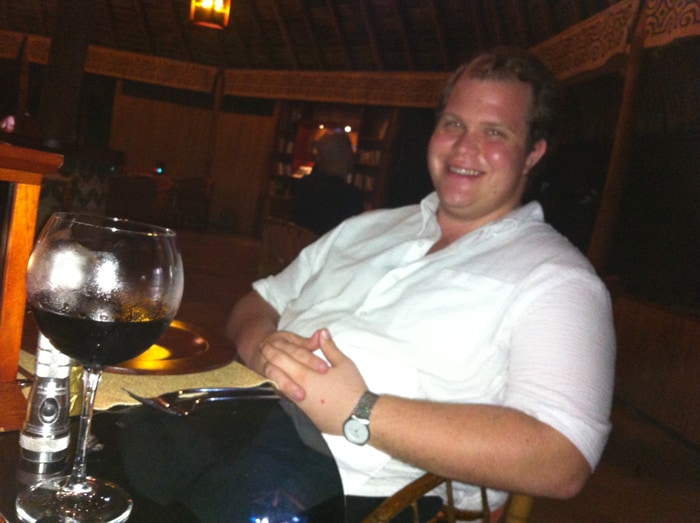 Jordan ordered what he later declared to be the best meal of our trip, succulent tenderloin strips, but unfortunately I ordered what turned out to be our worst — skirt steak that was overcooked, gray inside and tough. It was inelegantly served with vegetable "frites" that I also found underheated and unappetizing. (Lapa Ríos informed me subsequently that it had decided to remove the skirt steak from the menu.)
Our waiter, noting that I had stopped eating, took away my plate apologetically and asked what he could bring me instead. I suggested another glass of wine, which he brought, but I noticed later that he charged me $5 for it.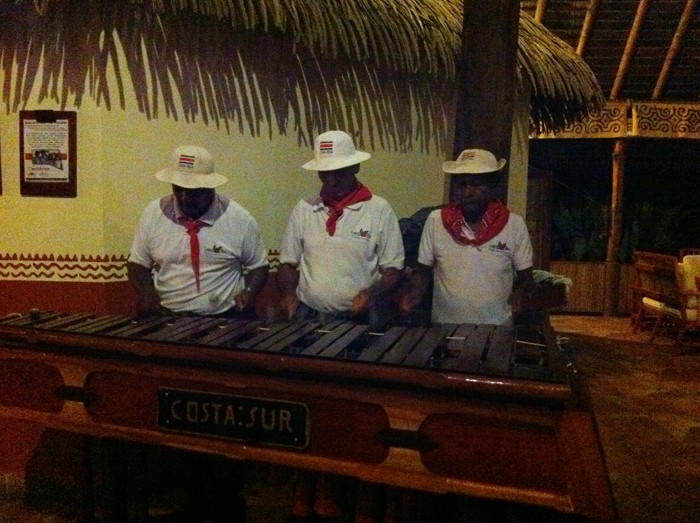 I was reminded of my 2003 trip to Kenya, where I checked into my hotel and ordered the roast chicken.
"Are you sure you don't want the pepper steak?" the African waiter said.
"OK, I'll take the pepper steak," I said.
A few minutes later the waiter came back and said, "I have decided to give you the roast chicken."
"Why?" I asked.
"The pepper steak is not very good," he said.
Mistakes happen, and the restaurant at Lapa Ríos has room for improvement, but still we would rate this place among the top ecolodges in the Osa, if not in all of Costa Rica.
Full disclosure: Although The Tico Times normally reviews hotels anonymously and pays full price, Lapa Ríos provided a room for free in consideration of a review in a different publication. We paid only for food, which came to $136, plus drinks.
We had no regrets.
For more info: http://www.laparios.com.
Contact: Tour guide Guillermo Mulder can be reached at wildlife@laparios.com. 
Contact Karl Kahler at kkahler@ticotimes.net.