Fabián Ruíz, 22, better known as "Chama," takes to the streets of San José to bring citizens a unique show while they walk the main boulevard of the capital or in the streets of Alajuela. His performance is one-of-a-kind: While sitting on his personal invisible chair, he plays his "Guitaneta" (skateboard-guitar), as he calls it, and plays the "drums" with his feet.
The Tico Times visited Morazán Park in downtown San José to watch Chama perform, and to ask him how he came up with this idea. Excerpts follow.
Where did you get the idea of the "Guitaneta," and how did you make it?
Well, I was a really passionate skater, and I also love music. Really, the ideas just combined. Before, I was on another street project with some guys who played tins and jars, like drums; they used all kind of "trash" in their performance, but I played a normal guitar. Then I had the idea of using my skateboard, my last skateboard actually, and turning it into a guitar.
There's a type of guitar call steel guitar, similar to the one that David Gilmour uses. It's on a table and you press the strings with steel, and not with the fingers as with a normal guitar. [The Guitaneta] uses the same concept, but it is completely homemade, as you can see. It has hinges and driftwood. It cost me like ₡5,000 (about $10), maximum, and I stayed up one whole night making it. When I finished, I realize the sun was already rising.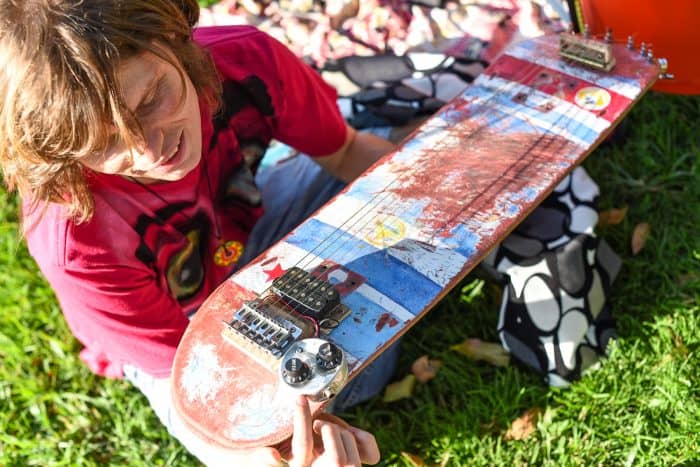 How long have you been playing music?
I started playing when I was in school, but got more into it about three years ago. I play guitar, a little bit of percussion (that's what I do with my feet during the performances), bass, and now I'm about to learn piano. It's kind of easier, but it's perfect for songwriting.
I wanted to go to the National University to study classical music, but the day of the entrance exam, I don't know why, but I didn't want it anymore. I felt I was doing it because of the acceptance of my family and not really because of me. I want to travel, and if I got to a university I'd be forced to stay here for a while. Now, I study music, but on my own.
How did you start playing in the streets, and what do your family and friends think about it?
About a year ago, I went on a tour on the beach, and I was mugged, and I had nothing but the guitar at the hotel. I came up with the idea [of playing in the street]. I don't know; it was a spur-of-the-moment idea. And, indeed, I made some money. It wasn't too much, but I was able to buy my ticket home. It was with an acoustic guitar. I started going to Heredia [to play in the streets], but it was terrible, because an acoustic guitar doesn't demand attention. Instead, if people gave me money, I felt it was for pity. They were like, "Poor guy, he may need it" [laughs]. But I did it because as a musician, one likes to go and share one's music.
My mom made me a case for the Guitaneta. At the beginning she didn't like the idea, and it is not that she loves it now, but I know that she is happy seeing that I'm happy doing it. Of course, she recommended that I look for some other options, and she's right. My dad is a musician, not professionally, but he plays guitar, so he doesn't like the idea either, but I know he kind of admires me for doing it. At the end, what they want is for me to be happy.
How much time do you spend on it during the week?
Not much. I don't want people to get bored. In the other project I was in, we used to play from 10 a.m. to 7 p.m., but people tend to get tired of it. So I come to San José like three days a week, and two days in Alajuela, and whenever I can I try to go to the beach and play there, to perform in different places.
Right now, I spend more time playing private parties than in the streets. It's a good business [to play in private parties], but I make more money on the streets. The difference is that in a party there's only one person who has to pay you a specific amount, but in the streets there's a lot of people who give you a little. One person gives you ₡1,000, another ₡200, and so on. I actually prefer to play in the streets. I come and play for 90 minutes two hours. I'm usually at the Central Avenue boulevard.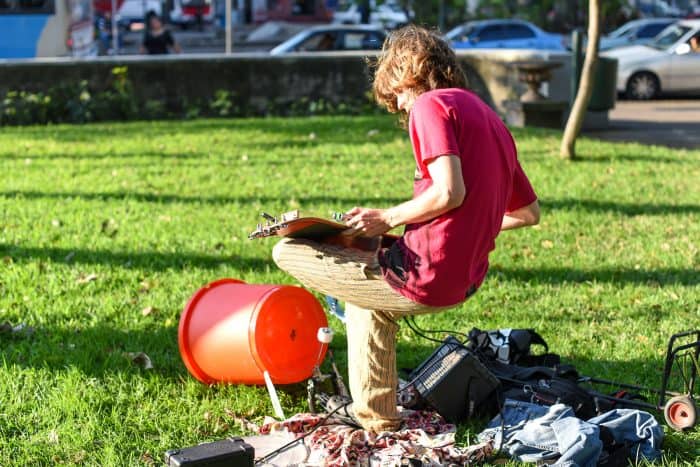 Where did you get the idea of the "invisible chair," and what are your plans for the future?
As I began to like street art, I start watching street performance and saw that some people were doing shows with levitation. I really liked it and I thought it was a good idea; then it occurred to me to combine it with the Guitaneta.
I want to create a band, but in the same line, with the same format. For example, the percussionist can't play with real drums, but rather with jars and tins. I want to start a really solid project with three other guys; me on the strings, a percussionist, and a keyboardist.  I want a crazy assembly, and I want them to float [with invisible chairs], too.
Find more info about Chama and his Guitaneta at his Facebook page, Chama Ride. 
Read more Weekend Arts Spotlight interviews here.
Our "Weekend Arts Spotlight" presents Sunday interviews with artists who are from, working in, or inspired by Costa Rica, ranging from writers and actors to dancers and musicians. Do you know of an artist we should consider, whether a long-time favorite or an up-and-comer? Email us at kstanley@ticotimes.net.