A new ad campaign by the New South Wales government in Australia to convince teenagers not to smoke pot has gone viral globally – and that's probably not a good thing. In fact, you might have to be stoned to appreciate it.
The campaign, titled "You're Worse on Weed" and with the hashtag #StonerSloth, is raising chuckles on social media, but it also has angered sloths across the world, and may even drive teenagers to smoke more pot, not less.
Apparently, according to the NSW government, when you get stoned, you turn into a sloth. One spot, tagged "When you realise you should have hit the books and not the bong," shows a young sloth student named Delilha who is so stoned she can't answer a single question on a quiz. She is mocked by her classmates.
Another spot shows Sloth Jason struggling to pass the salt to his mother at the dinner table, handing her instead a bowl of salad.
See for yourself:
The National Cannabis Prevention and Information Centre, or NCPIC, which provided some research data to the team responsible for creating the campaign, thinks the effort is so bad it wants its name removed, The Guardian and The Sydney Morning Herald reported Sunday.
"The campaign is not a NCPIC campaign and we weren't involved in the campaign development, so unfortunately we are not able to provide any insights into, or commentary around the campaign," the center said in an online statement.
Premier Mike Baird weighed in on Twitter, calling the campaign, "Quite something."
https://twitter.com/mikebairdMP/status/678080768770334721
"No sloths were harmed in the making of those #StonerSloth ads," he added for good measure.
https://twitter.com/mikebairdMP/status/678082253390405632
In Costa Rica, we've received several messages at The Tico Times from readers both incensed and amused over the issue. "Something needs to be done!" said one local business owner via email. "We can't have our sloths being used like this! As an Australian/Tica I am outraged!"
For perspective, we managed to track down Costa Rica's most famous sloth, Sloth Kong, who became a global sensation during last year's historic World Cup run by the Costa Rican football squad, "La Sele."
"It's absurd," Sloth Kong told us as he lounged in a hammock on the southern Caribbean coast, reading a book. "If smoking pot turns you into a sloth, I would think more people would be doing it, not less."
And about the implication that smoking pot makes you stupid, and therefore sloths are stupid?
"Ain't nobody got time for that," Kong replied.
Ouch, pity #stonersloth bombed @mikebairdMP… Of course, you're drug-testing the campaign manager, yes? aaahahaha…

— Girrali 😎 (@Girrali) December 20, 2015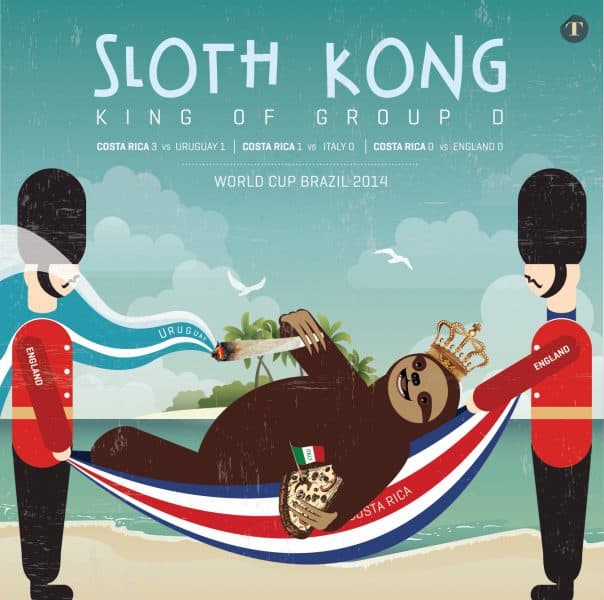 Read more Sloth Kong stories here and find great Sloth Kong holiday gift items in our online store here. #SlothKong #Satire