"He was the bad boy of Villareal," announced Laetitia Deweer as she introduced 19-year-old Abraham Meza Berrocal to the hundreds of people sitting in the audience at Pangas Restaurant last week.
Meza and nine other young people were onstage to tell their stories of coming to Culture, Education and Psychology for Infants and Adolescents (CEPIA), the organization that Deweer cofounded with her friend and fellow Belgian Lotje Deridder to improve the quality of life of impoverished Guanacaste children and teenagers and their families through cultural development, educational opportunities, physical and mental health, and social integration.
"Because of CEPIA, I just graduated from high school," Meza concluded proudly at the Black & White Party, which commemorated the group's tenth anniversary. Guests paid $40-45 each and participated in a silent auction to support CEPIA's work. In all, the evening raised $17,000 for the organization.
Another program beneficiary, Elizabeth, also shared a success story. Earlier in the week, she told about the time when Deweer, who serves as CEPIA's executive director, came to her school, gave a talk and distributed flyers. Elizabeth was nine years old; she's now 19.
"I went home and talked to my grandmother and told her I liked it," recalled Elizabeth, adding that her grandmother had been caring for her since she was an infant, after her mother left her behind because she lacked the resources to take care of a child. Her father is an alcoholic. She sees him once in a while walking the streets of the town where she lives, she said.
"I liked CEPIA. I liked participating in the activities, especially the outdoor trips like the Beach Challenge at the (former) Country Day School," Elizabeth explained. "I came in second and loved it. I still have the medal in my room."
She took advantage of all the classes, such yoga and art, and received much-needed school supplies. However, when she turned 14, she rebelled, left the youth group, and ended up on the streets, drinking and using drugs.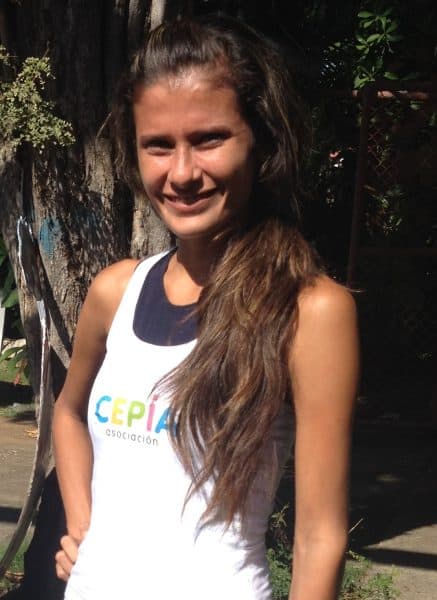 "I became a rebel, dropped out and disappeared. But I always liked CEPIA, and there were courses that were useful," she recalled. "I wasn't finding anything good on the streets, and I was growing and maturing."
She returned two years ago, started with computer training and now English, received counseling from the staff psychologist, and is currently looking for a job.
Ingrid, 17, was one of the first children to join CEPIA 10 years ago. Ingrid and her mother definitely qualified for some assistance:  Her father left when she was small and they lived in a house in the small town of Huacas, near Tamarindo, without electricity. On many days, they had nothing to eat. A CEPIA volunteer brought them food, and at that visit Ingrid learned about all the available programs including summer camps, which was where she first joined up in order to play girls' soccer.
"Now I have a better character. I was not well-behaved before. I didn't like anything, didn't think anything was important. After joining CEPIA, I got it into my mind that I wanted to change, " Ingrid said. "Before, I had no friends. I was talking bad and I wasn't a nice person. I started to get friends when I participated in the activities."
See also: Guanacaste to break ground on $400,000 community center 
With a goal to work in tourism someday, Ingrid is taking English classes three times a week at CEPIA.
"I feel she can do it," Deweer said.
Both girls were quick to note that they really enjoy the food they eat at CEPIA. The restaurant is one of four commercial operations onsite, with the profits from each going directly to the people who run them. There's also a second-hand store, internet café, and ecocultural tourism center.
The center is located in a brand-new building in Huacas. It's a major step up from the one-room house they previously used. Now there are separate rooms for classes, computer lab, and the "well-being" room, where nine disabled children receive physical therapy every week, and trusted youth who have keys to the center can be found on any given day breakdancing and watching movies.
CEPIA also has a new daycare with space for 25 infants. Kids are chosen by the government on a case-by-case basis so the parents can look for work while knowing their children are in good hands.
In 2014, CEPIA had 140 trained volunteers working with the kids and adults. This year Deweer anticipates even more. Many even become sponsors, such as Octavio Suárez and Roberta Roper. These two — a businessman and a psychologist, respectively — are set to become Ingrid's sponsor, attending to her essentials like health products, school supplies, whatever she needs.
"Almost all the people who volunteer and have a little money become sponsors," Deweer said. "They meet the kids and know their situations and decide to help them out."
Recommended: Special needs kids spend beach day at Avellanas
Onsite, there are now more options to better assist the children and their families who are in extreme poverty.  For one, there are new technical training classes offered by the National Learning Institute (INA), an indication of the governmental support given CEPIA.
The government is "starting to take us seriously," said Deweer. "Now, when we ask the government for something, they are very cooperative."
Along the same lines, next year, through the Ministry of Public Education's "Educación Abierta" programming, CEPIA will offer classes for grades 6-11. Elizabeth has already signed up for 9th grade.
"This is huge. Everyone is going to come," Deweer said, reflecting on these new options.
To fund these and other programs, CEPIA relies on two major benefits per year: The Black and White Party and the Robert August Surf n Turf, a golf and surf event hosted by the famous surfer.  There's also a golf tournament at Reserva Conchal, attended only by homeowners at that development.
At this year's Black & White party also included an Angel Tree, where people took cards from the branches, each indicating a child for whom they would buy a Christmas present (or donate $20). On Dec. 15, 400 kids will receive those gifts, along with food and school supplies.
According to Deweer, CEPIA is able to do events such as the Christmas party due to the generosity of its donors.  She and her organization spends a lot of time and energy getting its message of need out to the public.
"Some people don't realize what poverty is," she said. "That is why we try to educate the public. Without our help, who knows what would happen to these kids and families."
Ingrid knows: "If I weren't involved with CEPIA, I would be in the street, drinking and smoking."
CEPIA is now receiving donations of used clothing, which can be dropped off at Jaime Peligro's Bookstore in Tamarindo, or at the center itself. For more information, please visit www.cepiacostarica.org.