San José's Parque Nacional was filled with a sea of orange on Wednesday, as groups from across the country gathered for the International Day for the Elimination of Violence Against Women, a day designated by United Nations resolution in 1999.
Hosted by the National Women's Institute, the Costa Rica event featured performances, art exhibits and information booths.
In the last three years, 64 women in Costa Rica have been killed in domestic violence disputes, 24 of the murders committed this year alone.
"Our primary goal is to turn violence against women into a topic of discussion," said Misha Salgado, one of the event's coordinators. "This is a strategy to develop a dialogue."
Salgado has coordinated exhibits throughout 10 cantons in the Greater Metropolitan Area. The exhibits include photography, needlepoint and printed Internet memes designed to raise awareness about violence against women. The exhibits will be on display in Parque Nacional all day Wednesday.
A human rights violation
According to the U.N., "violence against women is a human rights violation," and a "consequence of discrimination against women, in law and also in practice, and of persisting inequalities between men and women."
The world body says that globally, one in three women have experienced physical or sexual violence, usually committed by a partner.
According to AFP, citing the Economic Commission for Latin America and the Caribbean, 1,678 women were killed due to gender-based violence in Latin America and the Caribbean in 2014.
"We can't allow more Latin American and Caribbean women to die solely because they are women," said ECLAC Executive Secretary Alicia Bárcena, AFP reported.
In the region, 20 countries have laws on the books specifically addressing violence against women, but only eight countries sufficiently earmark funds to enforce and address the crimes, ECLAC reported.
Of those, 14 countries have defined "femicide" as a crime in their penal codes, including Bolivia, Brazil, Chile, Colombia, Costa Rica, Ecuador, El Salvador, Guatemala, Honduras, México, Nicaragua, Panama, Perú and the Dominican Republic. Argentina and Venezuela have passed laws putting gender-based aggravated homicide on the books.
Peru was the first Latin American country to pass a law criminalizing sexual harassment in public areas, in March 2013. Argentina, Chile and Paraguay are debating similar laws, AFP reported.
Perhaps nowhere was the need for these types of laws more apparent than in Costa Rica recently, where a video went viral on the Internet of a sexually deviant Costa Rican man employed by the government recording up the skirt of a victim walking down the street. The aggressor was called out by a passerby, Gerardo Cruz, who posted the video to social media.
Watch Gerardo Cruz's viral video from October:
https://www.youtube.com/watch?v=K6EBOnqlGiY
Cruz later died after he was attacked and stabbed repeatedly in what Costa Rican police are describing as an event unrelated to the video, likely a robbery gone bad. But his act of courage galvanized the Costa Rican public, prompting several protests and calls for the criminalization of street harassment, as in Peru. Read all our Gerardo Cruz stories here.
Invisible
In a news conference Tuesday at Costa Rica's Journalists Association, the GEMA Central American Gender and Media Observatory  presented the findings of a five-year study that noted from 2010-2015, the presence of women as subjects of news stories has remained practically stagnant. In 2010, GEMA reported, only 24 percent of subjects of news stories in Costa Rica were women. In 2015, that percentage increased to only 26 percent.
"Since 2010, the presence of women [in news in Costa Rica] hasn't changed. The only category that is newsworthy … is crime, where they are victims of violence," said GEMA consultant Sharo Rosales.
The results show that "there is still much work to do to eradicate sexism, el machismo, violence and discrimination from the manner in which the news media report stories," a release from the group stated.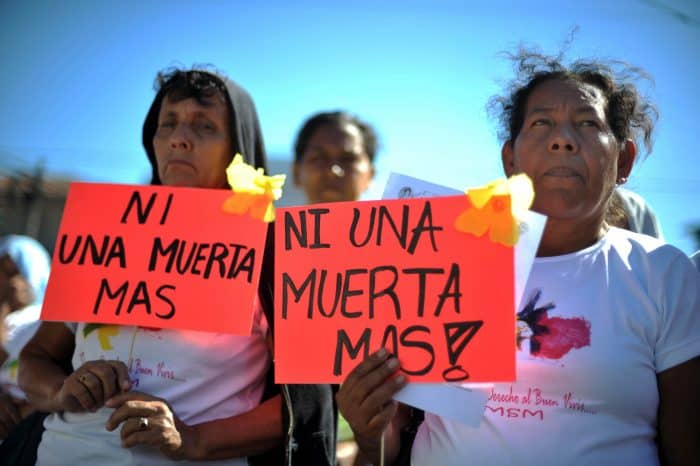 Violent
In El Salvador, the violence is equally pronounced and shockingly more widespread. More than half of women in a relationship in El Salvador suffer from domestic violence, according to a study released Monday by a private university and the World Health Organization.
"This research contains important data allowing us to see how much women suffer from violence in our country from the hands of their partners, in their private and family sphere which is supposed to be a safe zone," Technological University researcher Marta Velasquez told AFP.
According to the results presented in San Salvador, 23 percent of women in the country suffer physical aggression, 13 percent sexual violence and 26 percent both types of violence.
Of the cases noted, 19 percent "can be registered as 'severe,'" based on the physical injuries received.
The age group that reported the most violence was women aged 60 to 64, with 34 percent saying they had been physically or sexually abused at some point in their lives by their partner.
El Salvador has a population of 6.4 million, with women and girls making up 53 percent.
Lindsay Fendt and David Boddiger reported for The Tico Times.