Tonight's Art City Tour, the periodic and popular event that brings josefinos out in droves for free visits to participating museums and galleries, will feature a brand-new stop: an art gallery in Barrio Escalante, in eastern San José, that will be inaugurated during the Tour.
The gallery is the new venture of Costa Rican artist Brian Breness, whostudied design at the University of Costa Rica (UCR) and works primarily with stop motion animation technique. He has taught various stop motion courses at the Central American Autonomous University (UACA) and the Costa Rican film center; he also works as a UCR researcher. His goal at the gallery is to provide people with accessible art, available at a wide range of prices.
"I wanted to create a space that's very inclusive and attractive for everyone," Breness told The Tico Times. "The idea is to create art so anyone can have art."
One of the types of works the gallery offers are called camándulas, unique glass pieces with different materials inside.
"These pieces are generic; they catalyzer the imagination. The material with which they're made is a secret," Breness said.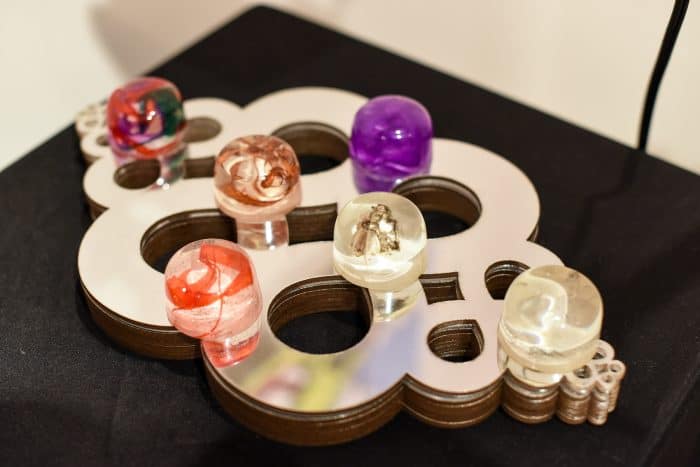 The gallery also has a series of prints known as dieciséisnueves, because of their measurements – 16 inches by 9 inches – and Tes, artistic T-shirts. The gallery will host acoustic music concerts on Saturdays. Each show will be recorded, and the gallery will then present those recordings through a peculiar format that scans the QR codes on a piece of cardboard.
For tonight's inauguration, Breness will feature an exhibit by renowned Costa Rican artist Rafael Ángel "Felo" García, also featuring the artist's daughter Aby García, son Rafa García, and grandson Alberto Cruz García. The British Cultural Center, also located in Barrio Escalante, will hold a simultaneous García exhibit.
The inauguration begins at 6:30 pm tonight, Nov. 20, as part of the Art City Tour. For more information, visit the gallery's Facebook page or website. For Art City Tour details, visit the GAM Cultural website.