Prompted by pressure from Costa Rica following a Cuban migrant crisis on its border with Nicaragua, representatives from the Latin American countries transited by Cubans on their way to the United States are set to meet in El Salvador next Tuesday, according to Costa Rica's Foreign Ministry.
Foreign ministers from Mexico, Colombia, Ecuador, Cuba and member states of the Central American Integration System, or SICA, are scheduled to meet on Nov. 24 to discuss a "humanitarian corridor" proposed by Costa Rica, as well as other possible solutions to the influx of Cuban migrants traveling illegally through the isthmus.
"The countries have responded positively and in solidarity," Costa Rican Foreign Minister Manuel González told reporters on Thursday. "They understand that there is a humanitarian aspect in play here that needs to be addressed holistically by the entire region."
González said the countries are seeking a "stable, long-term" solution to the migration conflict that started at Costa Rica's southern border with Panama and has since moved to the north at Peñas Blancas, along the Nicaragua border. Currently 1,100 Cuban migrants are at that northern border, staying in six different shelters set up by the National Emergency Commission, the Costa Rican Red Cross, and other public and private organizations, according to a video from Casa Presidencial on Thursday.
See: President Solís, church leaders discuss Cuban migrant crisis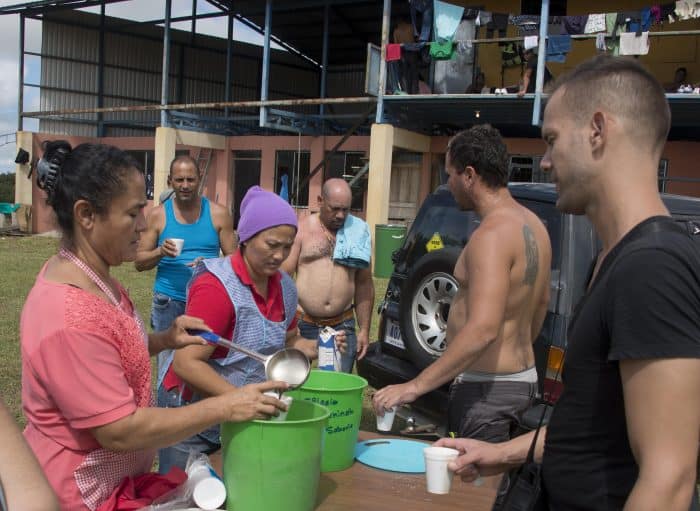 González said the meeting should not be seen as an invitation for more Cubans to leave the island and cross the isthmus illegally.
Nicaragua confirmed its assistance late Thursday afternoon.
On Thursday morning, Nicaragua's first lady and spokeswoman Rosario Murillo read a statement to government-controlled media again accusing Costa Rica of provoking the humanitarian crisis at the border, the Nicaraguan newspaper La Prensa tweeted. Murillo said Costa Rica was "politicizing the wave of Cuban migrants for its own purposes" and that the country "wants to play the victim and wrap itself in the flag of human rights."
#Nicaragua acusa a #CostaRica por provocar crisis humanitaria de cubanos varados en Peñas Blancas.

— LA PRENSA Nicaragua (@laprensa) November 19, 2015
Murillo's claims are the latest dustup in an ongoing diplomatic row between Costa Rica and Nicaragua after the Nicaraguan military refused to let several hundred Cubans enter the country without legal permission, confronting the crowd with rubber bullets and tear gas on Sunday, Nov. 15.
Costa Rica, which says it has worked with Nicaragua in the past on facilitating transit visas for migrating Cubans, accused Nicaragua of politicizing a humanitarian crisis and antagonizing border police with heavily armed soldiers. Costa Rican police stationed across from the Nicaraguan soldiers were ordered to disarm to prevent the situation from escalating, Costa Rican officials said on Tuesday.
The Nicaraguan first lady's accusations appear to overlook several diplomatic discussions in recent months – spearheaded by Costa Rica – to address the pending Cuban migrant crisis. As recently as Oct. 2, Central American immigration officials signed an agreement backed by SICA and the International Organization for Migration to respond to the increase in Cubans arriving at borders here from South America.
The agreement, based on recommendations from the U.N. High Commissioner for Refugees, included several commitments, among them to "control at borders the entry of Cubans by registering those with a legitimate passport and to provide for the orderly and regulated passage through the countries of the region, in conjunction with national legislation an international commitments." It was signed by Nicaragua's Assistant Director of Immigration José Anibal Sobalvarro, along with immigration officials from the other Central American countries.
Read the Oct. 2 Central America immigration agreement, signed by Nicaragua (in Spanish):
[documentcloud url="http://www.documentcloud.org/documents/2516918-cuban-migrant-regional-agreement-oct-2-2015.html" width=650 height=625 container="#DV-viewer-2516918-cuban-migrant-regional-agreement-oct-2-2015″]
Murillo also claimed Thursday that allowing the Cubans to proceed would "expose them to a series of risks."
"El Gob. de #CostaRica quiere victimizarse y abanderarse como defensor de #DDHH " #Nicaragua #CostaRica

— LA PRENSA Nicaragua (@laprensa) November 19, 2015
Costa Rica countered by saying Nicaragua's actions to block the Cubans would force them back into the hands of smugglers, where they would not be safe or protected.
Some 2,000 Cuban migrants have entered Costa Rica with temporary transit papers after the country temporarily closed its border to the migrants following the dismantling of a human smuggling ring on Nov. 10.
Gladys Jiménez, assistant director of Costa Rica's Immigration Administration, told The Tico Times that the government will continue issuing seven-day transit visas for the foreseeable future. Earlier this week, Costa Rican officials said they expect up to 300 additional Cuban migrants a day to arrive at Costa Rica's border with Panama.
David Boddiger contributed to this report.