Costa Ricans recently united to send some tropical warmth to the refugee camps in Syria as part of an international project called Mantas para Siria (Blankets for Syria).
A knitting drive at the Children's Museum in San José, plus a fundraising effort, resulted in a whopping 244 blankets being sent via on an odyssey that is taking them by airmail from San José to Madrid, over land to Valencia, by boat to Turkey, and finally into the hands of families enduring freezing temperatures in a refugee camp in Idlib, Syria.
The idea came to life in Spain, where a group of women who get together to knit or crochet decided to make "blankets for life." The word spread among knitting groups and clubs, over Facebook and through the blogosphere. Across Spain, women met in cafes and in homes to knit blankets to send to Syria before the winter set in. Since September they have sent approximately 1,450 blankets, and they are still knitting.
"We knit for people sitting in the cold," explained Spanish participant Coral Benitez, 59, a housewife and coordinator. Previously, the group knitted blankets for homeless people.
Another Spanish organizer, Marta Blanco, whose Facebook page united women knitters across Spain, said that while daily news reports show the risks for Syrian refugees trying to reach Europe, "we wanted to do something for the refugees who remained behind in Syria. We could buy blankets or donate some from home, but we wanted to send a message to say, 'We have not forgotten you.'"
In Costa Rica, Alejandra Guitiérrez, a textile artist who has won international prizes for her work and who carries out workshops and exhibits through her company AG artextil in Escazú, heard about the project and organized an activity here on Oct. 24-25. Knitters were allowed to bring squares or rectangles from home to be joined together at the knit-a-thon, or they could knit them there. Even beginners could participate with help from those more advanced. The idea was to feel at one with the Syrian refugees and to help keep someone warm.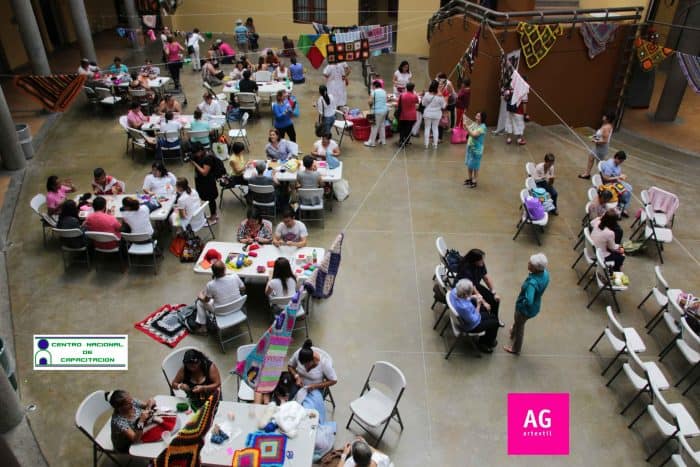 The two days of knitting yielded 144 colorful blankets, but Gutiérrez continued to receive donated blankets at her shop, and made bank accounts available for those who cannot knit a stitch, but wanted to donate funds.
The AG artextil Facebook page announced that the finished blankets were sent on Nov. 10 to Spain, where they will be received by the Association for Assistance to the People of Syria (AAPS). The United Nations High Commission on Refugees will coordinate the final stages of the delivery to Syria.
"As soon as we receive confirmation that [the blankets] have reached Syria, and we get organized, we will announce the next mission through which we can send blankets," read a post on the AG artextil page. "Our recommendation, given the interest of so many people in continuing this initiative, is to keep knitting, and stay in touch with us."
To get involved, contact Gutiérrez at alejandra@agartextil.com, or follow her company on its Facebook page. Donations can be made to the project's BAC bank account in colones 10200009139800745 and dollars 10200009026096436.