When we talk about running a business, we know the main objective is to make money. But what if I told you there's a new small business whose main goal goes beyond that looking after the environment and people's health, and that it does this mainly with a glass bottle?
Yes, with a glass  bottle. I'm talking about Barrio Amón's newest culinary offering, the restaurant Zero Army. Located on the west side of the National Insurance Institute (INS), the small spot, which opened just a month ago, is attracting more attention each day with their innovative beverage service.
Zero Army's speciality is nutritious smothies, served in a glass bottle that people can take with them, then bring back to refill and get a discount on their next drink. What to order to go along with your drink? The vegetarian menu was created with the help of an expert, and is growing each day.
"The project was created as an initiative of some young people, family and friends," Sebastian Cubero, one of the Zero Army founders, explained to The Tico   Times. "We felt a need to develop a project that was different from the traditional way of doing business, and with a goal beyond business itself. We started thinking about a project that would be focused not only on the economic side, but also on some other important aspects in the harmonious development of a society."
All the smoothies are named after Costa Rican National Parks: you will find "Amanece Chirripó," "Relajate Turrialba," "Rincón de la Vieja," "Oscuro Barra Honda," "Corcovado Verde," and many more. Fans of the brand can keep up with news on social media with the hashtags #tomácostarica and #traétubotella
Zero Army embraces the zero-waste philosophy, based on redesigning products' life cycle and reusing items that would otherwise be sent to landfills or incinerators.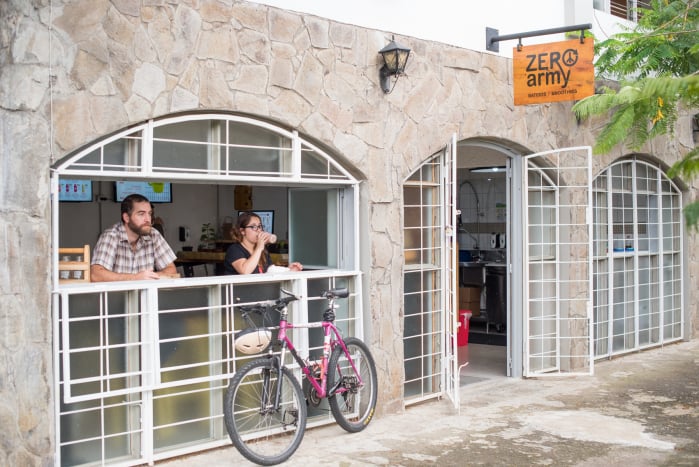 The thoughtful design of the restaurant goes far beyond the reusable smoothie bottles. Most of the furniture is made of reused material; packages are made by 100% reused materials, and are recycled after use; organic wastes are send to Coronado, north of San José, where they are used to feed animals; non-reusable materials receive proper treatment thanks to a program with the Municipality of San José; all cleaning products are friendly with the environment; and LED illumination is used throughout. The restaurant's appliances are energy-efficient, and the bathrooms feature electric hand dryers, dual flush toilets to regulate water usage, and water-saving urinals.
"Every decision we make about the place and about the products we sell is well thought-out," said Cubero. "We always take into account the footprint we humans leave with every little thing we do, and trying to be less invasive whenever possible. When these little things come together, they really make a change."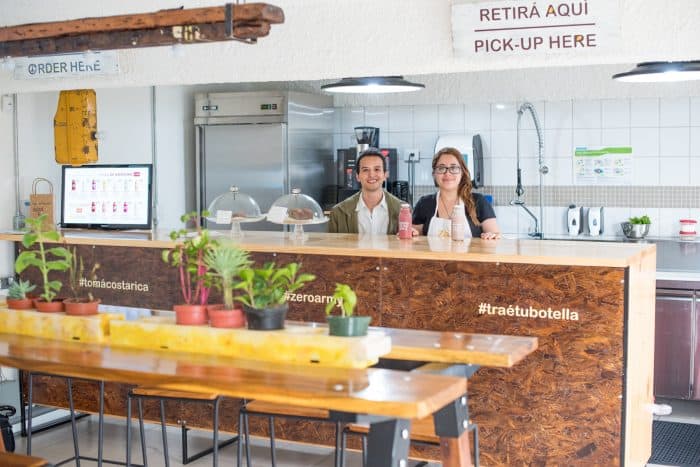 As part of the change, Zero Army wants to offer better working conditions to its employees. Many Costa Rican businesses need full-time positions that are difficult for students to handle, Cubero said, so Zero Army offers flexible schedules designed to fit students' needs.
"Economically it has been a huge investment, but beyond the economic aspect, the real investment the effort of everyone working on this," concluded Cubero. "That is the biggest investment of all."
Zero Army is located on the west side of the National Insurance Institute (INS), in Barrio Amón. Open Monday-Friday, 6:30 am-3 pm. Find more info at the Zero Army Facebook page, or call 2248-2401.