WASHINGTON, D.C. — The Organization of American States held an international discussion on global ocean policy this week, focused on dangers to coral reefs, pollution and the effects of global warming.
The 67th OAS Policy Roundtable, titled "Our Shared Treasure: Oceans and Climate Change," was held Monday and co-hosted by the tiny European nation of Monaco, which was marking its fifth anniversary as an official observer at the OAS.
The oceans and climate change event, attended by about 150 people, included a video message from Monaco's Prince Albert II; remarks by OAS Assistant Secretary General Nestor Mendez and Dr. Enric Sala, a National Geographic explorer-in-residence from Spain; and a panel discussion of global ocean policy by six government and private-sector officials.
"The oceans cover 70 percent of the surface of our planet, yet we are only beginning to understand the goods and services the oceans provide in terms of economic and environmental benefits," said Mendez, formerly Belize's envoy to the United States. "Conservation management has become an urgent cause for concern, as global warming, pollution and invasive species increasingly threaten the health of these ecosystems."
It might seem strange that the Principality of Monaco, a fabulously wealthy and densely populated microstate whose 36,000 people are crammed into two square kilometers along the French Riviera, would host an Americas-focused discussion on ocean health. But the country and its popular monarch, Prince Albert II, have earned a reputation for helping preserve biodiversity, fight deforestation and promote renewable energy in less developed nations.
"Monaco has had a long legacy of environmental stewardship, even before ocean science and climate change were making headlines," said Maguy Maccario Doyle, Monaco's ambassador to the United States. "This OAS roundtable is the first ever to be dedicated to the subject of oceans and climate change together."
Recommended: Costa Rica climate avenger Christiana Figueres takes questions on Reddit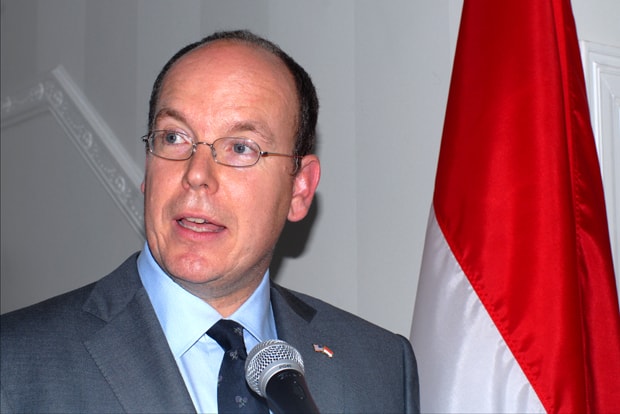 Oceans and climate change ahead of COP21
The Washington event came a little over a month before the United Nations-sponsored COP21 climate talks in Paris. To date, some 150 countries have submitted plans on limiting their greenhouse gas emissions beyond 2020, when current commitments on those emissions expire.
According to published reports, the new commitments cover about 90 percent of the global economy. Yet even if followed through, they would still lead to global warming of about 2.7 degrees C, which scientists say is too high to avoid catastrophic and irreversible warming and sea-level rise.
OAS Assistant Secretary General Mendez warned that mangroves and coral reefs are rapidly disappearing, especially in the Caribbean and Central America.
"Oceans absorb 30 percent of carbon emissions produced by humans, buffering the effects of global warming," he said. "My country, Belize, has an internationally-acclaimed barrier reef system, providing direct benefits to the people of Belize. These coral reefs are the rain forests of the sea. But in 1997, 1998, 2005 and 2015, we saw coral bleaching events that were devastating."
Recommended: Creating coral that can survive climate change
Mendez praised Monaco's efforts and that of the Prince Albert II of Monaco Foundation — a charity that's been in the forefront of environmental activism from Chile to the Pacific island nation of Kiribati. Sala, who helped inspire the vast Seamounts Marine Management Area surrounding Costa Rica's Cocos Island, called the foundation "essential in the fight to enable future generations to continue living on our planet."
Catherine Novelli, the U.S. undersecretary of state for economic growth, energy and the environment, said it's crucial that the COP21 talks in December result in "an ambitious, durable agreement on emissions" that will be respected by all nations.
"The ocean is absorbing all this carbon and it's changed the chemistry of the oceans, acidifying the water, killing coral reefs and having effects we don't even know," she said, adding that overfishing is another serious threat.
"We are consuming fish at a faster rate than they're reproducing, so it's important that we be able to get at the question of illegal, unregulated fishing," Novelli told the audience. "We need to have a way to make sure these fish stocks replenish themselves. This is food for billions of people."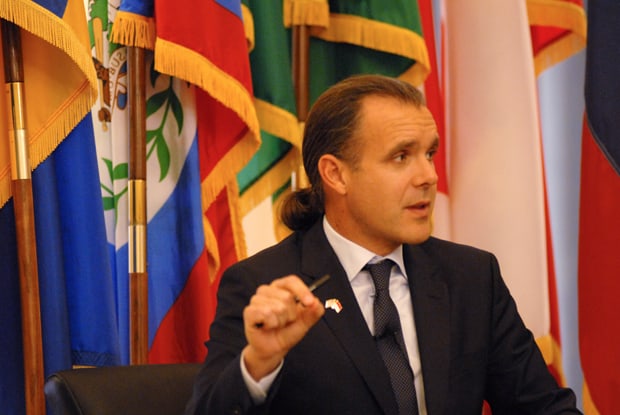 Our Ocean
Earlier this month, 550 experts from 56 countries met in Valparaiso, Chile, for the second Our Ocean conference. Participants at the Oct. 5-6 gathering launched more than 80 new initiatives on marine conservation and protection valued at $2.1 billion, as well as commitments to protect some 1.9 million square kilometers of ocean.
At that conference, Costa Rica announced it would develop a national policy on wetlands within a year, and one on the use of the oceans within two years. In addition, San José will host the second meeting of countries that have signed a memo of understanding on the conservation of migratory sharks, to take place in February 2016.
On Oct. 22, in fact, the country's National System of Conservation Areas slapped a one-year moratorium on the exportation of hammerhead sharks. The move puts Costa Rica in compliance with the Convention on International Trade in Endangered Species of Wild Fauna and Flora (CITES), after over a year of running afoul of those regulations.
Furthermore, Costa Rica will promote and support the Jacques Yves Costeau Observatory for Central America and the Caribbean, with the goal of creating an interdisciplinary information network that will facilitate sustainable development of marine and coastal resources throughout the region.
"Panama has announced new protected areas, and so has Costa Rica. But we don't want to rest on our laurels. We need to keep going," Novelli said. "We also need to work on how to keep the ocean resilient. One of our most important tools is the new Port State Measures Agreement to prevent illegally harvested fish from entering their countries."
It takes 25 countries to put the agreement into force, and so far 13 have signed. Seven more, including the United States and Costa Rica, are said to be close to joining.
"The U.S. has passed a law allowing us to ratify the agreement, and we expect the president to sign it into law," she said. "We're hoping all of your countries will also ratify it, so we can get to the 25."
Maccario, Monaco's ambassador in Washington, noted that until now, the OAS had never even tackled the subject of oceans and climate change together. But Uruguayan diplomat Luis Almagro — who in March 2015 became the organization's new secretary-general — immediately warmed to the idea, she said.
"In 66 [previous] roundtables there had never been one about climate change and the ocean together, even though all of Latin America is surrounded by oceans from north to south," she said after the conference. "Finally, the OAS, which has never been a voice for ocean conservation, is coming out and doing its share."
Correction: An earlier version of this article incorrectly stated that Monaco's ambassador to Washington, Maguy Maccario Doyle, said the OAS had never tackled the subject of oceans or climate change until now. In fact, the two subjects had never been tackled together. The text has been corrected.