Costa Rica's latest film examines a famous characteristic of the land of pura vida: its reputation as one of the planet's happiest countries. Director Soley Bernal attracted some of the most talented comedians in Costa Rica to the big screen for the comedy "El lugar más feliz del mundo" ("The Happiest Place in the World"), which will premiere Nov. 12 nationwide.
The film tells the story of four comedians and a screenwriter who lose their jobs after the television station they work for closes down. The five of them are desperately seeking an opportunity to save the station and keep their jobs, so they start a mystical journey full of surprises that will eventually lead them to contentment. The movie encourages audiences to find happiness for themselves, to be satisfied with their lifestyle, and to consider ways they can become better human beings.
With a production budget of $350,0000 plus promotion to the tune of $500,000, "The Happiest Place in the World" is arguably the most ambitious Costa Rican production of all time. (As a point of comparison, the budget for the 2014 hit "Maikol Yordan de Viaje Perdido" was approximately $200,000.) It is the very first film in Costa Rica, and one of the few in Latin America, to incorporate the Dolby Digital Seal and Sound 5.1.
The cast of the production includes many household names for fans of Costa Rican comedy. Stars of stage and screen took part, including comics Alex Costa, Ricardo Jiménez, Marcia Saborío, María Torres, Magdiel Ramírez and Fernando Bolaños; broadcaster and TV presenter Carlos Álvarez; and actors Adriana Álvarez, Mauricio Astorga, Giovanni Linares, Bismark Méndez, Eloy Mora and Rodolfo Araya. International actors in the film include Jorge Herrera, from Colombia, and Héctor Joaquín, from Puerto Rico.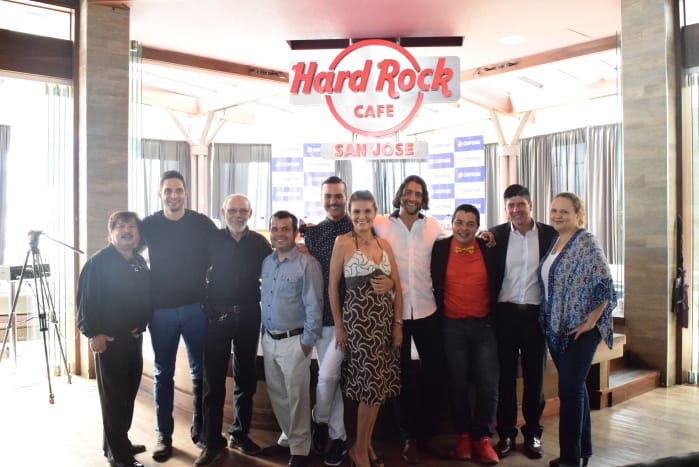 "When I started writing the script, I based my approach on the topic of the suicides in Greece because of the [economic] crisis, and I discovered that there was a topic that psychologists in Europe were looking at: the topic of happiness and hope, and how they are quite important for a society to achieve real changes," director Bernal explained during a news conference to promote the film last week. "Costa Rica was once recognized as the happiest place in the world, so I decided to talk about happiness, but from the point of view of our comedians.
"When we think about comedians, we automatically assume they are happy," he added. "But happiness is not measured by the smile you have on your face, or by your job or your belongings. The real essence of being happy is quite simple. It consists of finding yourself and cultivating values."
The film is sponsored by national cooperative Coopenae. 
"You might ask why a financial organization like Coopenae would get involved in a film," said Marjorie Vargas, the cooperative's marketing manager. "Recently, Coopenae did a study of the happiness of Costa Ricans, and our result was 85%, which is quite a high number to sustain. That's why Coopenae decided to join this project. We feel that in a really natural way, we made the perfect team to talk about happiness."