"No Bonus" is a Costa Rican rock band created in 2014 by the musician Marlon Mena. His vision was clear: an alternative rock band, playing his own original music. The singer launched a search for bandmates and found guitarists Marco Trigueros and Erick Mata, Ernesto Carrillo on bass, and Sergio Camacho on drums.
The Tico Times had lunch with Marlon Mena and Marco Trigueros on a sunny Friday to talk about their music. Excerpts follow.
Where did the idea for the band come from, and what does the name mean?
MM: It was more like a need I had, and obviously [my bandmates] had with their instruments too, to express our feelings. To express something to the world, and not keep it inside your bedroom, only for you. I already had some ideas for songs, and the band came to life to make it real, to satisfy that need.
MT: The name was Marlon's idea, too. It makes reference to video games. In video games there is always a bonus stage, and we wanted to make reference to the fact that we have no bonus stage, no extras. We show what we are and everything we have, like our music, without pretending to be anything else.
What are your major influences?
MM: Our main influences are definitely the 1990s, especially after 1995. Grunge, modern rock, alternative rock, among others: Pearl Jam, Hot Spring, Nirvana, Alice in Chains, Green Day. Those are bands that I grew up with and that have had a real influence on me.
MT: In my case, it's kind of different because I didn't like all those bands Marlon mentioned. I used to listen to Korn, Megadeth, Metallica: I had more of an inclination toward metal, but I think it makes a good balance. For example, sometimes the Erick [the other guitarist] plays something "too happy," let's say, so I write something with my style, or it happens the other way around… creating balance.
MM: We do play covers during the concerts so we can get the public's attention, so they can get to know us. Also, with the covers we try to identify ourselves with different styles. But our priority is to make our own music and record more and more over time.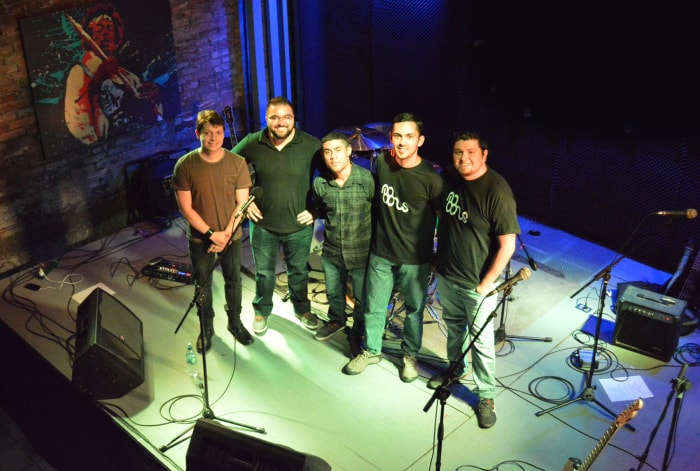 How many original songs do you have already, and what do you want to get across with your music?
MT: We already have 12 original songs, with three of those already recorded. Our songs talk about many different topics… but we don't like "dark" lyrics. All the songs have a message. Some are not that happy, but they have a positive message,.
MM: So far I have written all the lyrics. Once the lyrics are ready, I show them to the band, and they create the music for the song. It may change in the future and we may all get involve in the lyrics and music composition, but for now, that's the way we do it. In my case, I'm always trying to get across some sort of happiness.
MM: What I, personally, want to get across is that if you have an inclination for something or if you feel you are good at something, just do it! Don't stay there wondering, "What would happen if?"
Why do you write your songs in English?
MM: That's a really interesting question. For some reason, and I don't know what that is, it is easier to me to write and make rhymes in English than in Spanish. Also, all that alternative music of the 1990s I listened to when I was younger – those songs in English were part of the inspiration for what's being created now. Even though I love Spanish [laughs] and I absolutely express myself better in Spanish, I write songs better in English.
MT: I think that being a rock band whose music is in English also gives you a better market niche. Most of the rock we receive [in Costa Rica] is in English, so it's more familiar to people. When it is rock in Spanish, you are approaching a different audience.
What are your major goals and projects going forward?
MM: We want to record more songs in the studio, and play in festivals to get exposure to more people. We also want to make a video. So far, our favorite song, as well as our fans', is "Mad Girl," so if we make a video, that will be the chosen one. It's basically about a relationship where one of the people is totally possessive and domineering, so the other person says, "Stop!"
MT: I have also proposed doing some "play through" videos of our songs. That means that if there is a song the public really likes, the band makes  a video explaining how to play it. I would like to do a couple of videos, which are really easy to do, and put them on YouTube or Facebook, in order to be more interactive.
MT: As a big aspiration, I'd like to play in the National Stadium, whether as an opening for another band or in our own concert.
You can find more info, listen to and download No Bonus music at their website or their Facebook page.
Read other "Weekend Arts Spotlight" interviews here.
Our "Weekend Arts Spotlight" presents Sunday interviews with artists who are from, working in, or inspired by Costa Rica, ranging from writers and actors to dancers and musicians. Do you know of an artist we should consider, whether a long-time favorite or an up-and-comer? Email us at kstanley@ticotimes.net.