WASHINGTON, D.C. – U.S. Vice President Joe Biden won't seek the Democratic presidential nomination in 2016, ending months of deliberation and speculation and clearing the path for Hillary Clinton.
The long process of grieving over the death of his son Beau has closed the window on any chance of mounting a presidential campaign, Biden said in a hastily arranged announcement from the White House Rose Garden with President Barack Obama and his wife, Jill Biden, at his side.
"I couldn't do this if the family wasn't ready. The good news is the family has reached that point," Biden said. "Unfortunately I think we are out of time."
Biden's decision clarifies the choice before the party's voters even as Clinton faces a challenge from Vermont Sen. Bernie Sanders and two other Democrats in the race who are trying to position themselves as an alternative to the former secretary of state.
See: Remember when US presidential candidate Bernie Sanders visited Costa Rica?
At 72, Biden has likely run his last campaign for elected office, while he could be in play for secretary of state or other presidential nominations or appointments should Democrats prevail in next year's general election. Biden served as a U.S. senator for 36 years and unsuccessfully sought the Democratic nomination for president in 1988 and 2008 before becoming Obama's running mate.
"While I will not be a candidate I will not be silent," Biden said Wednesday. "I intend to speak out as much as I can."
Biden always left open the possibility of running in 2016 when Obama's second term was up. The vice president also saw his eldest child, Beau, a military veteran who served as Delaware's attorney general and planned to run for governor, as the successor to his political legacy and a future presidential contender.
Beau's diagnosis of brain cancer in August 2013 put the vice president's own political considerations on the back burner, and when the cancer came back after a remission, it proved fatal. Beau died in May at age 46, leaving Biden and his wife devastated and focused on their family through a long, sad summer.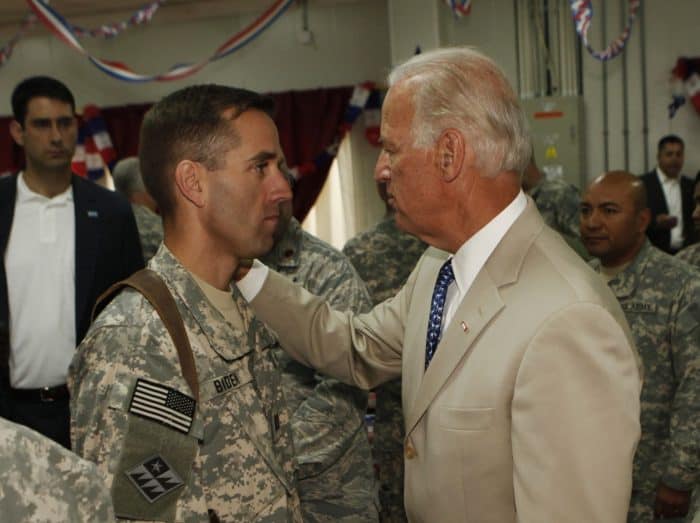 As a potential candidate, Biden and his aides were confident he was better poised for a presidential after seven years as Obama's understudy than in his two previous attempts, and felt that he better represented Democratic Party ideals than Clinton and could be less divisive in a general election. But was Biden emotionally ready for the toll of a campaign?
Those close to him saw a shattered man. But in an Aug. 1 column in the New York Times, Maureen Dowd reported that Biden was "talking to friends, family and donors about jumping in" and that at the end of his life Beau sought to convince his father to run. An outside group, Draft Biden, was formed to raise money and lay organizational groundwork. And Biden ramped up his private and public dialogue, including meeting on Aug. 22 with Sen. Elizabeth Warren, the Massachusetts Democrat and Wall Street critic embraced by many party liberals.
At the same time, he was up against societal forces of change and a hunger in the Democratic Party for a first woman president to follow the first black president. He also faced a formidable opponent with Clinton, a former secretary of state, U.S. senator and first lady, who was amassing talented operatives, major donors and an organizational structure as Biden focused on and later grieved for his son.
Nor did there seem to be a hunger among voters for Biden to enter the race. In a Bloomberg Politics/Saint Anselm New Hampshire Poll, Biden placed a distant third behind Clinton and Sanders.
Biden, meanwhile, lacked strong bases of support in Iowa, the first caucus state. If he were to run, his success would hinge on an ability to win in South Carolina. Even then, his path likely would have required sizable portions of the Democratic establishment to abandon Clinton.
Biden's third place showing in most polls "is more to do with how strong her and Bernie's hold is on their voters," according to Joe Trippi, who was a chief strategist for Democratic presidential candidates Howard Dean in 2004 and John Edwards in 2008. That, he added, would have made it harder for Biden to go on the attack against his potential rivals.
Angela Greiling Keane, Justin Sink and Mike Dorning contributed to this story.
© 2015, Bloomberg News