A mostly forgotten Afro-Caribbean rhythm known as "Sinkit" will come to life this Saturday, Oct. 15, in the hands of renowned musicians of the genre.
The musical group Amarillo, Cian y Magenta joined forces with Manuel Monestel, a singer, researcher and founder of the band Cantoamérica, to create a project called "The Rhythmic Spirit of the Sinkit," which they will showcase at Espressivo Theater in the eastern San José suburb of Curridabat. The multidisciplinary performance includes visual art by Gabriel Dumani and choreographies by Claudio Taylor. This project won the 2015 Interdisciplinary Projects Call of the TEOR/éTica Foundation.
Sinkit was the main rhythmic pattern used to compose music for the first carnival dance troupes in the port city of Limón, but it originally comes from Saint Kitts in the Antilles. This rhythm was very popular during the 1950s and 60s in the Caribbean. Nevertheless, as time went on, it lost popularity until it was all but forgotten. It was replaced by other music styles more similar to the Brazilian carnival rhythms.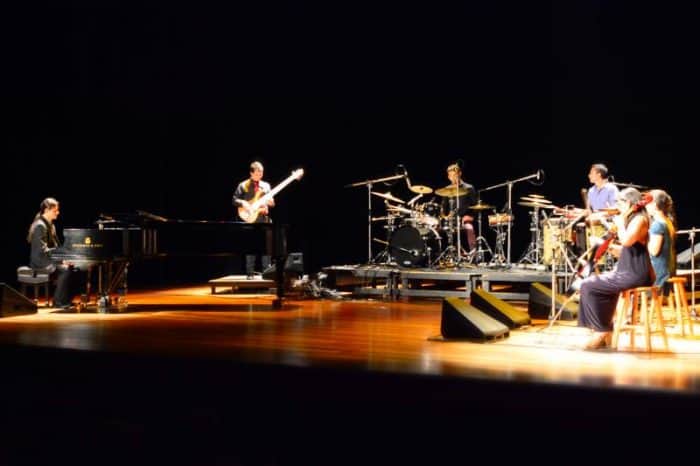 Manuel Monestel and pianist Glendon Ramírez took the lead in looking for "musical archaeological" patterns of this old and characteristic rhythm, then worked with the rest of the group to create the music for the show. The structure of the rhythm is based on the interaction among  different drums, such as the fundé, repartidor, bombo, and rayador de coco.
 "The carnivals of Limón lost an element from its own cultural-historical processes, unique and unreplaceable,  which occurred after the labor migrations of 1872 and later years for the construction of the Caribbean railway," Ramírez explained. "This project is characteristic of a specific cultural moment. We are interested in music that enriches our identity, and that identifies us on a multicultural level."
The show takes place tonight, Oct. 15 at 8 p.m. at Teatro Espressivo, Momentum Mall in Curridabat.  ₡10,000 ($20) general admission and ₡15,000 ($30) VIP. For more information call 2267-1818, or visit the Theater Website.