MANCHESTER, New Hampshire – Insisting that "our country is better than this," an emotional Democratic presidential candidate Hillary Rodham Clinton said Monday that the U.S. must get serious about gun control and be willing to take on the entrenched politics surrounding guns.
"This epidemic of gun violence knows no boundaries, knows no limits of any kind," Clinton said.
Her voice broke as she introduced the mother of a 6-year-old boy killed in the mass school shooting in Newtown, Connecticut, three years ago.
Both spoke at Manchester Community College, where Clinton drew a link to the Oregon community college where a lone gunman killed nine people in a classroom last week.
When such tragedies occur, "people are quick to say that they offer their thoughts and prayers," Clinton said. "That's not enough. How many people have to die before we actually act? Before we come together as a nation?"
She drew loud applause from the audience in New Hampshire, a rural state with strong hunting traditions and a mixed outlook on gun control, when she called on hunters to boycott the National Rifle Association and instead join "a different organization" that would support what she calls common-sense safety measures.
By highlighting her gun control plans here, Clinton is making plain that she sees the issue as timely and broadly politically palatable for Democrats and independent voters.
Clinton is promising tighter controls on sales of firearms at gun shows if she is elected, and pledging to go around Congress if necessary. She released a plan Monday to take executive action to crack down on high-volume gun sellers at gun shows, where rules differ from brick and mortar stores. If elected, Clinton says she would require that anyone attempting to sell a significant number of guns be deemed "in the business" of selling firearms. That would narrow but not close what is frequently called the "gun show loophole."
Her campaign said that designation would ensure that high-volume gun sellers are covered by the same rules that apply to guns stores, including requiring background checks on gun sales. Some 40 percent of guns are now sold via shows or online, Clinton said.
Clinton challenged Republicans to confront what she called "the extremism that has taken over this debate."
"A majority of Americans support universal background checks. In fact, a majority of gun owners support universal background checks," Clinton said.
Pointing to former Florida governor Jeb Bush's controversial "stuff happens" remark following the Oregon shootings, Clinton said "that's an admission of defeat and surrender."
"It's time for us to say, 'wait a minute. We're better than this. Our country is better than this.'"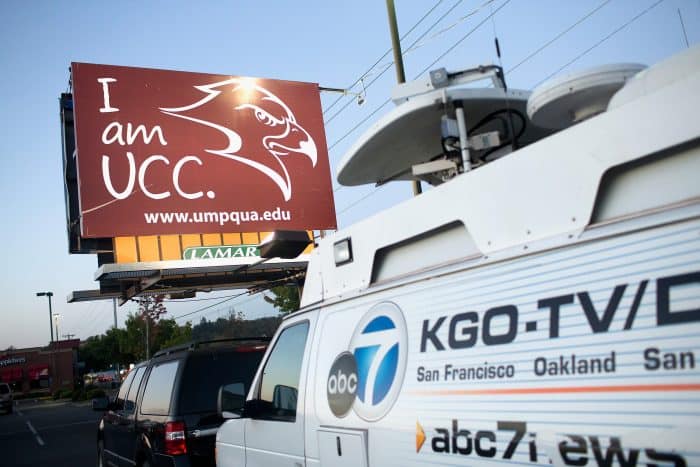 Clinton has been more forceful and passionate about gun control than almost any other issue during this campaign, telling audiences that she is fed up with the intransigent politics of the issue and blaming Republicans for inaction in the face of repeated mass shootings.
The remarks echoed Clinton's impassioned discussion of gun issues before a Florida audience following last week's shooting, when she accused Republicans of putting "the NRA ahead of American families."
"What is wrong with us that we can't stand up to the NRA and the gun lobby and the gun manufacturers," Clinton had said Friday, one day after the campus killings. "This is not just tragic. We don't just need to pray for people, we need to act. We need to build a movement."
Clinton called for new legislation to ban convicted domestic abusers for buying guns, and said she would repeal a 2005 law banning victims of firearm violence from suing gun manufacturers and dealers. Clinton voted against the law as a senator from New York. It was signed by then-president George W. Bush.
The Brady Campaign to Prevent Gun Violence cheered Clinton's proposals, calling it a "watershed moment" for a leading presidential candidate to make a significant push for new gun restrictions.
"Nobody has come out, until today, to so clearly make this issue a cornerstone of a major candidate's platform in decades," Dan Gross, president of the Brady Campaign, said in a conference call with reporters Monday.
Clinton's campaign said she would accomplish these changes by pushing for new legislation and possibly issuing executive orders. She also said she would press Congress to repeal the "Protection of Lawful Commerce in Arms Act," a bill passed in 2005 that shields gun manufacturers from lawsuits brought by victims of shootings and their families. (As a senator, Clinton voted against that bill.)
"This is the type of bold leadership that we've been missing in Washington," Gross said. "I certainly hope politicians in both political parties are paying attention and will come forward with proposals of their own to help keep all of us safe by stopping gun violence."
In New Hampshire Monday morning, Clinton also sharply denounced congressional Republicans who she accused of exploiting the 2012 attacks in Benghazi that left four Americans dead, though she stopped just short of calling for the House committee investigating the assault to be disbanded.
"Look at the situation they chose to exploit, to go after me for political reasons: the death of four Americans in Benghazi. I knew the ambassador. I identified him. I asked him to go there. I asked the president to nominate him," Clinton said during a town hall event in New Hampshire hosted by NBC's "Today" show Monday morning. "This committee was set up, as they have admitted, for the purpose of making a partisan political issue out of the deaths of four Americans. I would have never done that."
Clinton said Monday that the committee's work is "not appropriate … from obviously their own admission." She said that if she were president, "and there were Republicans or Democrats who were thinking about [launching a politically-influenced investigation], I would have done everything to shut it down."
But she added that she intends to move forward with her scheduled testimony before the committee later this month, "if they're going to have it still running."
The Democratic hopeful also fielded several questions about her primary rival Sen. Bernie Sanders, I-Vt., who recent polls show has surged ahead of her in New Hampshire. She said that while he is beating her in the Granite State, polls show "me winning in Iowa, South Carolina, Nevada and nationally."
"As you point out, I've got work to do in New Hampshire. I'm very excited to be leading everywhere else," Clinton said, laughing. "And I'm going to keep working hard everywhere else. But I always thought this would be a great contest."
She added later: "Bernie's a neighbor here. He represents Vermont."
Clinton's critics have repeatedly knocked the former secretary of state on her retail campaign talents, saying that her public persona does not energize voters. Clinton downplayed any problem she might have connecting with voters, admitting — as she has done in the past — that she's not always the most magnetic candidate in the field.
"You know, I'll admit, I'm a more reserved person than maybe some people in politics are. But as you can see from the skit, I also like to have a good time," Clinton said, referring to an appearance on Saturday Night Live over the weekend. "So we'll mix it up a little bit in the campaign."
Washington Post staff writers Mark Berman and DelReal contributed to this story from Washington.
© 2015, The Washington Post