Cross Costa Rica, coast to coast, with only a credit card: that's the new challenge for Costa Rican athlete Warner Rojas, the star of a new campaign from American Express and Credomatic. The idea, "Amexplorador," is being rolled out first in Costa Rica, with possible replication in other countries.
Rojas, famous for becoming the first Costa Rican to reach the summit of Mt. Everest, told The Tico Times that he hopes to inspire more Costa Ricans to see their own country, and to show that the logistics of travel and payment are getting simpler.
"What I want to transmit… is that we [Costa Ricans] can visit the country. Among the places we've been, we've found more tourists than Costa Ricans," Rojas said. "We can get to know our country coast to coast, seeing beautiful places, and obviously in this case just by paying with an America Express credit card, which honestly has had pretty good acceptance in the places I've gone. It was really surprising that, in Puerto Viejo, I was able to pay with the credit card in a grocery store. We can travel in so many ways, and do it light."
The acceptance of credit and debit cards has risen rapidly in Costa Rica, and the days when a weekend trip required bills for just about every expense are disappearing. Still, a study last year showed that most Costa Ricans still prefer to use cash, and few travelers would head into the countryside with only a card.
"With Amexplorador, we seek to show off the beauty and culture of the most emblematic places in Costa Rica, as well as its variety of places to shop," Facundo Méndez, vice president of the American Express Global Services Network for Latin America, told The Tico Times. "We also want our customers to know that American Express has wide acceptation in small and big stores around the country, in urban zones as well as rural zones, in restaurants, transportation, events, among others.
"We chose Warner because he is a clear example of an explorer. I mean, he was the first Costa Rican to ever hike Mt. Everest. I don't he will find a this a difficult task," added Méndez.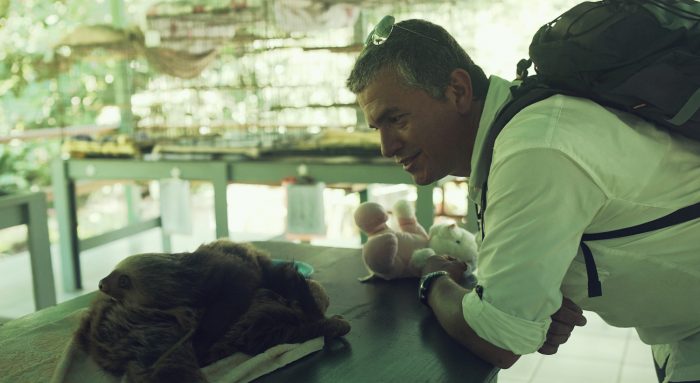 The 20-day trip kicked off Sept. 17 in the Caribbean coastal town of Puerto Viejo, and will finish in the second week of October at the center of San José. Rojas is now on the third stage of the trip, in Guanacaste, and has visited national parks, nature reserves, and beaches, among other destinations. The entire trip can be followed at the Amexplorador Website.
"In Tortuguero we visited the national park, saw the turtles, went through the canals. I had been there, but had never seen the turtles. To go see them at night when they arrived onshore, the nesting – it is really amazing to see these animals, which are huge. That has been the nicest experience so far," Rojas said. "As for difficulties, I would say the weather. In the Atlantic it has been raining, so the access was more difficult than usual, but nothing big.
"I don't have any idea of what comes next, but it is really fun. I expect to visit really nice places."