Also recommended: From Miami's 'Scarface' pad, Panama's exiled President Ricardo Martinelli fights back
MIAMI — With condominium prices in the Miami real estate market climbing to $50 million or more, broker Peggy Fucci has taken up ever more aggressive marketing efforts to find qualified buyers.
She's traveled far and wide – making three trips to China in the past year. This month, she touched down in Shanghai to pitch multimillion-dollar condominiums to a crowd of 5,000 or more at the U.S. Real Estate Showcase and Forum.
As her journey suggests, developers are giving South Florida something more to brag about than beaches. It's all part of a boom that just a few years ago seemed most unlikely: Miami was reeling from one of the deepest real-estate-driven recessions in decades. And the butter-soft demand was nowhere more in evidence than in the luxury condo market.
Today, bolstered by foreign buyers, the market has roared back and Miami real estate is undergoing an explosion of stylish and sophisticated luxury and ultra-luxury projects, including at least eight designed by world-renowned Pritzker Prize-winning architects. The lists of amenities include rooftop soccer pitches and balcony plunge pools and individual car elevators for whisking prized automobiles – and their owners – in privacy to their condominiums high in the sky.
All this exuberance raises the question: Is this a new bubble on the rise?
Housing prices have leveled off since a post-recession peak in 2013. A similar price slowdown in 2005 swayed like a wrecking ball that would soon land its blow to the housing market.
The glut of foreign buyers, who often pay in cash, could help, however. The constantly rotating field of foreign buyers serves to keep the market hot, according to brokers and developers who, when one foreign economy falters, quickly target buyers in another where things are picking up.
These exceedingly rich buyers are often savvy investors who want to buy U.S. real estate as a currency hedge, effectively converting a portion of their wealth to dollars to protect it from devaluation.
That, Fucci said, is what she saw happening on her visit to China. Faced with a series of devaluations of China's currency, wealthy investors see luxury condos here as a way to convert their money into strong dollars.
"It reminds me so much of when I used to go to South America five years ago," Fucci said. "People come up to you and say, 'How do I get my money out? I'll buy. Just tell me how to get my money out.' "
In Shanghai, Fucci leaned on her experience about which units sell best.
"I save inventory with the correct numbers," she said – meaning those that might be considered auspicious according to Chinese numerology. "Lucky seven" holds true in the East and West, but other numbers are seen as good, or bad, in China. "So anything that ends in eight, five – you know, all the numbers that are important to them – we save for that trip."
In October, Fucci is going to Turkey. She said, "Turkey is in our number four spot in terms of number of units sold" at Paramount Miami Worldcenter, the project in Miami's booming downtown she is representing.
Looking for properties in Costa Rica? Check out our Real Estate section here.
'Musical chairs'
Miami real estate has been a perpetual favorite of wealthy buyers from Latin America, but it is shifting its focus to lure affluent consumers from other shores. Fucci, chief executive of OneWorld Properties, is among those leading the charge. South America is still the meat, but China is the quinoa du jour – a chic and increasingly important side portion in the mix of markets with high-end buyers pouring money into Miami. So is Turkey. And, yet again, the United States.
"It's musical chairs," said Ugo Columbo, developer of the 549-unit Brickell Flatiron on the chic and rapidly growing edge of Miami's financial district, where penthouses run from $2.5 million to $14 million. "There's always one country that's looking to take its money out and invest it in Miami. Whether it's because their economy is doing good or because the politics are bad, or another mix of reasons, but I've always seen the influx to be pretty constant."
It's not just factors abroad that matter. The city's cosmopolitan features have multiplied as well. Restaurants, retail options and concert, theater and art venues are transforming the character – and appeal – of Miami's downtown.
Ron Shuffield, president of EWM Realty International, describes a city that has gone from being a cultural backwater by the beach to a recognized center of Latin American and contemporary art. "When Art Basel came here, it was just like the final stamp of approval that this is where it's happening," he said. Art Basel stages influential contemporary art shows annually in Basel, Switzerland; Hong Kong; and, since 2002, Miami.
As projects have gone up, so have prices. The two-story, 8,253-square-foot penthouse (that size doesn't include the 10,000-square-foot-terrace) at the Norman Foster-designed Faena House listed at $50 million – and reportedly sold for $10 million more.
But Miami is still considered a bargain on the world market.
Shahab Karmely of KAR Properties in New York says it's a place where developers can build and sell "a world-class condo for less than in São Paulo or Rio, or a third of what you would have to spend in New York and a fifth of London, Paris, Moscow, Shanghai or Tokyo."
Individual projects are going to extraordinary lengths to be ever more alluring.
The Paramount Miami Worldcenter hired a consultant to make sure the building's design was in harmony with the principles of feng shui, and to advise the brokers on how to use that as a sales tool. It appears to have helped: 200 of the building's 513 units are reserved, with about 15 percent of those held by Chinese buyers.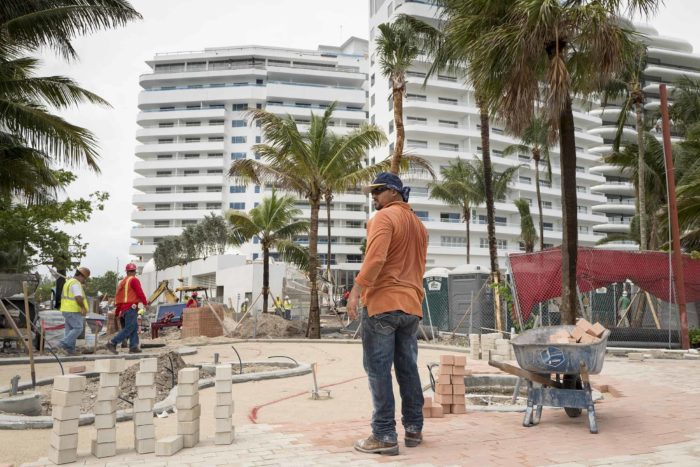 Adjusting to the unfamiliar
The strong dollar could change everything. It has before.
Sales to South American and European investors slowed as Latin American currencies and the euro declined. That spurred interest among the Chinese, whose currency remained strong.
Now, the tremors in China's economy and repeated slide of the renminbi could hamper Miami's efforts if Chinese buyers back away from spending on lavish second, third or fifth homes thousands of miles from their first.
Another complication: China has seemed an off-puttingly distant and difficult market to tap into for South Florida sellers accustomed to looking closer to home for buyers. But that's changing.
"I've been one of the holdouts," said Alicia Cervera, managing partner of Cervera Real Estate and a member of the board of directors of Miami's Downtown Development Authority. "I've been one of those who's been saying, 'China is a long way away. There's lower-hanging fruit,' and not really jumping on the China bandwagon all that quickly."
No longer, she said. "I do believe we're at the tipping point and that there's going to be a very strong presence of Chinese buyers in the Miami market."
Cervera, too, sees parallels between China now and markets past. Turbulence in the Chinese economy may shake investors momentarily, but that can work to South Florida's advantage.
"If the reaction is the same as it was in South America, the short-term effect is paralysis and the long-term effect is that it becomes the new normal," she said. "And if anything, it makes them say, 'We can't have all our eggs in one basket.' "
Still, there are challenges beyond the economy. The sheer distance between Miami and some of the buyers is daunting, for sellers and buyers. There are no direct flights between Miami and Beijing. Or Istanbul, yet. (The first direct Miami-Istanbul link in 14 years is scheduled to begin Oct. 25.) Taking a team of sales representatives the 8,000-plus miles for the Beijing Luxury Property Show, as Fucci did in April, or to Shanghai is a $100,000 proposition, Fucci said.
Those kinds of numbers don't make sense to everyone.
"That's too expensive, to start looking for buyers and creating new markets," said Gil Dezer, the developer of the Porsche Design Tower, where units run from $6.3 million to $33.5 million. "Our feeling is, when you're in Miami, come take a look at us."
That may be especially true now that American buyers, buoyed by a rebounding economy, are elbowing their way back onto the market. Many are coming from the Northeast, others from California.
Developer David Martin, who relied on the talents of Pritzker winners Rem Koolhaas and Renzo Piano for his Park Grove and Eighty Seven Park projects, respectively, said his customers include locals and international buyers, as well as "a domestic market that's kind of discovering Miami again."
And then there are those musical chairs. Russians who rushed in with their petrodollars have virtually disappeared as the ruble has tumbled. But Colombians and Argentines are coming back. So, too, Brazilians.
"I would say that in Miami, disappearing acts are short stints," Cervera said.
Mexicans, benefitting from a newly improved economy at home, bought five of the seven 10,000-square-foot duplex residences at the Porsche Design Tower. Only one duplex remains. (Asking price: $17 million.) The Worldcenter project has drawn buyers from more than 30 countries – not just the typical ones, such as Brazil, Venezuela, Argentina and Colombia, but also China, Egypt and Turkey, with 11 buyers.
All bring nuances of style and taste and a cultural background that need to be considered by the sellers. The Chinese, Columbo said, tend to travel, and buy, in groups: "They'll buy a block of 10 apartments."
Each country, too, has regulatory requirements affecting transfers of cash and foreign investments.
Brazilian banking regulations, for example, turned Dezer's typical sales procedure on its head.
"They need to have a signed contact to show their bank in order for them to wire the money from their bank to the United States," he said. "So, normally, our procedure was we don't sign the contract until there's a deposit, and the Brazilians said, 'Well, we can't give a deposit without a signed contract.' So we gave the Brazilians a one-week grace period with a signed contract to give them time to get their initial deposit."
Ultimately, the developers and brokers realize they need to be flexible and nimble to capture the wealthy consumers. And, as Cervera noted, those customers are only the beginning.
"Big money," she said, "is followed by all money."
© 2015, The Washington Post