"Amigo, I'm safe in my hideout where I can answer your questions calmly," said John Jairo Velásquez Vásquez, alias "Popeye," who used to work as a hit man for Colombian drug kingpin Pablo Escobar. "Out on the street, I have to really watch my back."
Popeye, recently released from a maximum-security prison in Colombia after serving 23 years and three months, claims to have participated in at least 300 killings in the 1980s and 90s. He also helped plan and carry out the kidnapping of Bogotá mayoral candidate Andrés Pastrana, who later became Colombia's president, and the assassination of Colombian Liberal Party presidential candidate Luis Carlos Galán Sarmiento, portrayed in the new Netflix series "Narcos" about Escobar's rise and fall and the DEA's obsessive efforts to capture or kill him.
By the time Escobar was killed at the age of 44 in a shootout with the Colombian police's infamous "Search Bloc" on Dec. 2, 1993, the "King of Cocaine" was worth an estimated $50 billion.
Today he's keeping a low profile in his native city of Medellín, hoping to avoid the assassin's target that he placed upon so many others during Escobar's era.
Popeye – a short, amicable man – spoke with The Tico Times in a recent telephone interview from Colombia. While we spoke, it was hard to imagine the extent of terror he and his fellow gangsters unleashed on their country. Velásquez, Escobar and a handful of criminals from the feared Medellín cartel – known as "Los Extraditables" – washed Colombia's history in blood.
Listen to excerpts of our interview with Popeye in Spanish:
https://soundcloud.com/the-tico-times/john-jairo-velazquez-interview-09
Velásquez confessed to The Tico Times that he is very familiar with neighboring countries Costa Rica, Panama and Nicaragua. In fact, his boss, Escobar, visited the latter two on several occasions to arrange shipments of cocaine from South America to the United States or to hide out from authorities and other enemies.
But what Velásquez said about Costa Rica wasn't widely known until now.
"Escobar, when he started the drug trafficking battle here in Colombia after the death of Rodrigo Lara Bonilla in 1984, Escobar travels to Panama, and that's when it so happens that the pilot, a DEA agent, takes his photo in Nicaragua," Popeye recalled. "Escobar returns to Colombia, and that's when a war breaks out with the Colombian state, and so Pablo Escobar stores his airplanes, the ones used to traffic drugs, in Costa Rica."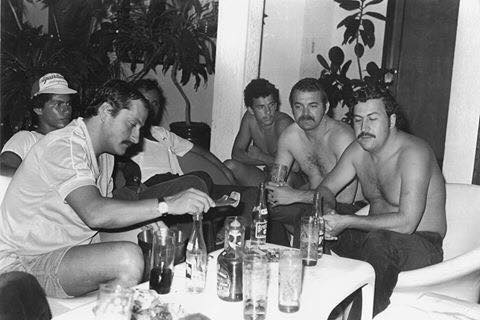 'Costa Rica is a paradise'
The millions of tourists who flock to Costa Rica's rain forests and beaches each year aren't the only ones in love with this small country of just under 5 million. For the top assassin in one of Colombia's formerly most powerful drug cartels, Costa Rica "is a paradise."
"It's tiny like Antioquia [Colombia]," Velásquez said. "It's a paradise because of its vegetation, the people are great, it has the same climate as Colombia, and it's like a small Colombia.
"It's a beautiful country, and the people have their idiosyncrasies like the Colombians do. They [Ticos] aren't afraid to get involved in drug trafficking. So, Pablo Escobar stored his airplanes there," Velásquez said.
"When there was a shipment ready, a plane would come from Costa Rica, land on Pablo Escobar's runways [in Colombia], and here the plane was refueled. Then it would fly the cocaine to the United States," he said.
It's no secret that back then, Panama, Costa Rica and Nicaragua were part of an important corridor utilized by drug trafficking cartels, and that remains true today, he added.
"Costa Rica is an important link [in that corridor], but drug traffickers are cautious about going there, because they know there are a lot of DEA agents operating there," he said. "They know where [the DEA] operates, where they move, what they think, which strategic locations they're set up in, and they know who the DEA talks to."
Popeye talks about Costa Rica's involvement in the drug trade:
https://soundcloud.com/the-tico-times/john-jairo-velazquez-interview-05
Out of the game?
A story recently circulated in Colombian newspapers claiming that Popeye had held meetings with members of Colombia's Norte del Valle drug cartel, but Velásquez denied the allegation. He admitted that he knows powerful people, but said he's a reformed man focused on a new career as a writer.
He recently published a book about his life titled "Sobreviviendo a Pablo Escobar" ("Surviving Pablo Escobar"). In the book, Velásquez claims the now defunct Colombian government agency known as the Department of Administrative Security, or DAS, directly participated in the assassination of certain Colombian politicians.
"[The book] gets to the bottom of DAS and shows that they trained people to kill Bernardo Jaramillo Oses and other militant politicians. It talks about other DAS crimes that I've never before discussed with prosecutors. I also talk about my experiences in prison, and various drug trafficking kingpins," Velásquez told The Tico Times.
While Popeye said he is normally relaxed now that he is a free man, he lives in hiding because he has enemies.
"I don't walk down isolated or dark streets," he said. "There are people who want to kill me."
Asked if he still had the fortune he amassed from drug profits while acting as a key player in the Medellín cartel, Popeye claimed that after more than two decades in prison, little money remained.
"I did go to prison as a rich man," he admitted. "But after 23 years and three months, I've spent a fortune on lawyers, and everyone robbed from me – even my own brother. With the little that's left, I live peacefully. I'm not one to spend all my money on women and parties, and I drive a modest car. I live a calm life."
Listen to more excerpts of our interview in Spanish below. Here, Popeye talks about his new book:
https://soundcloud.com/the-tico-times/john-jairo-velazquez-interview-07
Can a former drug cartel hit man ever be reformed?
https://soundcloud.com/the-tico-times/john-jairo-velazquez-interview-04
Everything you ever wanted to know about the DEA:
https://soundcloud.com/the-tico-times/john-jairo-velazquez-interview-03
On Pablo Escobar's son, Sebastian Marroquín:
https://soundcloud.com/the-tico-times/john-jairo-velazquez-interview-02
"Costa Rica is a key country in the drug trade":
https://soundcloud.com/the-tico-times/john-jairo-velazquez-interview-01
"Even my own brother stole from me":

https://soundcloud.com/the-tico-times/john-jairo-velazquez-interview-06
Colombia is "a country built on top of a graveyard":
https://soundcloud.com/the-tico-times/john-jairo-velazquez-interview-08