A collective sigh of relief emanated from the stands of San José's National Stadium when the Costa Rica national men's team, known as "La Sele," netted its first win in 11 months on Tuesday. Despite new head coach Óscar Ramírez's mere three weeks on the job, the man they call "Macho" already has Costa Rica football trending upwards.
The 1-0 win over Uruguay reaffirmed the optimism that was generated from a competitive, 0-1 loss to world power Brazil on Saturday. And though all of La Sele's problems are not suddenly solved, Ramírez said he's satisfied with how quickly his team has been able to adapt to his style of play.
"Understanding that we faced two world champions in three days makes me much more content with where we're at," he said.
Following two more warm-ups against South Africa and the United States next month, La Sele will begin World Cup qualifying play, starting with Haiti on Nov. 13. Besides the Haitians, Costa Rica's regional qualifying group includes Jamaica and Panama.
In light of Ramírez's successful debut this past week, here are three thoughts as to why Costa Rica seems to be on the right path as it heads towards the 2018 World Cup in Russia.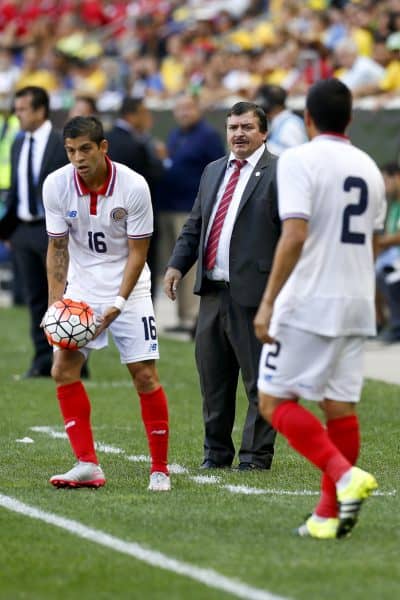 Defense and ball control are priorities again
Coming into his current job, Ramírez's resume made it very clear that the coach stresses great defense everywhere he goes. Under former head coach Paulo Wanchope, Costa Rica was usually able to find rhythm on offense but never had consistent answers on defense and in the midfield.
In his first two games, "Macho" implemented a five-man backline, anchored by Cristian Gamboa on the right-end and solidified by Giancarlo González in the middle. Against the Brazilians, early miscues were quickly corrected to shut down one of international football's most feared attacks. Against Uruguay at home, Ramírez's squad looked even more in control as it quickly put out any offensive sparks from the Uruguayans and was able to bottle up possession. With sharp passing and improved communication all over the field, Ramírez's strategy emphasizing possession came alive in a beautiful way on Tuesday night.
It's not exactly as refined as the famous "Tiki-taka" style that recently guided Spain's national team through its most decorated era, but it's a dependable style that should lead Costa Rica to many more victories under Ramírez. Leading up to the friendlies, González told reporters that Ramírez has demanded more effort from the defense and the midfield, putting all the focus on ball control.
"With him, even the tiniest of details are covered because he knows that's how we're going to win," he said. "We're all getting used to his style of play, which basically calls for a lot of ball possession."
Costa Rica's defense may not yet be back at the level it was playing at in the 2014 World Cup, where it completely shut down some of the game's best attackers, but the early returns from Ramírez's first two games are promising.
https://vine.co/v/etpZQ1JW9AK
La Sele's stars are in position to make plays
Just because more attention is being placed on the defense doesn't mean Costa Rica is going to be boring to watch. When the team's two most potent offensive threats – Joel Campbell and Bryan Ruíz – combined to score the lone-goal against Uruguay on Tuesday, it was clear that La Sele's playmakers are still going to have plenty of opportunities to dazzle.
Campbell, in particular, stuck out by proving that he remains Ramírez's top option at striker. The 23-year-old Arsenal forward is often criticized for his streaky play, but when he's at his best, Campbell is a master creator who requires total attention from opposing defenses. An expert dribbler and reliable passer, he has enough tools to swing a game's outcome by himself.
The other star who has shined early on in Ramírez's new system is midfielder Celso Borges. Against Brazil and Uruguay, the veteran was again the engine that created a stable rhythm for Costa Rica's offense. The 27-year-old Borges not only flashed his ability to facilitate, he also had a couple of goal-scoring opportunities in this week's friendlies.
Coupled with budding young talents like Johan Venegas and Ronald Matarrita, the skill level on this selection may be higher than ever.
¡Ganamos! #LaSele 1, Uruguay 0 #CRCURU #AhoraNosTocóEnCasa pic.twitter.com/xS7hiFWbL8

— FEDEFUTBOL Costa Rica (@fedefutbolcrc) September 9, 2015
Full strength still to come
As La Sele's top names begin to stand out again, its worth noting that Costa Rica's best player hasn't suited up in the red and blue since June. Even without Keylor Navas, the goal remains in good gloves with capable replacements Esteban Alvarado and Patrick Pemberton. But the eventual reinsertion of the Real Madrid star into the starting goalkeeper spot will only better Ramírez's defense, giving the backfield some room for error in front of one of the world's best stoppers.
On the defensive end, Costa Rica has also been without Bryan Oviedo as the Everton back continues to battle injuries. However, Oviedo's latest setback was only supposed to keep him out for a matter of weeks, meaning he should be plugged into the starting lineup for the Oct. 8 home friendly against South Africa. His addition, at the very least, gives "Macho" another talented option on the backline and could make for a shutdown unit alongside Gamboa and González.
On top of the two missing pieces on defense, coach Ramírez also plans to recover a nice tool for his offense when David Ramírez returns from his two-game suspension. The young Saprissa striker was the most consistent threat during the Wanchope era, and should provide even more firepower next to Campbell and Ruíz.