An elderly U.S. expat and two friends were brutally attacked last week by a mob of protesters near the Liberia airport who broke out all the windows of their vehicle and beat the men with clubs, causing serious injuries.
The attack was apparently part of a regional demonstration by fishermen protesting prohibitions on selling shark fins and government obstacles to renewing their boating licenses. Demonstrations were reported in Puntarenas, Caldera, Liberia and Quepos.
Daniel Bizier, 69, a retired dentist from Maine who lives in Playa Matapalo, near Playa del Coco in Guanacaste, was driving his friend Bruce to the hospital in Liberia last Tuesday because the latter was having an acute attack of rheumatoid arthritis. With them was Bruce's brother Ricky, who arrived three days earlier from the U.S. for a visit, and Bizier's dog, Lily.
Near the Daniel Oduber Quirós International Airport, Bizier said 25 or 30 people surrounded their car and attacked, breaking out the windshield and every window in his vehicle with rocks and cinder blocks.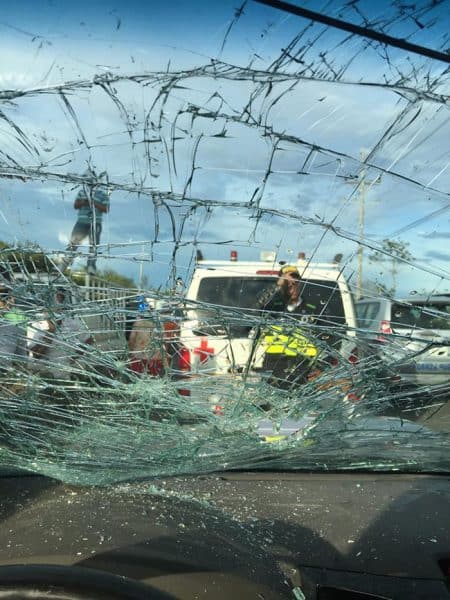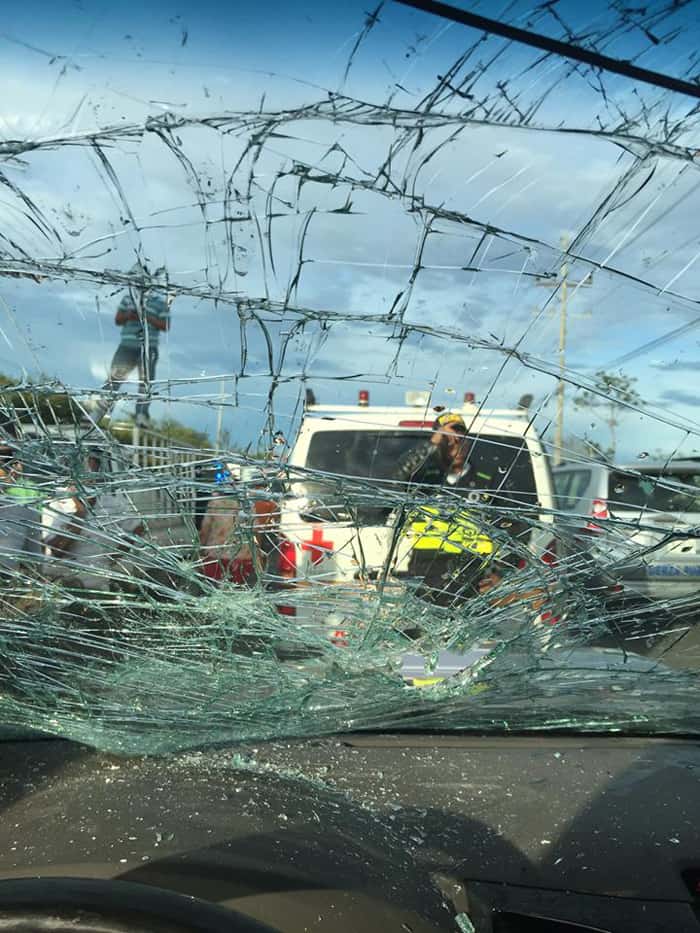 "As we approached, out of nowhere — I didn't see any masses of people, I don't know where they came from, it happened so quick — they surrounded the car," Bizier said in a telephone interview.
"The people looked like zombies," he said. "They had a crazed look on their face like they wanted to kill us. We had put the windows up when they started pounding. I have a new Toyota Fortuna, and they busted every single window.
"Then they started on us, they tried to drag me out of car, tried to grab me. I was pulling away and they beat me with clubs. My shoulder is still swollen and I'm black and blue. My friend got glass in his eye; they had to pull glass out of his eye at the hospital."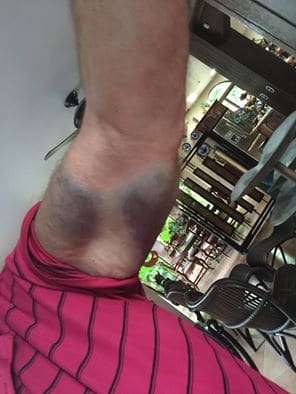 The press office of the Judicial Investigation Police (OIJ) confirmed that a North American resident of Costa Rica complained of being attacked near the airport "when unknown persons started throwing rocks at the car and hitting them for no reason." The OIJ said a Costa Rican woman was also attacked by demonstrators in the vicinity.
Edry Mendoza, an attorney who is representing Bizier and a Costa Rican schoolteacher whose vehicle was damaged in the protests, said you can see police standing around "like spectators" in a video that was captured of the event.
"One would hope that at least the authorities would blow a whistle or say stop, but what I've heard is that the police here in these towns don't have any experience in managing big crowds," he said.
Mendoza said tourists arriving at the Liberia airport were forced to walk from the airport because the road was blocked.
"Tourists get off a plane thinking they're in paradise, and they have to walk four kilometers to get to transportation," he said.
Bizier said there were "probably 40" police officers in the area, both traffic and regular police, who did nothing to stop the mob from attacking.
"We all thought we were going to die," Bizier said. "Police were just watching like they were numb, like they were part of it or spectators. … They did absolutely nothing."
Bizier said the demonstrators were in front of the car, and he didn't want to gun the accelerator and run people over, though he posted on Facebook that that's what he should have done.
"I was trying to get away as much as I could," he said. "They didn't want me to move, and I kept inching my way out of there. Little by little I tried to get out of there."
Bizier finally escaped the mob, and he and his passengers were taken by ambulance to the hospital.
"I had a cut in the face, a cut in the neck, a huge, huge injury to my left shoulder where they pounded me with a club," Bizier said. "My shoulder and upper arm were [swollen to] twice the size. Even today, my upper arm is all black."
Bizier, like his friend, is disabled with rheumatoid arthritis and had a handicapped placard displayed in his windshield.
"I was the worse with a cut in the neck that would not stop bleeding," Bizier posted on Facebook. "They thought it might be my carotid artery. It stopped finally with stitches. … Bruce had glass in his left eye and Ricky had minor cuts. They spent 30 minutes pulling glass out of my face, neck, ears."
Bizier said authorities were apparently aware of the planned protest because there were police and empty ambulances standing by, but there were no warnings, no attempts to divert traffic and no effort to break up the protest.
"The doctor in the emergency room apologized all over," Bizier said. "He said, 'I'm embarrassed and ashamed of my country for allowing this to happen.'"