Zeneyda Flores' day starts at 5:00 a.m. — to get her children, Libby, Zack and Liath, up and ready for school. That is, when she doesn't have to wake up at 3:30 a.m. to get ready for work at the flea market near the municipal offices in downtown San José.
Flores, 35, lives in Triángulo de la Solidaridad, a slum off Route 32, just north of the city center, with three of her four daughters. From the highway shoulder, a dirt path leads up the hill and into the dense neighborhood that was once notorious for gang violence and drugs.
After Flores gets her kids breakfast and drops them off for class, she's back in Triángulo to open the family's pulpería — a small convenience store — which she runs out of the front of their home. Neighbors stop by for kitchen staples like flour or cooking oil and kids bound up to the small opening in the black grate over the window to ask how much for a package of Chiky chocolate-covered cookies.
Flores and her family have lived in Triángulo de la Solidaridad for four years now. Their home has a tin roof. The floor is an accidental mosaic improvised from scraps of different floor tiles. The store takes up most of the front of the house along with a long table pushed up against the wall where Flores sits to study over the reggaeton thumping through the walls from a neighbor. (A hulking stereo system of her own sits in the corner, promising the house has seen a party or two.)
Thanks to a scholarship from the community development organization Boy with a Ball Costa Rica, Flores takes correspondence courses for a degree in criminology from Costa Rica's distance learning college, UNED. Having lived in marginalized communities since she moved to Costa Rica at the age of 19 from Masaya, Nicaragua, Flores said she thinks she has a unique perspective on law enforcement.
"I've seen a lot of unfair things happen, especially to children," she said, "Sometimes police don't understand what leads someone into crime."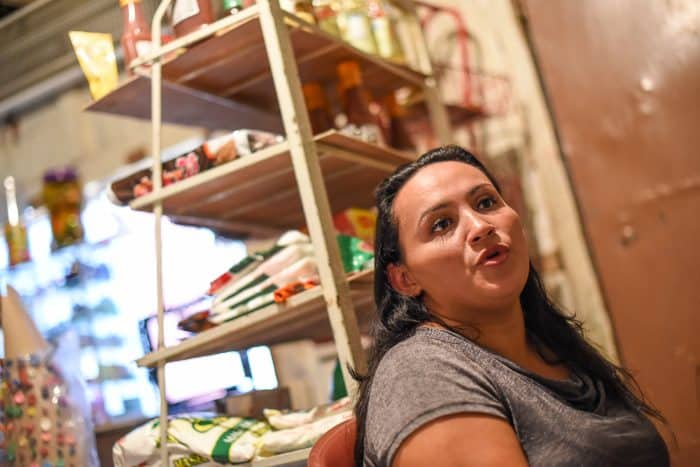 Flores knows about that path firsthand: "Living in these areas, the same things are always surrounding you and your family: drugs, addiction, gangs," she said.
Her oldest daughter, 17-year-old Liszie, was straying into drugs and crime when they lived in Lomas del Río, an impoverished neighborhood in Pavas, a western suburb of San José. After Liszie had some run-ins with the police, the family moved to Triángulo.
"A mother always wants what's best for her family," Flores said. But she hesitated when asked if Triángulo was a better place for her family. "People told me they used to hide under the beds to avoid gunfire from gangs. It's improved a lot," she said.
Still, Liszie decided to return to Nicaragua. She and her eight-month-old daughter, Monserrat, now live with Liszie's grandmother in Masaya.
The daily juggle
Flores needs to get lunch ready for her children before she can run errands to get ready to sell car accessories and other small items at the flea market on Saturdays. She used to have a more traditional job working in a Musmanni bakery but she had to be up at 3:30 every morning and had less time with her kids. She doesn't regret the trade off but said that she's always at risk of not making ends meet.
Triángulo is a pull-yourself-up-by-your-bootstraps kind of place. "It's a very independent place. It's hard to ask for a favor from someone," Flores said. The children's father helps out, she said, but he is not always around so it can be difficult to run the store, get ready for the weekend market, pick her kids up and study.
"There's just not enough time in the day," she said with a smile.
Despite the time crunch, education is a priority for Flores. She said that her own mother, a "marvelous" woman of whom she is proud, instilled the importance of learning in her, and she tries to do the same for her family. Along with her university studies, Flores takes English classes at Boy with a Ball's center in the slum. She takes her daughter Libby along too.
Flores' perseverance is equally as important as the value she puts on education. Over the years, she said, many people have tried to hold her back, questioning her desire to keep learning.
"Maybe I'll never actually get to practice my career," she said. "People tell me I'm too old, ask me why I'm studying when I should be working. But for me it's a personal challenge," Flores said.
"I want that degree."