Muddy children chased each other playfully, jumping in puddles, then darting and weaving through the crowd gathered in the Tinamastes Community Hall on Sunday during the small Southern Pacific town's first-ever "Free Seed Festival."
The adults at the event moved more slowly, stopping to chat with neighbors and friends, eagerly clutching bags of seeds and plant cuttings that they had picked up, often free of charge, from various vendors around the room. Costa Rican singer-songwriter Guadalupe Urbina embraced the sound of the afternoon's heavy rain when she sang "País Azul," inspiring many in the crowd to clap and dance along.
The two-day seed festival, hosted by the local nonprofit Vida Auténtica (Authentic Life), provided farmers from around the region with information about organic growing and healthy living techniques. On Saturday, students of Vida Auténtica's program participated in a private seed exchange amongst themselves. Each participant was asked to bring three to five different types of seeds to share with others. Organizers hoped to end their over-reliance on buying seeds or starter plants by encouraging them to rely on each other instead.
"They [the students] can produce their own seeds, save seeds, exchange seeds and grow their own food," said Grettel Solórzano, Project Coordinator for Vida Auténtica. "Without seeds, none of this makes any sense." She laughed, gesturing at the organic market around her.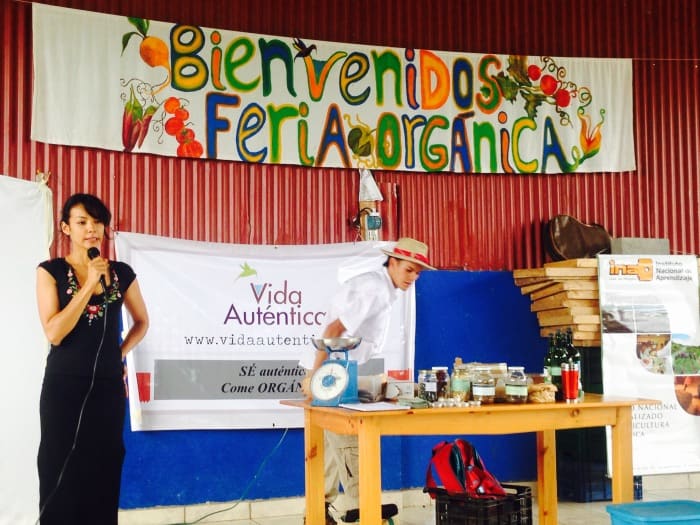 Sunday's activities and seed exchange were open to the public and had an air of celebration, complete with organic food stands, live music and other artistic performances. Seventeen farms and several hundred people attended the event.
"It's important for us to connect. Festivals like this are a way for us to get back to the way we used to be as a species, when we relied on one another to sustain ourselves," said one of the participants, David Ayotte.
Despite the festivities, the event had a serious undertone. Experts came from all over the country to host workshops on everything from local medicinal plants to the dangers of agrochemicals and GMOs. The sessions took on an interactive nature as students asked questions and offered their own insights about farming techniques.
Costa Rica is known for using more agrochemicals per hectare of land than any other country in the world. As The Tico Times reported in June, the country's use of agrochemicals has tripled since 1977 and now is at a level of 18.2 kilograms per hectare. China is in second place with 17 kilograms.
Occupational exposure to various agrochemicals used commonly throughout Central America has been linked to many health problems including increased risk for various types of cancer and other degenerative diseases, eye lesions, neurotoxicity, fetal damage and even increased risk of suicide, according to a study conducted by the UK Pesticide Action Network.
Despite the odds, one presenter at the event said he is still optimistic. Ed Bernhardt, author of The Tico Times' monthly "Home Gardening" column and the book "Medicinal Plants of Costa Rica," said that the organic movement is growing throughout the country.
"It's a process. Slowly but surely, more and more people will receive the benefits of healthy food and it will become a larger movement," Bernhardt said, adding that the movement in Costa Rica is being led primarily by impassioned young people.
Solórzano agreed, saying that making people healthier through dietary changes is one of Vida Auténtica's primary goals. To her, healthy living means returning to Costa Rica's agricultural roots: local, organic food.
"Abuelito, abuelita, they used to grow corn. They'd have a cow here, a chicken there. Everything," she explained.
The weekend's seed festival was part of Vida Auténtica's "Pueblo Roots Initiative," aimed at empowering rural Costa Ricans to make healthier choices through small-scale organic gardening.
The initiative, launched in 2012, features a mobile classroom that brings knowledge of organic growing to rural communities throughout the Southern Pacific Zone.  A nominal fee buys entry to an intensive four-month course that teaches everything from soil maintenance, to food cultivation, to the health benefits of kale and other vegetables.
At the end of the four months, those who participated in the entire class receive highly-subsidized materials and instruction so they can build their own greenhouses, where they are encouraged to grow food for their families. In the months after the course ends, Vida Auténtica sends a "mentor" back to check up on each student, helping them to trouble-shoot their gardens. According to Solorzano, Vida Auténtica is currently working with approximately 60 Pueblo Roots students, many of whom are women.
"People are getting proud again. They are like, 'Oh yeah, I used to do this. I used to eat that. My father taught me how to build a fence.' That's why we call it back to the roots," Solórzano said.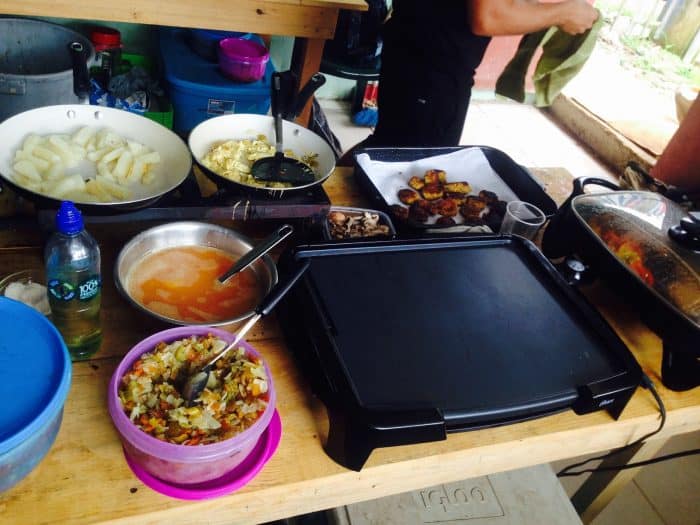 The most visible aspect of Vida Auténtica, however, is the organic farmers market that takes place in Tinamastes every Tuesday morning. The market draws a crowd of people seeking organic food and other products. Vida Auténtica's success can be at least partially attributed to location. Tinamastes sits almost directly between San Isidro, populated mostly by Costa Ricans, and tourist hotspot Dominical. As such, the organization can draw on the best of both worlds to further its cause.
Many of the consumers of organics are expats who are willing to pay more for better food. However, the farmers' market provides an opportunity for new organic growers and Costa Rican students from the Pueblo Roots Initiative to make some money from their excess produce. Seven of the Pueblo Roots students currently sell products at the farmers market.
Vida Auténtica was founded by Melissa Sweet in 2012. More than a decade into her career as a wedding dress designer, Sweet found herself disillusioned with the corporate world.  She moved from the United States to Costa Rica where she and her husband Kevin have worked to create and sustain their organization. Now, proceeds from her dress sales fund Vida Auténtica's various programs.
Sweet says Vida Auténtica was based on the same idea as her fashion business: turning a simple life skill into a powerful tool.
"I can create my life rather than depend on other things to create it for me," Sweet explained.
Pueblo Roots graduates embody the same spirit, according to Solórzano.
"Instead of buying food at the supermarket, full of chemicals, [they're] eating their own stuff," she said. "It's kind of an empowering thing."
Sarah Blaskey is a freelance journalist based in Perez Zeledón, Costa Rica. Kasey Rechter is a student at Escuela Chirripó, a Gap Year program located in Costa Rica's Southern Pacific Zone.