A group of 11 sea turtle conservation volunteers were attacked while patrolling a beach on Costa Rica's Caribbean coast in the early hours of Friday morning, according to the conservation group Sea Shepherd Centroamérica.
A gang of more than 10 poachers carrying sticks, machetes and guns allegedly attacked the international volunteers on Pacuare beach, Sea Shepard Central America spokesman Jorge Serendero told The Tico Times on Friday. No one was seriously injured, but volunteer leader Brett Bradley was hit in the head with a stick during the confrontation, Serendero said. Two body guards accompanying the volunteers were able to drive away the attackers.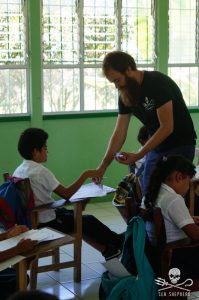 The team has been patrolling Pacuare to keep turtle poachers from stealing eggs and killing sea turtles for meat. Following the attack, Serendero said that Sea Shepard has left the beach for Bataán, a Caribbean slope town 130 kilometers east of the capital, to regroup.
Latin American Sea Turtles (L.A.S.T., formerly WIDECAST) also works in Pacuare but not in conjunction with Sea Shepard.
"We had quite a scare, a really big scare," Serendero said.
Sea Shepard representatives were traveling to the Judicial Investigation Police (OIJ) delegation in Bataán to report the attack to authorities when this article went to press.
Costa Rican Coast Guard Director Martin Arias did not comment on the attack, citing the on-going investigation.
On June 17, Sea Shepard released a statement saying that its volunteers had been threatened by a group of poachers in the area. Authorities expressed concern over the threats but did not assign additional security personnel to the beach, according to Serendero. Three Coast Guard officers had been assigned to the long stretch of beach where Sea Shepard has been patrolling, but that doesn't seem to have been effective.
"The authorities' response so far has not been as hoped because they say they don't have the personnel or the capability to assign people to protect the turtles from poachers. It's time the government takes real action," said Sea Shepard spokesman Óscar Valverde.
"Now that we're seeing that these threats are coming true the hope is that [the government's promises] become a reality," he said.
Serendero said that he hopes the Public Security Ministry will assign more Coast Guard officers to the beach and initiate greater coordination between National Police and the OIJ to improve protection for volunteers and turtles alike.
The number of volunteers willing to patrol Costa Rica's coast to protect sea turtles has dwindled following the brutal killing of turtle conservationist Jairo Mora in 2013, The Tico Times previously reported.
"We've been threatened since we started protecting. We're always in a risky situation," Serendero said. "We have to have a brave attitude, we can't take a step backwards."
Read all our coverage of Jairo Mora here
Update June 27: This post was updated to clarify that there is not a partnership between LAST and Sea Shepard in regards to sea turtle conservation in Pacuare.