Light and smoke leak onto the street from that new rectangular hole carved out of the wall. It's evening in downtown San José and by now the daily exodus has been reduced to just a few straggling workers and isolated cars headed for home.
Inside La Ventanita Meraki's open window, a burly, bearded man grills a hamburger that will soon be stuck between a pretzel bun, barbecue sauce and grilled queso palmito. As he cuts the vegetables, that word Meraki appears again, tattooed in black capital letters on the chef's right forearm. It's a Greek adjective used to denote when one is doing something with soul or creativity.
For Paulo Valerio, the 29-year-old owner of the new street food stall in Barrio La California, his latest restaurant venture is a creative spin on a Costa Rican culinary tradition he holds dear.
"In the neighborhoods of Costa Rica there's always ventanitas, or houses where they sell tacos and hot dogs and fried food and hamburgers," Valerio said. "So this is my response to those. We have the ventanita, which is really typical in Costa Rica, but with food that's a little more elaborate."
Downtown San José is a capital often neglected by both tourists and locals, but a new wave of young restaurant owners is making people look again.
In March, President Luis Guillermo Solís signed a decree to promote downtown as a cultural hub that would attract both Ticos and foreigners. But in terms of food offerings, the city center is dominated by fast food chains, middling bakeries and overpriced traps.
Valerio's former business partner at Stiefel Pub, Adolfo Marín, said it's up to this new age of restaurateurs to make San José an attractive destination that can bring back the exciting crowds.
"There's a big part of San José that is ugly but there's a small group of entrepreneurs who want to change that," said Marín, the brewpub's 30-year-old owner. "We want to paint new walls, open new businesses, we want to promote that ugly side of San José while trying to improve it and clean it up."
Marín said people told him when they opened Stiefel two years ago that no one would be interested in a craft-beer-only menu. They reminded him of similar bars – like Cabeza Grande in Paseo Colón –whose doors were shuttered after short existences. But the risk proved worth it, as Stiefel has seen such a positive response that Marín is now opening up a new bar called Casa in La California, which he said will boast 27 craft beers on tap.
In the adjacent Barrio Otoya, tucked away in what looks like a cut-out box behind Casa Amarilla, is the equally popular Café Miel. If you're having any trouble finding it, just look for the place with the line that trails around the corner. Owner Diego Juaréz said people are sometimes willing to wait up to one hour for a drink order.
Juaréz, 25, and his girlfriend and Café Miel co-owner, 22-year-old Laura Martinez, just graduated from college with design degrees this month and they are already running one of the most successful cafes in San José. They bought the coffee shop last June from owners who were struggling to attract clientele to the city center's historic district. With an eye for the chic and some help from the community, the couple redid the cafe's design in one weekend and the shop was closed for just two days despite the turnover and remodeling.
"A lot of foreigners come here and they really like the style, and if we wouldn't have noticed to put emphasis in the interior design, people wouldn't come," Juaréz said. "I think business is about securing yourself and then starting to think big, thinking about what can attract people in masses."
Juaréz admitted that being young in the food business has its advantages, especially when it comes to the ever-important, free marketing tools that social media allow. The owners stay active on Facebook and Instagram, posting pictures of menu items or art sold in the cafe, while also maintaing a high ranking on TripAdvisor, which is driven entirely by customer reviews.
The reviews have been so good, and the crowds so continuous, that Juaréz and Martinez were recently forced to hire more employees and open up a new shop a block east of their original Avenida 9 location. The cafe was thronged one afternoon earlier this year and had to close an hour early because the crowd was too much for three servers.
"The businesses are the future of this country because — look, we have five employees here — and if there's more business, there's more opportunity," said Juaréz on a morning in which three new potential workers were training under a head barista. "Instead of having people working for huge companies just to get by, it's better if we open small businesses and keep them here in Costa Rica."
Not unlike many of the other restaurants popping up, Café Miel is stocked entirely by local and independent bakers, cooks and coffee farmers. The owners have such a close relationship to Brumas del Zurquí in Heredia that Juaréz says they feel married to them.
This focus on quality rather than what might be most cost-effective has caught the attention of San José's youth, as Juaréz estimates that over 80 percent of his clients are around 25 years or younger.
Andres Quesada, the owner of the 2-month old-rooftop bar and restaurant Stereo Sushi, gave a similar measure when asked the age of his average patron. Students from San Pedro and 20-somethings from around the city have begun to converge on the bar that tags itself as a "Sky Club."
Drenched in purple light from its perch atop the speckling city, Stereo Sushi's main lure comes from its unique view of the downtown's east side. "This is the role we've had is to show Costa Ricans the city like they've never seen it before," said the 27-year-old Quesada.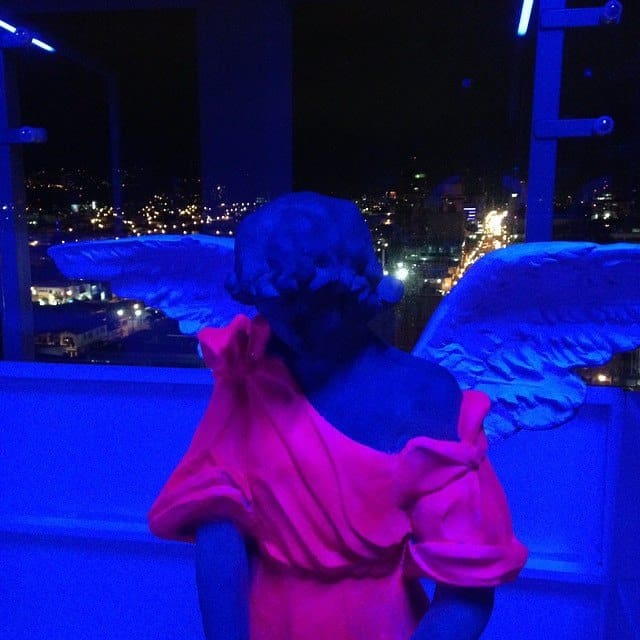 When paired alongside the other young entrepreneurs who have mapped out the blueprints for this downtown renaissance, those words seem to be pointing to an end goal. This next generation of proprietors is looking to shed San José's label as boring and replace it with an exciting promise of quality food, beer, coffee and nightlife.
After all, as Valerio points out, this is a tiny country that harbors 4 percent of the planet's biodiversity. Why shouldn't the capital offer a more diverse set of flavors?
"A lot of people think that in Costa Rica there's no culinary culture," he said. "But these places now are creating a new culinary future."