WASHINGTON, D.C. — Before the U.S. embargo, Cuba bought more U.S. rice than any other country in the world. Now, most Cuban rice comes from Vietnam. Last year, Cuba imported $200 million worth of wheat — virtually all of it from Europe and Canada and none from the United States, the largest global exporter.
Many U.S. agricultural producers thought those facts would begin to change this year, as U.S. relations with Cuba improved.
But in the six months since President Obama announced a new opening to the island, sales of U.S. foodstuffs — among the few U.S. products allowed, with restrictions, under the embargo — have dropped by half, from $160 million in the first quarter of 2014, to $83 million this year.
Even frozen chicken, which has led U.S. food exports to Cuba for years, had lost favor in Havana long before fears of the U.S. bird flu epidemic led this month to a ban on all poultry purchases.
As the Obama administration wraps up negotiations with Cuba that are expected to lead to restored diplomatic ties this summer, only the U.S. Congress can lift the embargo that still prevents nearly all financial and trade relations and severely limits even the few permitted exports.
Obama has said he wants that to happen, and U.S. producers from major agribusiness companies to small farmers have joined a bipartisan force of farm state governors and lawmakers to help overturn restrictions they say are keeping them out of a $2 billion annual market.
"Opening a new export market means a new source of revenue," said Devry Boughner, vice president at Cargill Inc., the Minnesota-based agribusiness giant and a co-founder in January of the U.S. Agriculture Coalition for Cuba.
While Cuba's 11 million people are not the world's biggest market, Boughner said in an interview, "it's a market that's right in our target zone." With Cuba only 90 miles away, she said, it makes little sense "to be losing out to competitors who take longer to ship it there, who might not even have the same quality" as U.S. products.
See also: Why Midwestern farmers want to break the Cuba embargo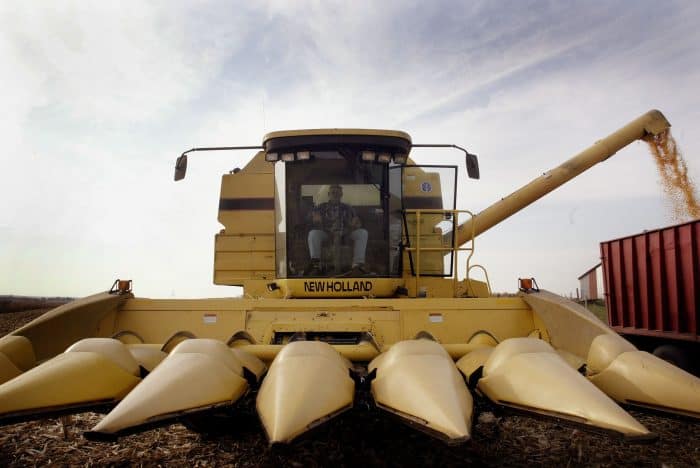 Cubans rival Southeast Asians as prodigious consumers of rice. Within two years, Riceland Foods vice president Terry Harris told the Senate Agriculture Committee in April, U.S. rice could be providing up to 135,000 metric tons, 30 percent of the Cuban market. Within a decade, he said, that figure could rise to 75 percent or more.
Doug Keesling, a fifth generation Kansas wheat farmer, told the panel he saw no "compelling reason" for Congress to "restrict the freedom of Americans to engage in commerce, especially for those who are just trying to sell wholesome, American-grown food."
"I can put my wheat in an elevator in Kansas, send it by rail down to the Gulf, put it on a ship that's a couple days away from Havana harbor," Keesling said. "But my wheat's still going to lose out to wheat that has been on a boat for a week from Canada, or even two weeks from France."
Yet despite a series of hearings, conferences, concerted lobbying and a stream of trade delegations to Cuba from both Republican and Democratic states this year, the embargo remains firmly in place, with little promise of early action.
Many lawmakers are receptive to Obama's call to jettison a policy he says has failed for more than a half century to effect change in Cuba. But for most, lifting the sanctions remains just one more unwelcome controversy in a contentious Congress.
Others want to retain congressional power to block a White House initiative they deeply oppose. They include GOP presidential candidates Sen. Marco Rubio, Fla., who has accused Obama of turning his back on Cubans oppressed by their communist government, and Sen. Ted Cruz, Texas, both sons of Cubans who emigrated before Fidel Castro's 1959 revolution.
Obama, Cruz charged, had thrown an "economic lifeline" to Cuba just as the embargo and diplomatic freeze had left its communist regime "gasping for air."
See: White House threatens to veto Cuba travel curbs
Malnutrition rates in Cuba are "very low," according to the World Food Program, on par with the United States and the rest of the highly developed world. Staples are guaranteed via government-issued ration cards. But domestic agricultural production rates are abysmal, equipment and farming methods are antiquated, and up to 80 percent of Cuban food is imported.
Subsidies from the then-Soviet bloc helped fill the food gap for decades after the U.S. embargo was first imposed in 1960. The Soviet collapse left Cuba in deep recession in the early 1990s, and Havana welcomed the lifting of some U.S. restrictions on food and medical exports in 2000.
Despite permitting cash-only transactions, U.S. food sales rose to a 2008 peak of $710 million before starting a downward trajectory that appears this year to have gone off a cliff.
When current President Raúl Castro took over nearly a decade ago he adopted more pragmatic policies than his older brother, and U.S exports increased. But the complication and high expense of buying American in recent years has diminished Cuban zeal. U.S. prices may be competitive and transportation cheaper over the short distance, but the cost of doing business with the United States is high.
Cash-only limits remain, although Obama has eased the restriction somewhat by requiring payment when title to the goods is transferred in Cuba, rather than up-front before goods are shipped.
But Cuba's lack of cash makes that a rarely used option. Most purchases are made on credit, and the embargo allows no U.S. financing. Instead, Cuba must go through third countries, with Havana obtaining a loan from a foreign bank. That bank then communicates with the bank of a U.S. producer, which arranges the sale with the producer himself. The process is then reversed, with each stage involving lengthy bureaucracy and significant fees.
Cubans "are not going hungry; they're just buying wheat from other countries," said farmer Keesling. "That may be more expensive than mine in a free market, but it is now a much better value because there aren't massive compliance costs accompanying every purchase."
Some opponents of lifting the embargo maintain that increased U.S. sales will only benefit the Cuban government, since all agricultural imports must go through the state agency, called Alimport.
Boughner and others point out that Cuba is not unique in that regard. Until recently, both Canada and Australia handled all of their wheat imports with state boards. "We've had examples through history where states have been involved in trading, but it doesn't mean we don't trade with them," Boughner said.
The U.S. food business also sees potential in the eventual lifting of remaining restrictions on U.S. travel to Cuba. In addition to sampling Cuban cuisine, tourists will want to eat and drink what they are used to from home, industry analysts believe.
© 2015, The Washington Post