Marvin Camacho began his musical career at the age of 9 when he sang at a community event in his hometown of Barva, Heredia. Four decades later, he's a renowned composer whose instrumental music has circled the globe, earning him honors including the National Arts Award and National Composition Award.
I have had the good fortune to know Camacho for the past several years, and sat down with him recently at his University of Costa Rica office to discuss his life and career.
TT: What is Marvin Camacho's story?
MC: The musical story begins at a very early age. I was about 9 years old when I sang at a festival organized at my school in Barva. Apparently, I sang well because I went on to participate in other festivals held in my community and nearby neighborhoods. I became a bit of a star (laughs).
In 1978, Dr. Marina Volio Brenes, Culture Minister at the time, came to Barva to present a book about the history of Barva. I was chosen to sing along with an accordionist. At the end of the performance, Marina called me over and told me to visit her the next day. I went with my father, and she gave me a scholarship to attend the Castella Conservatory [a public school for the arts]. My parents are farmers and I would not have been able to study at the Castella on my own.
I began my voice studies, but I was also required to study other areas such as piano and composition. As I begin studying piano I realize that I enjoyed it a lot, and I began to compose music for that instrument. Musical composition was strongly developing within me, a strong echo. In 1985 I was admitted into musical composition at the University of Costa Rica, and I've been developing my music ever since.
Why did you choose to be a composer? What caught your attention?
One does not choose. In the end, it's a need you feel. I began by playing what other composers have written, but I felt I had to express something with my own compositions.
What is the life of a musician like?
In my case, life has been very happy: When you are doing what you like and what you want, you never work. You can spend four hours in a rehearsal and eight hours recording and end up happy. You end up tired, obviously, because we are humans, but you are satisfied and don't feel as if you were working.
As a musician there's a great responsibility to do things the best way possible; there's a commitment to society, and a responsibility towards yourself. If you, as a composer, don't feel satisfied with what you are doing, you are deluding yourself.
What opportunities are there for musicians in Costa Rica?
There is access to education in various areas, including performance, popular groups, and ensembles; there's university education that handles high-quality professionals. There are also a lot of job opportunities; I don't know a single musician that works only at one place. Almost all of us are overloaded. Costa Rica is an important place for musical formation; people from other countries in Central America and Latin America come here to study.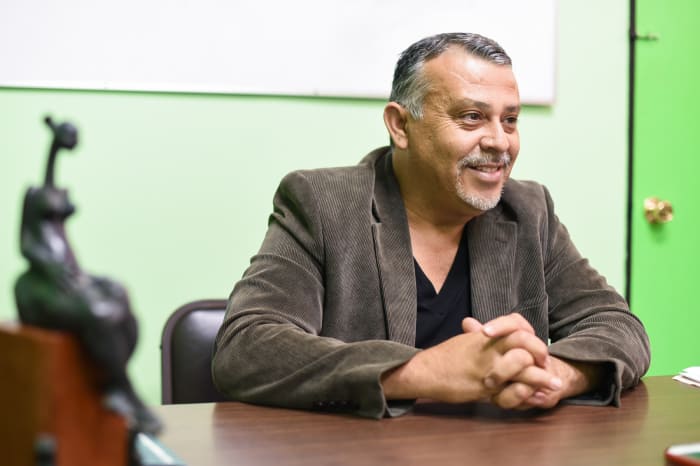 What are the concepts behind the music you compose?
The first concept is honesty. I like to feel comfortable with what I'm doing… I also use the technique of extended languages. I go beyond the traditional use of the instrument. I use the piano, from the keyboard to the sound box and the strings. If I am composing for the orchestra I'll have the wind instruments play certain notes they normally wouldn't. I think that the composer is always exploring different combinations. That's the creative part.
What is the significance of your compositions?
Every composition is different. It's like when you have children of your own. They are all yours, but different from each other (laughs). The composition that you are creating responds to a context and a specific historical moment in the life of the composer. The famous Alfredo Casals used to say that the musical composer, the creator, was selfish in potency. In the end, we do what we do because of what we are feeling. It is very subjective. It's something very personal.
What others interpret from my composition is another story. Speaking about what you want to express is something complex and intimate. I always tell my students that the moment in which their work is "public," it's not theirs anymore. It has their name on it, but it's not theirs.
What is the process you go through to compose your work?
I start thinking about the concept and establish a main idea. I put a lot of thought into it [first]. The process of writing it is the last thing I do.
Each composition has a different process. They all are born in a certain way and end in a different way.
Have any of your works been created spontaneously?
Yes, because there are moments in which the composer has real inspiration. However, not everything comes from real inspiration; a lot of it is work. The work is fundamental in the composer. I don't believe in the composers who say they are waiting for the "muse to come to them."
Does the emotional state affect the work of the compositions?
Yes, sure! One of my compositions, "The Visions of Saint Augustine," was created in a single night. It has to do with a nightmare I had. I woke up very scared. I had read "The Confessions of Saint Augustine," and a phrase defining God was repeated in my nightmare constantly: "God sweeter than all pleasure, brighter than all light, more intimate than all secrets and greater than all honor." There were birds flying aggressively all over the place.  I even heard the music in the nightmare. That composition was BOOM!, written from midnight until 4 am. That was a spontaneous act (laughs). Others are very well thought-out.
Which is your favorite musical genre?
I can listen to anything from Beethoven, Mozart and Bach to salsa. I love tango! I enjoy studying popular music. My next concert, in August, is a tango composition for violin, accordion, piano and orchestra. Popular rhythms are implicit in my work because I grew up listening to popular music.
What does it feel like to know your work has been successful in other countries?
It is very gratifying to know that your music is still alive and keeps on traveling. I've always told myself that if one of my compositions becomes a symbol that is written or played, that's great, and if not, it's also great. In the end I fulfilled Marvin Camacho's needs; writing his own music. Whether it's good or bad, that's history's job [to decide], not mine.
What is the key to success in music? In life?
Discipline, discipline and discipline, and love what you are doing. In life, you should be honest with yourself. In all of life's parameters you must be honest and know what you want; fight for an objective in the honesty of the path.