On the streets of midtown Manhattan, another cloudy, muggy mid-week work day was wrapping up.  Inside one event space, however, a very colorful Tico scene was just getting started. "De Verde a Gris" ("From Green to Gray"), the first-ever fundraising gala organized by the Costa Rican Networking Group (CNRG), took place at the Art Director's Club in midtown Manhattan on May 28. The gala was not an isolated event, but rather one component of a relatively new, multi-city effort to connect expatriate Costa Ricans, empowering them to support each other and the country they left behind.
Founded in 2013 by Carol Guzowski, 26, a Costa Rican who has been living in the United States off and on since her teens, the Networking Group's core mission is to unite Costa Rican professionals in the United States in order to strengthen ties among the relatively small but growing population. The group has amassed 215 members thus far, and has now launched a mentoring component so that members can share their expertise with younger Costa Ricans.
According to Guzowski, who runs the group pro bono and has sponsored the group through the company she created, Coral Communications and Design, the group's mission is "to become a platform for education and training." The program has two formats: CRNGMentoring, an in-person mentoring program through which New York City-based professionals can share their skills with mentees for living in the greater New York area, Long Island and New Jersey; and CRNG-Guia, a virtual program through which Costa Ricans moving to the United States or recently arrived can seek mentorship from an established compatriot.
The group is also planning a gradual expansion to other cities around the country.
"Initially, my idea was to empower our members to make a difference by helping people who have something in common with them," Guzowski told The Tico Times. "Mentoring is a great way to give back and to see results first hand."
The recent event was designed to raise funds for this effort. Guzowski strode about the gallery space, checking on every detail.
"This is our first gala," she declared with a smile. "I want to make sure everything is in place."
She need not have worried, since the myriad components of the gala went off without a hitch, blending various aspects of Costa Rican culture. The walls of the gallery space had been hung a rich array of photographs, paintings and drawings donated by leading Costa Rican artists for a silent auction, with starting prices for the art ranged from under $1,000 to over $5,000. Seven live performances by Costa Rican musicians ranged from classical to experimental: Andrés Soto Marin, a pianist and composer, played one of his own pieces; brothers Adrián and Sergio Sandi, a clarinetist and pianist respectively, each performed a solo before playing a duet together on stage for the first time;  and the Bleecker String Quartet played two pieces by Latin Grammy Award Winner Carlos Castro, whose new CD was also on sale.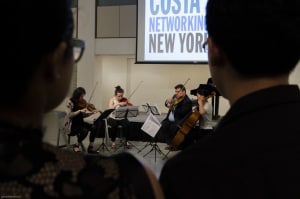 Last up were Edmundo Ramírez on the viola and Ana Echandi, soprano, who performed the world premiere of an experimental piece that combined voice, instrumentals and video-art to deconstruct a poem by Silvia Castro Méndez.
Everywhere you looked, from the photographers to the kitchen, were Costa Ricans eager to share their skills through the mentoring program.
In one corner, a small but vivid sign for an "Awesome Photo Booth" encouraged guests to duck into a semi-separate space where Ignacio "Nacho" Guevara, a Costa Rican photographer based in New York City, was taking photos of gala attendees. (Guests could don or hold up various props that Guevara had provided; this reporter selected a sign that read "I love Costa Rican art," but only after searching in vain for another sought-after sign that declared, "I wish I was Costa Rican.")
Recommended: Please Send Coffee!, our monthly column by a Costa Rican writer in the United States
As he worked, Guevara described his passion for helping Costa Rican artists. When he lived in Chicago, working at a museum of Mexican art, he mentored adolescents there. However, once he moved to New York, he realized that no such organization existed for Costa Ricans.
In the CRNG, Guevara found a way to give back to the Costa Rican community. In April, for example, Guevara offered a Photography 101 workshop through the CRNG. He told The Tico Times he hopes to continue this work and serve as a true role model to aspiring Costa Rican photographers, training his mentees in day-to-day aspects of the profession including marketing, financial matters, negotiations with dealers, and even how to keep one's motivation up when inspiration fades.
Nefertiti Ingalls, another Costa Rican photographer who had donated four pieces to the auction and serves as a CRNG mentor, had her hands full chasing after her four-year-old daughter, who was decked out in traditional clothes of red, white and blue.
"My daughter loves Costa Rica, everything about it," Ingalls noted, as the little girl dashed nimbly about between small groups of men in suits and women in cocktail dresses. For Ingalls, like Guevara, participating in the mentoring program represents a chance to help younger Costa Ricans find their footing.
Fueling all this activity were platters of Tico hors d'oeuvres that seemed to vanish as soon as they were set down, only to be replenished again. Trays of bocadillos de atún and picadillo de papa con carne were followed by a similarly diverse array of sweet snacks. Tracing the source of these delicacies to the kitchen uncovered the warm and gracious Patricia Cartín, a CRNG board member who donated her services as evening's caterer and is also passionate about the mentoring initiative.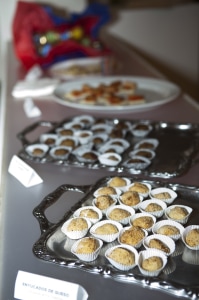 Cartín noted that she understands the importance of mentoring because she herself made a major career switch upon moving to the States: Following a successful career as a fundraiser in Costa Rica, Cartín decided to pursue her passion and retrained as a chef. Now she offers private cooking classes in New York, and will offer cookie decorating workshops for the CRNG in the next month.
"Carol has created an amazing group," she said, adding that it is essential for the pan-Latin community to unite as well. "We Latinos, we may have different accents, but underneath we are all one."
The gala's title, "De Verde a Gris," reflects the idea that Costa Ricans who move to New York must leave the green of their homeland for the gray of their new surroundings. For one evening at least, the music, food and art of Costa Rica lit up a small corner of a big city. Going forward, the funds raised by the gala will help ensure that young Costa Ricans in New York will find the guidance and support of mentors who can help them navigate their own path through this great, gray jungle.
For more on the Costa Rican Networking Group, visit their website. To participate in the mentoring program, sign up here.