PLAYA SANTA TERESA, Puntarenas – On Sunday evening during Labor Day weekend, as the day's last light was fading, Daniel Luján Mora had just helped a surfer avoid getting caught in a dangerous rip current when he saw three men heading toward unsafe water about 600 meters away.
Luján raced to his lifeguard tower. Through his binoculars he saw the men already in the water, one of them in trouble. Luján took off running at full speed. When he got to the men, Luján dove into the ocean and brought the drowning man, Alejandro, to the sandy shore where he initiated CPR.
"He was grabbing my hand, but he was not moving any other part of his body. He was breathing by a miracle because he was almost dead," Luján said. "He had water in his belly and his lungs, he was like Santa Claus, but blue."
Luján is a certified lifeguard with the Costa Rican Lifeguard Association and a level 1 and 2 certified instructor. He gives surf lessons in Santa Teresa, on the southern Nicoya Peninsula, and donates his time with Santa Teresa Lifeguards when he can afford it, usually every Saturday and Sunday.
Motivated by increased drownings that they perceived as preventable, a group of passionate people in this small, yet increasingly popular beach town have started their own nonprofit lifeguard program, Santa Teresa Lifeguards. They hope to not just save lives, but also to prevent dangerous situations by educating the public on water safety. They aim to structure a program that can be duplicated in other Costa Rican beach towns.
For Luján, lifeguarding can be stressful, but it fulfills his dream to help people. While he massaged the drowning man's belly to encourage vomiting the water out of his lungs and stomach, he yelled at the other two men and a gathering few to run up and down the beach to find cellphone service to call the emergency number 2000. Luján was worried the man would have a heart attack with all the water in his body, and he was desperate for emergency services to arrive.
The police were first to arrive on scene, 30 minutes later.
Finally, at the urgent care center, Alejandro was under close observation all night. He survived.
"One minute later and he would have been gone," Luján said.
On the same day, at the neighboring beaches of Montezuma and Cabuya, where there are no lifeguards, three people drowned.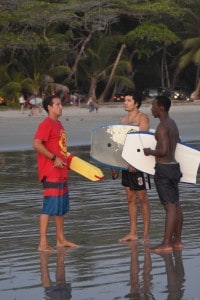 According to the Costa Rican Red Cross, since 2010 an average of one person has drowned every four days in Costa Rica. The Santa Teresa Lifeguards hope to reduce the size of this tragedy. But they face obstacles.
Poor cellphone service, education for first responders, lack of volunteers, and insufficient funds to pay salaried lifeguards are just some of the struggles the program faces. To overcome these obstacles, the all-volunteer staff is putting a strong effort into fundraising and increasing awareness about their program and the big difference it can make in people's lives. If they can get more lifeguards on the beaches, they won't just be rescuing people, they'll be teaching about water safety, an education swimmers can take with them to other beaches around the world.
The spot in which Alejandro nearly drowned is very popular with swimmers, but also dangerous. Luján recalls about two drownings per year there over the past 12 years. Last year, he was called out at night to find the bodies of five young kids.
In January, a 70-year-old and her 2-year-old granddaughter drowned there. Lifeguard fundraising coordinator Tomas Ritchie said when that happened, "I said that's enough. I felt so bad because I was making [the towers], but I wasn't in a hurry."
The towers are an improvement over the previous bamboo stands, which were too tall and didn't have ladders. Ritchie saw these flaws and designed, funded, and supervised the construction and installment of six towers with plans to make and man more. The new towers cost about $1,000 each and are made of red cedar and fiberglass. They were built to last and give the program the professional look and feel it deserves.
The first four towers were up in time for Semana Santa, and for the first time since many can remember, there were no drowning deaths at the guarded beaches. Since Semana Santa, the Santa Teresa Lifeguards have rescued 12 people and prevented countless other accidents.
With rescue equipment donated by Solano Beach lifeguards in San Diego, California, the shiny new towers and official red lifeguard shirts, the program exudes professionalism. The lifeguards feel that the public is now taking them more seriously and heeding their instructions and warnings.
Lifeguards are on duty every Saturday and Sunday from 9 a.m. to noon and from 3 p.m. to 6 p.m. Towers are currently located in Playa Carmen, Zeneida's, Casa Cecilia, Playa Hermosa, and Banana Beach.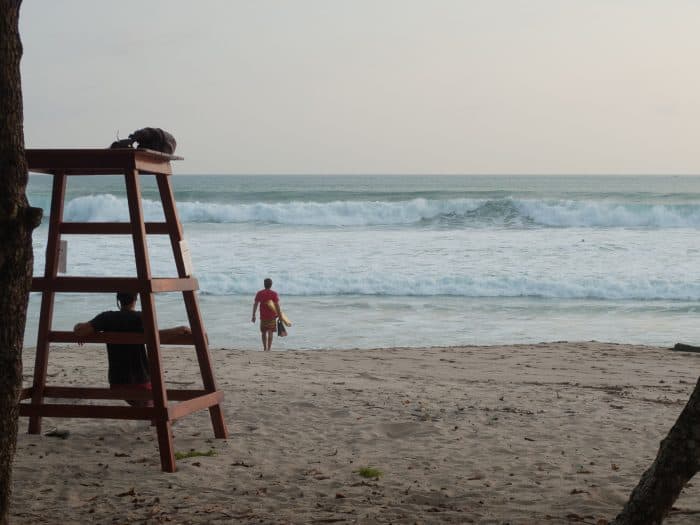 Twelve hours on the weekend is not enough, though. The team needs more volunteers and more support from community businesses. Several businesses have donated money and others are donating vouchers for a lifeguard exchange program. Many Santa Teresa residents believe that, overall, town revenues will increase if Santa Teresa gains a reputation for being a strong, supportive community that cares about the safety of visitors to their beaches.
Without a solid funding source, the nonprofit Santa Teresa Lifeguards has had to get creative.
On May 20 a fundraiser was held with live music, tacos and an art show. Tomas Ritchie constructed more than 50 mini-lifeguard-towers that will serve as donation centers in select businesses around town. The roughly 1-foot-high mini-replicas will be placed in businesses around town on tables or hanging from ceilings and people are invited to put money in to them.  T-shirts are being made for public purchase, a calendar is being designed, and an international lifeguard and surfing competition is being organized, possibly for late November.
The group has also started an international lifeguard exchange program. Lifeguards from all over the world are invited to come and volunteer their time in exchange for vouchers, which can be used for food, lodging, and activities in Santa Teresa. It's a sweet deal for lifeguards out there who want to come to Santa Teresa for world-class surfing while also volunteering their skills.
Matias Etchenique, whose dream it was to launch the program, is leading lifeguard training programs in Santa Teresa. He has 20 years of experience lifeguarding in Argentina, California and Santa Teresa. Two training programs have been held so far with a total of 32, mostly local lifeguards trained and certified.
Etchenique and the other lifeguards hope that, with help from the community, they'll eventually be able to monitor Santa Teresa's beaches seven days a week.
Said Etchenique: "People don't choose to drown on weekends. It can happen any day."
For more information on the Santa Teresa Lifeguard program and how you can help or participate, visit their website: http://santateresalifeguards.org/