DUBLIN, Ireland – While many voters in Ireland's referendum on introducing same-sex marriage were strolling around Dublin wearing "Yes" badges Friday, many "No" voters were keeping it to themselves.
The heated campaign has stirred emotions, with many voters in both camps wary of voicing their standpoint for fear of being dragged into an emotion-fuelled argument.
Final opinion polls suggested the "Yes" camp was heading for victory, but campaigners for change warned against complacency, wary of a large block of shy "No" voters.
On the corner of plush Merrion Square, outside the childhood home of 19th-century writer Oscar Wilde, there were two placards on the nearest lamp-post, one reading "Vote Yes" and the other "Equality for everybody."
The author, poet and playwright was publicly shamed in Britain and jailed for being gay.
"I've got a 3-year-old son and if he ever came to me at a later stage and asked how I voted, the only way I could feel happy would be to say 'Yes'," said Rowland Crawte, 37, who works on square close to Trinity College.
At Dublin Port, around 30 Irish emigrants sailed over from Britain to vote "Yes," arriving in home-made T-shirts, cheering and waving balloons and banners.
"It's a seven-hour journey for us, but this is actually a journey which began long before I was born," said Dylan Haskins, 27, a broadcaster and social activist.
"I really hope that when cast our votes, we'll leave an old Ireland behind and this will be a really positive affirmation of just how far Ireland has come, socially."
Hannah Little, 25, who works in the music industry in London, said that for many young people living abroad the referendum was "a test of whether they could move back to Ireland in the future."
"It would show that Ireland has changed, that it's no longer a society of Catholic conservatism," she said.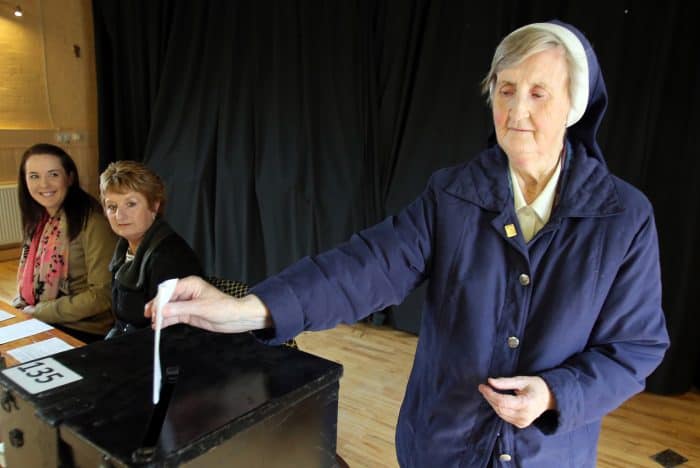 No voters feel silenced
The loud voices of the "Yes" supporters have made many "No" reluctant to speak openly.
In Merrion Square, one spoke of how a friend who intends to vote "No" wore a "Yes" badge when walking about the city to avoid being questioned about how he is voting.
Another spoke of a gay friend who was openly voting "No" and has received death threats.
Turnout among rural and elderly voters, who polls suggest largely oppose gay marriage, is expected to be crucial.
There were concerns on the other side, too. One "Yes" voter, who gave his name as Mark, did not want to say where he worked "in case the 'No' voters come and throw rocks at us."
Turnout was brisk in Dublin 7, a recently gentrified part of the north city center, which would be considered a "Yes" heartland.
But Betty Young, a voter in her mid-60s, was forthright about her opposition.
"I don't believe two men should get married. Or two women. I can't get it in my head that there's two men standing together — who's the wife and the husband?" she said. "When you hear people saying 'my husband' and it's a bloke, I just can't."
Meanwhile in Drogheda, a port town 55 kilometers (34 miles) north of Dublin, two gay artists, known together as Adrian+Shane, went to cast their votes. They work together to create pop art using paint, collage, stencils, photos and video.
"It's about decency, it's about morals, and it's about doing the right thing," said Shane.
Adrian said he was "really excited, delighted that this is happening and hopefully 'Yes' will win."