TAMARINDO, Guanacaste — Sailing tours here are often called "booze cruises" because they offer an open bar on the open sea.
But there's so much more than booze: a day to relax in the sun, to go snorkeling, swimming or kayaking, to enjoy delicious food and take in a view of a gorgeous sunset bursting with a palette of colors.
Catamarans do a booming business here, but they compete with the most striking ship on the skyline of Tamarindo Bay, the Antares.
Built in 1947 in Oyster Bay, N.Y. (where Theodore Roosevelt lived and died), this 80-foot (24-meter) Sparkman and Stephens schooner is a former treasure hunter.
Captain Hermes Quijada fell in love with this ship after a Google ad sent his whole family — including wife Candy, sons Hermes, Noah, Selassie and daughters Amancay and Malaika — on a bus ride from Costa Rica to Panama 3½ years ago.
"All the boats are great here," Candy says. "We're just different, with a different experience."
"We're different because this boat has one hull, and it's old, like a classic," Hermes says.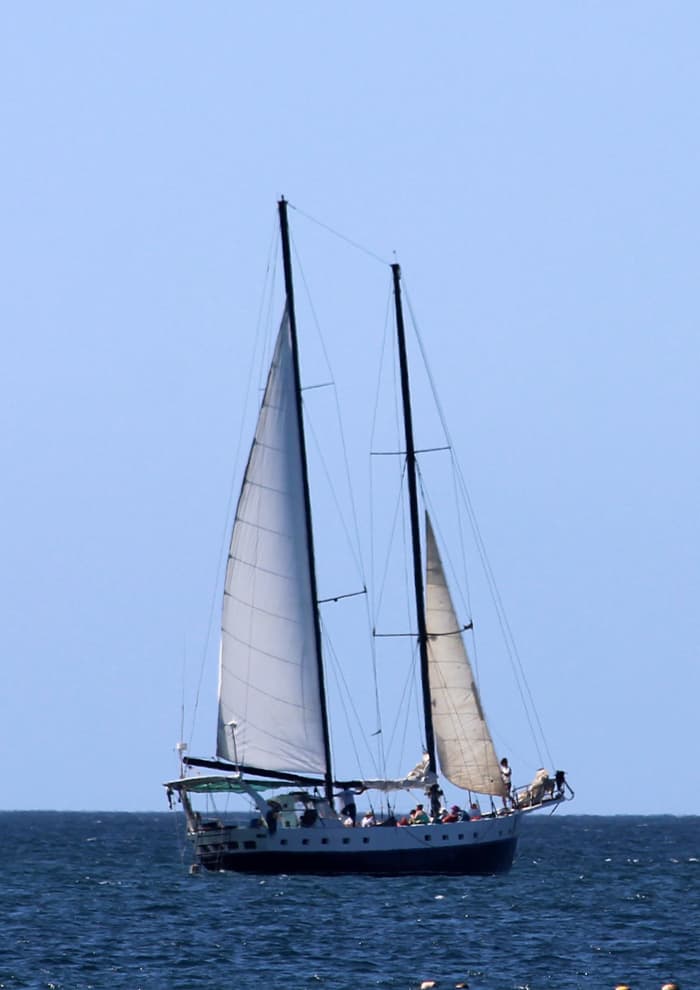 The boat has a capacity for 34 people, and the day we sailed there were guests from Florida, Texas, Estonia, New York and Tamarindo. The Antares is even home to a bird and her nest inside the main tube that houses one of the ropes to a sail.  Concerned about the bird, Hermes waited to put up the sail until it flew out.  Meanwhile, David Levasseur played acoustic guitar, lovely songs that set a mellow mood.
Many people in Tamarindo came to know Hermes as one of the first doctors to practice in the area. Although he's been sailing since he was a boy in Buenos Aires, he entered the medical profession and became a very successful internist in his homeland.
But the water called, and he left Argentina in a 42-foot boat with nothing but sails and a sextant to visit the United States, Europe and ultimately the Caribbean islands.
In St. Maarten, Hermes met Candy, who in 1992 told her mother she was leaving Cape Town, South Africa, to work on boats in the Caribbean. By the time Hermes appeared, she was the owner of her own vessel.
"There was a very small boating community. It was like a condominium, everyone lived together but in boats," she recalls.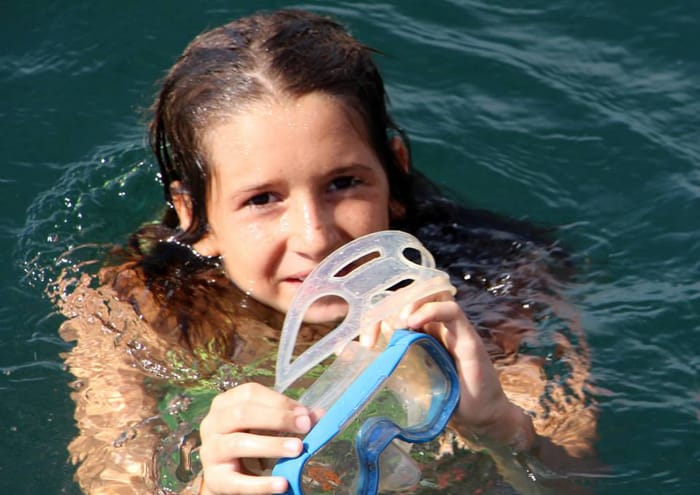 Candy sold her boat and started living with Hermes aboard his, with plans to fix it up for a trip to Costa Rica. Then Hurricane Luis struck in 1995, and their floating home was washed ashore and totaled.
"We flew back to Argentina and decided to then fly to Costa Rica, where I had been going since the early '90s for surfing, and I loved it," Hermes said. "I saw the possibility to work here as a medical doctor and bought a farm."
Eventually, with their large family, Hermes and Candy decided to get back to the ocean. This was something that had been on their minds for years. Buying the Antares gave the Quijada family a way to work together.
During our cruise, 17-year-old son Noah was a very active mate aboard the ship, hoisting anchor and sails, serving food and drinks, and taking the wheel when we turned away from our original destination of Playa Huevos because of rough seas. We dropped anchor off Playa Carbón for some swimming, snorkeling and kayaking.
The food was healthy and organic, 80 percent raw, as would befit a boat whose captain looks after peoples' health. The first course was a cabbage and tofu salad with sesame dressing. Next came smoked salmon and cream cheese on a toast chip, followed by a course of fruit and veggie ceviche, guacamole and chips.  After our swim and snorkeling, we dined on coconut curry shrimp and rice.
"It's a way to tell people that this is the way you should eat if you expect to be healthy," says the doctor.
Hermes still practices medicine out of an office in Santa Cruz, where he attends to patients in the mornings before sailing. But it's the water that plays the most important part in his and his family's life.
"We have a 100 percent personal opportunity to give a good day on the boat," Candy says. "It's lovely we can be on the boat and give it our all."
Contact Ellen Zoe Golden at EllenZoe@aol.com.